Head Coach
Ryan Phillips
rphillips@cr.k12.ia.us

Athletic Director
Chris Deam
cdeam@cr.k12.ia.us
parent/student
e-mail dist. list form
We hope this will make things easier when sending out forms and other important info via email to all our parents and wrestlers.
"The Night The Names On The Wall Came To Life!
2010 State Finalist Reunion
For those of you who were unable to attend we have posted a pdf version of the finalist program for you to download.
PLEASE CLICK HERE
Proud of these guys! 4th place of 56 teams this week at the Malecek Team Camp@ Wisconsin Dells Center - Chula Vista Resort
BRENDEN BAKER IS YOUR 2015 NORTHERN PLAINES JUNIOR FREESTYLE CHAMPION!!!!
After coming up on the wrong end of the Greco Northern Plaines Finals match yesterday you knew today Brenden would be on a mission. His braket was stacked full with top notch opponents and he knew he would have to b e on his game to bring home the gold.
Brenden started off the day with bye in ther first round. In the championship round one match he Tech Falled Garrison Murphy of Wisconsin 10-0. Semi-final match he would face Jack Huffman of the MWC Wrestling Academy who just knocked off Justin Portillo. as mentioned earlier, Brenden was on a mission, he dominated Huffman with another 10-0 TF.
In the finals he would look across the mat at Korbin Meink of Nebraska and the panter wrestling club who just beat Drew West. Meink scored the first two points but Brenden came back with the next two but in the process Meink was injured and had to default.
Congratulations on an OUTSTANDING weekend Brenden. You are the 2015 Northern Plaines Junior Freestyle Champion and Greco Runner-Up. Very proud. J-Hawk strong!
Building Champions... On and Off the Mat
Kelly May and Taylor Miller have joined Hannah Towns
and Kyle Briggs as 2014-2015 NHS Honorees. Congratulations to all four of our recipients.
J-Hawks Roll at State!
We finished in 3rd place at the State Duals and Finished as a team in 7th place at traditional tournament. Brenden Baker takes 4th at 113, Kyle Briggs took 8th at 132. Kelly May peaked at right time of the season finsihing in 3rd place at 182 and Dalton Kuehl is a State Runner-Up at 285.

J-Hawks make it two in a row as District Champs
and qualify 8 for the 2015 State Tournament!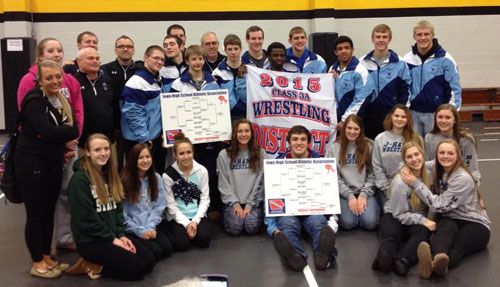 Zach Main, Joseph Sibomana, Brenden Baker, Kyle Briggs, Tavian Rashed, Luke Sedlacek, Kelly May and Dalton Kuehl all qualifed for State. We had three District champions in Zach Main at 106, Kelly May at 182 and Dalton Kuehl at 285.
J-HAWKS DOMINATE! We are heading heading back for the second year in a row to the State Duals with a convincing win tonight vs. Epworth, Western Dubuque 46-15!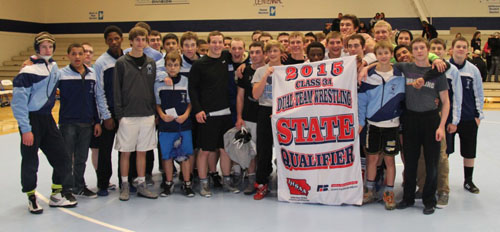 The coaches mixed up the line up a little bit to help secure a victory and our boys came through with flying colors winning 10 of the 14 matches. Luke started us off on the right foot with a fall in 5:47. Nick Dreckman wrestling up a weight at 182 also had a huge victory with a 5-0 decision. Kelly May kept the roll going with a 5-1 decision at 195. Dalton Kuehl added another 6 points to the board with a 2:50 fall. Brenden Baker made easy work of his opponent getting a TF in 2:27 16-1. Joseph Sibomana also scored a bonus point MD win 13-3. Seth Jellison might have had a biggest roar from the crowd the whole night as he stuck his opponent in :40! Kyle Briggs added more bonus points with a dominating 11-0 MD. Matt Culver also scored bonus points with a fall in 3:20. Freshman Cody Clendenen got the nod at 152 tonight in the last match of the night winning 7-4. All in all it was a great night, we had 7 bonus point wins, 30 takedowns, 35 bonus points with 108 match points tonight. We head into Districts Saturday with a lot of confidence.


Congratulations J-Hawks... 2015 Dual State Qualifier.
J-Hawk Wrestling Headlines
Be sure to check out the 1000's of photos from this year's action on our new FLICKR page. You can check them out by clicking on this link below https://www.flickr.com/photos/130482075@N03/sets
J-Hawks finish 2nd at Soph/JV MVC Conference Tournament with 4 Champions.

Very proud of how our boys wrestled today!
Tyler Unkel, Dalton Mastin, Coltin Endsley and Jake Hensel are all 2015 MVC CHAMPS!. Taylor Viktora, David Bonner and Dillon Primmer take 2nd. Caleb Ziegenhorn, Jacob Sherzer and Michael Handley take 3rd. Jack Richardson, Blake Owens and Jeremy Marble finish 4th.
The J-Hawk wrestling team finished the regular dual season undefeated to Iowa competition and the only undefeated team in the MVC. Very proud!
Our J-Hawks make easy work of Kennedy and Senior!
The boys traveled over to Dubuque Senior last night for our final duals of the season and it was a happy bus ride home for sure. We started off the night with CRK and both our JV and Varsity tamed the cougars. JV winning 54-18 and the Varsity winning 52-19. No real highlights from the JV dual as there were a lot of forfeits from Kennedy. Varsity had some mixing up of the lineups by the coaches resulting in 5 pins. Kelly May, Dalton Kuehl, Zach Main, Seth Jellison and Tavian Rashed all had pins. Nick Dreckman had a nice MD.
Next up with the Rams from Senior and our boys did not let up with the JV winning 62-7 and Varsity winning 69-6. We had more action in the JV dual this time with our J-Hawks getting falls from Bonner, Ziegenhorn and Owens. Sherzer and Unkel had MD's and Moomey won 3-2. Varsity was up next and the pin fest kept going with Hovey, Kuehl, Culver and Sedlacek recording pins. Jellison, Briggs and Rashed all had TF's. It was another great night to be a J-Hawk!
'Foxcatcher' hits close to home for Don Briggs


For Briggs, the story hits close to home because Schultz was a friend of Briggs. read more...
Our J-Hawks had a very strong showing at the Mississippi Valley Conference Super Meet finishing in second place by just nine points. 13 of our J-Hawks placed in the top eight.

Coach Briggs and Orton were both please with the effort and fight demonstrated throughout the day. They feel that the team is on track to make a run to the top in the tournament series.
Dylon Pappas finished the day in 8th place, Seth Jellison 7th, and Zach Main 6th. The J-Hawks had six wrestlers finish 5th through 3rd. Placing 5th was Joseph Sibomana and Erik Hovey, 4th Matt Culver and Nick Dreckman, 3rd Luke Sedlacek and Kelly May. The J-Hawks put four in the finals and came away with two champions. Finishing 2nd were Kyle Briggs and Tavian Rashed. Dalton Kuehl brought home his first MVC title and Brendan Baker his second. Brendan defeated the defending 2A state champion in the finals.
Monday night Coach Martin and Buesing took some of our freshmen over to Marion for a CRANDIC 9th grade meet.
We had three wrestlers come home with fisrt place finishes in Jacob Sherzer, Cody Clendenen and Talor Viktora. Ricardo Rojas-Aguilar and Brody McShane both took home second place. Nice job young men. Our freshmen class keep improving each week which is something our coaches love to see!
DALTON KUEHL SECURES VICTORY...
BRENDEN BAKER NAMED OUTSTANDING WRESTLER!

J-Hawks Defend Invitational Title Making It Two In A Row.
What an exciting day! It came down to the very last match of the day to determine who would be the champions. Going into the last match of the day #2 ranked Alburnett held a slim 2 1/2 point lead, it was a two team race for the title. But fate was on our side, we had Dalton in the 285 finals.Alburnett had to sit mat side and hope that the #4 ranked Tyler Clark from Clinton could hold true to his rankings and beat our #6 ranked wrestler. It was not going to happen this day, Dalton has been on a pinning streak this season. Heading into the final match Dalton had racked up three pins on the day and was determined to make it four. Not knowing what a win would mean for the team, Dalton did what he has done for the second time this season secure a team win with a win himself. I think Dalton was the only one in the gym who did not know what a win would mean for the team race. When that ref slapped the mat the whole gym went crazy. Even some of the Alburnett team. A lot of our wrestlers and the Alburnett wrestlers have grown up since grade school wrestling together and have a great bond. Brenden Baker also had four pins on the day and was named by the other team coaches Outstanding Wrestler. Our boys wrestled tough all day and it showed as we had 6 wrestlers in the finals. Zach Main took 6th, Joseph Sibomana took 3rd, Kyle Briggs took 2nd, Matt Culver took 2nd, Tavian Rashed took 3rd, Kelly May took 2nd and Erik Hovey took 5th. Be sure to check out the 100's of photos from the event on our new Flickr page in the next day or two! https://www.flickr.com/photos/130482075@N03/sets
CONGRATUALTIONS LUKE SEDLACEK AND KELLY MAY!


Luke and Kelly have both surpassed Mark Ironside's All-Time varsity win Record!


As we sit right now Luke has 108 wins moving past Marks total of 106. Kelly May has also broke the record this season with 107 wins so far himself.
Saturday we hosted our Hegarty JV Dual Tourney which always brings in some of the top
JV teams in the state.
Our J-Hawks finished the day in forth place behind SEP, CRP and Western Dubuque. Mastin went 5-0 on the day, while Moomey went 4-0. Unkel and Clendenen both went 4-1, Ziegenhorn went 3-1, Collins and Hensel both finished with a 3-2 record. All in all not a bad day. thank you everyone who came out to cheer on our JV team. We have posted photos on our Flickr page! https://www.flickr.com/photos/130482075@N03/sets/
Double the pleasure, Double the fun....
J-Hawks send the Warriors back across the river tonight after posting identical 82-0 scores for both the JV and Varsity. Tonight was also our senior night and we said goodbye to a great class. This class is unique and in a league of their own. What a great bunch they have been. You never knew what to expect on any given day from any one of them. We know all of them will do great things in life and they will be sorely missed.
J-Hawks handle Saints with ease.
Jefferson traveled to the NE side this evening for a dual against CR Xavier. This dual did not last long as the westside, with some help from forfeits had no problem handling the Saints from Xavier. The JV dual had three matches with our J-Hawks winning 2 of 3 coming away with a 78-6 win. The varsity fared almost as nice winning 51-21. Big congrats to Caleb Ziegenhorn for winning his varsity match and to David Bonner who wrestled his first varsity match at 220 coming up just short of a win. Both young men wrestled tough and we are very proud. Saturday we are hosting our J-Hawk Invitational, we hope everyone will come out and cheer on our boys as we go for two titles in a row!
CRP 9th Grade Meet
Coach Martin took our freshmen over to Prairie for another 9th grade meet. We had 4 wrestlers go undefeated taking first place in Jacob Hadish, Cody Clendenen, Michael Handley and Taylor Viktora. Taking second place were Brody McShane, Colton Endsley, Jacob Sherzer, Anthony Lonimer and Fernando Castillo. Overall coach Martin was pleased with how our boys wrestled.
Benton Community Tournament Recap
Saturday saw our J-Hawks travel to Benton for their always tough invitational. We had some mixed results coming home with a 6th place team finish. We did not have our full varsity roster in tact but still wrestled ok overall. We had two finalists in Baker and Briggs. Brenden came away with the championship while Kyle came up just short taking second place. Culver and Kuehl both took third, while Sibomana and Sedlacek both took fourth. Hovey and Jellison took seventh.
The Boys in Blue showed why they are one of the top teams in the state last night vs.
#13 ranked Dubuque Hempstead
We started off the night with some JV action. Endsley, Clendenen and Primmer all had pins to help give us the 39-30 victory. Varsity was up next ,and boy was it exciting! Both teams won 7 matches each, but it was our bonus point wins that helped up propel to a 35-27 victory. Nick Dreckman had a huge win as he went up a weight and took on the #10 ranked kid in the state coming away with a big 9-1 major decision. Briggs and Sedlacek also had majors. Rashed scored 25-7 TF and May, Baker and Sibomana had huge pins. The crowd went wild when Sibomana sealed the victory with an exciting pin. Overall we looked pretty good and we are moving in the right direction. The boys are listening to their coaches and it is showing. We head over to Benton Community Saturday for their V/JV tournament. Coach Martin is also taking a group of JV kids over to the Clear Creek Amana JV tournament. We also want to thank the Blu Cru for showing up and giving us their huge support. It has been really nice this season seeing the stands full supporting our J-Hawks!
2015 Clash Tournament Recap
This was an experience that our J-Hawks will never forget. This was the first National Dual Tournament we have ever attended and it was a great experience. The end results might not have been what we had hoped only going 2-4 in the two day event, but what we will get out of this from wrestling some of the best competition in the nation cannot be matched. Overall we were very pleased with how our boys wrestled. We still tend to be making some of the same mistakes over and over which is something we will really concentrate on in the weeks to come at practice so we are ready come the end of the season. We also need to do a better job at managing our day to day lifestyles so we can perform at optimal levels. Conditioning needs to be worked on. Not just on the mat but every minute of the day. This means getting the right amount of sleep each night, eating right and maintaining a weight where you are not having to cut extra pounds each week to make weight. This is not an easy thing to do but once you are able to maintain a weight, everything else seems to come a lot easier and you feel stronger and more confident in each and every match.
We had two wrestlers who went unbeaten going 6-0 each in Brenden Baker and Kyle Briggs. Brenden pretty much cruised through his matches, (not of course without the usual battle scars that seem to happen too often) recording 4 Falls, 1 TF and a Maj. Dec. Kyle Briggs in this observers opinion wrestled the best i have seen him wrestle. He looked good, smooth and confident the whole tournament. Kyle recorded 3 Falls, 1 TF and 2 Dec. in route to his 6-0 finish. Both young men were honored with special 6-0 patches and a selection for the All Tournament Team. Tavian Rashed also had an outstanding tournament going 5-1. If not for a last second SV loss Tavian would also be among our 6-0 wrestlers. We also had three wrestlers who went 4-2 which is also not easy to do in Joseph Sibomana, Luke Sedlacek and Dalton Kuehl. Dalton capped off our last dual and secured the win for the team with an exciting pin. Kelly May and Matt Culver went 3-3. Both of these young men each had huge wins in the duals. Jaden Collins and Caleb Ziegenhorn both had their varsity debut I believe. Caleb had a huge win in our final dual helping us get the dual win. You can see complete results on our results page.
J-Hawks take Second place at tough SE Polk Invitational


Joesph Sibomana and Kyle Briggs both took first place. This was actually a first for both in taking the title at a major tournament. We had 8 finalists but unfortunately was only able to bring home two titles. Taking second were Baker, Culver, Rashed, Dreckman, May and Kuehl. Main and Sedlacek took third. Jellison fifth, and Hovey and Moomey took seventh.
JV at English Valley


Coach Martin took a group to the English Valley JV Tournament Saturday. Our top finishers were Ziegenhorn and Bonner who both took second place. Viktora, Endsley, Thompson, Richardson took third. Primmer took fourth and Z. Hadish took seventh. All in all not a bad day but we still have a long way to go.
JV at Wilton


Coach Buesing took a group to Wilton. WOW.. what a long day it was. If I recall, there were over 200 wrestlers, 29 teams and 5 rounds of wrestling in some brackets on only three mats, in a tiny 1A gym. All in all we were pretty happy with how our boys wrestled. They wrestled tough and did not give up. After looking through results our best finishers were those boys who had to wrestle five rounds on the day. Jacob Hadish was our lone champion going 5-0 on the day and taking first place. One of Jacobs matches made us sitting in his corner just smile and laugh. Going into the second period it was our choice, Jacob puts a thumbs up on his chest smiling towards coach Buesing indicating he wants to go on top. Coach tell him to go down, Jacob had a rejected look on his face, but then goes out and in a matter of less then a minute he reverses his kid and pins him. We all broke out in smiles and had a hard time stopping laughing as he headed back to the corner. Tyresse Smith also had a very good day going 4-1 taking second place. Rojas and Hopkins also had winning records on the afternoon.
JEFFERSON BEATS PRAIRIE!!!


THE STREAK HAS BEGUN! Our J-Hawks walked onto the mat last night with one goal in mind... Beat Prairie in their house! The boys in blue showed last night why we are a team to watch this season as we beat Prairie for the first time since 1995 34-28, and first time since 1975 in their house. It was a huge win for the west siders. First off we want to thank all the Blu Cru who traveled across town last night to cheer on their J-Hawks and turn the Prairie gym into a home dual atmosphere for us. The support was huge! The night started off with a huge win from Joseph Sibomana as he went into SV sticking his opponent in a spectacular flurry which ended up with Joseph on top and the pin. Briggs, Rashed, Sedlacek, Dreckman, May, Kuehl and Baker also chalked up wins on the night. Kelly May had the only match which both wrestlers were ranked. Kelly coming in being the lower ranked wrestler proved who was best with a great hard fought win. One thing we know for sure, Kelly May is strong. If you saw the match you will agree that the strength it took to hold off getting turned to his back and preserve the win would turn anyones head and make them just say WOW. Our JV did not fair as well losing 55-20. Even with this loss we had a huge win from Trinh as he pinned his opponent.
JV visits the Marion Tournament


Coach Buesing also took a group of JV to Marion for their JV tournament. The J-Hawks fared pretty good with Jacob Sherzer bringing home our lone title! Way to go Jacob! Z. Hadish, Marble, McShane and Castillo also all took second place.
JV takes 5th at SEP Tournament


Coach Martin took a group to SEP for their very tough JV tournament. Rd. 1 is a win vs. Marshalltown with Clendenen, Endsley, Owens, Viktora and Bonner recording falls in a 30-44 loss. Rd. 2 we defeated Atlantic 54-15 with some pins from Storm, Smith, Endsley, Viktora and Bonner. Rd. 3 we lost to SEP Black 60-18. Hensel, Bonner and Collins all had wins. Rd. 4 we defeated Newton 63-16 with wins by Storm, Thompson, Handley, Endsley, Ziegenhorn, Owens, Viktora, Collins and Hensel. Final round dual was a win vs. Urbandale 60-24 with wins from Smith, Handley, Endsley, Ziegenhorn, Ownes, Viktora, Trinh, Bonner, Collins and Hensel. Not a bad day at all for our J-Hawks.
J-Hawks take 2nd at Johnston Invitational
We crowned two champions in Brenden Baker and Tavian Rashed. This was Tavian's first Tournament win as a J-Hawk. Overall we had a really good day with our boys wrestling hard. Zach Main took third, Joseph Sibomana took third, Tyler Unkel took 4th, Kyle Briggs took second, Matt Culver took third, Luke Sedlacek took third, Kelly May took second, Erik Hovey took fourth and Dalton Kuehl took second.
Week one in the books
Our J-Hawks have started off the season on a roll. We hit a little hickup last Saturday at Cedar Falls with the team coming in 6th and only having one finalist in Tavian Rashed who took 2nd, but we rebounded Thursday night with two huge win versus two powerhouses in Linn Mar and Iowa City West coming out on top in both duals. We started off the night against LM winning 45-17 wrapping up the night beating ICW 44-27. Baker made his first appearance of the season after breaking his foot dominating both opponents with two pins. Bonus points dominated the night with the boys in blue recording 10 pins in the two duals. If there was a match of the night it had to be Erik Hovey bumping up to 220 with a VERY exciting pin over Dowell of ICW in the dual for the J-Hawks. The JV team did not let the varsity outshine them as they also had a good night defeating ICW 54-30 recording 7 pins!
J-Hawks roll in season opener
The season is finally here and our boys came to wrestle in the season opener with the varsity going 2-0 on the night and JV going 1-1. Dubuque Wahlert was the first victim of the evening with our # 3 ranked J-Hawks rolling to a 50-27. Rashed started off the evening with a TF 22-5, Kuehl, Sibomana, Briggs and Culver all recorded pins. Next up on the evening was Cedar Falls and our boys kept the momentum rolling with the varsity winning 48-25. The JV fell in a close meet 33-36. May, Main, Sibomana, Briggs and Culver all recorded falls.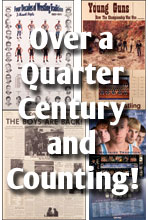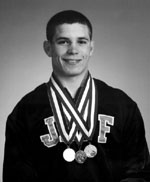 Our very own Mark Ironside,
Two-Time State Champion
has been inducted to the
Iowa Wrestling Hall of Fame
Class of 2010.
Read the article and more information on the 2010 induction ceremony!
cick here to visit website