Co-Head Coach
Dick Briggs
dbriggs@cr.k12.ia.us
Co-Head Coach
Matt Orton
morton@cr.k12.ia.us

Athletic Director
Chris Deam
cdeam@cr.k12.ia.us
parent/student
e-mail dist. list form
We hope this will make things easier when sending out forms and other important info via email to all our parents and wrestlers.
"The Night The Names On The Wall Came To Life!
2010 State Finalist Reunion
For those of you who were unable to attend we have posted a pdf version of the finalist program for you to download.
PLEASE CLICK HERE
Year by Year
A Condensed Look at the First Fifty plus years
of J-Hawk Wrestling...
2012

The fifty fifth edition of J-Hawk wrestling saw a season of highs and lows. The team finished with a very nice 12-6 dual meet record. This garnered a fourth place in the MVC division. Although the J-Hawks did not have a finalist in the MVC Super Meet they did place eleven wrestlers between seventh and third place. This indicates the balance that the team relied on during the season. The J-Hawks had five wrestlers with 25+ wins: PJ Rashed (29), Michael Moncivais (28), freshmen Luke Sedlacek (26) & Kelly May (25), as well as Shavez Butler (25). Three wrestlers finished the season with 20+ wins: Mic Vesey (22), Josh Allen (21), and Griffin Bollman (21). That being said the J-Hawks fell just a bit short at the district tournament. Although 9 wrestlers advanced to the front side of the bracket after the first round, only one was able to qualify for state as a runner-up.

Coach Briggs made the comment at the banquet that this was the first signs in which the wrestling team was leading the charge for the rest of the school in the change of culture. That is, that the athletes would embrace the challenge of hard work and preparation rather than avoid it.

This year also is the new beginning of the next wave of Bad Boys club members to highlight their talents. That being demonstrated on this team by the addition of long time Bad Boys: Kelly May and Luke Sedlacek. The next 2-3 years should also reveal a good crop of Bad Boys talent.
| | |
| --- | --- |
| | 2013 This was a very young group to be sure, but not without its talent. With only three seniors on the team the group still had a very nice season, finishing 11-6 in duals with a 2nd place finish in the MVC divisional. Although the J-Hawks had only one runner-up in the fourteen team MVC Super meet they had nine wrestlers finish fourth or fifth. This helped the team to improve one step from the last two seasons by jumping from 5th to 4th. |
Bring on the Bad Boys. With a second year of highly talented incoming freshmen the team benefitted greatly. Individually the results were another step forward as the J-Hawks had two wrestlers with 30+ wins in Michael Moncivais (33) and freshman Bad Boy Kyle Briggs (31); four wrestlers with 25+ wins in Kelly May (28), Drake Allen (28), Josh Allen (27) and Luke Sedlacek (26). Three finished with 20+ wins: Cody Hensel (23), freshman Bad Boy Brendan Baker (20), and Dale Deaton (20).
Although the team finished a very close third in the toughest district in the state and did not qualify for the regional dual meet, it was still a productive day in the Marion gym. Starting with only the second freshman in Jefferson history, Kyle Briggs qualifying for state, followed by sixth seeded Michael Moncivais' district title, with PJ Rashed and Drake Allen also qualifying.
Briggs and Rashed would fall one match short of placing in Des Moines, however Moncivais would continue his pinning ways and start the tournament with two straight pins (to go with his 3 at districts) and eventually finish with a sixth place medal.
The headline from each coach's statement in the banquet book pretty much sums up where they feel the future of this program is headed. Coach Orton "Where do we go from here?" Coach Buesing "Developing a winning character: show your medal", Coach Martin "Time has come for the J-Hawks to be heard from again", and Coach Briggs "Set the table, it is harvest time!"
2014 This season became the season of "best/first since…"
For instance our dual win over IC West, eight medalists and 4th place finish at the CF Inv. (best in 20 yrs.), a conference win over Linn Mar highlighted by Will Orr's pin over a ranked wrestler, winning our own J-Hawk Inv. (best in 20 yrs.), a runner up finish in the MVC Super meet highlighted by Josh Allen's monster day (best in 20 yrs.), qualifying and winning the regional dual meet at North Scott with first ever wrestling pep bus in attendance.
Despite poor and unjust rankings by the coaches, some questionable officiating, the team battled to seventh place in the State Dual Team Tournament. Supported by a super group of J-Hawk fans many that rode the first ever pep bus to State.
| | |
| --- | --- |
| Hosting districts in our own gym proved to be the home cooking that the J-Hawks needed to help win maybe the toughest district in the state over the 4th ranked LM team. Seven J-Hawks qualified for the state meet: Brendan Baker, Kyle Briggs, Tavian Rashed (only the 3rd frosh ever), Kelly May, Luke Sedlacek, Josh Allen, and Dalton Kuehl. | |
| | |
| --- | --- |
| The individual State Meet did not go as expected. Although five wrestlers experienced victory only two were able to bring home a medal; Brendan Baker 3rd and Kyle Briggs 7th. | |
Another highlight of the season was "Coach Bill McNiel Night". The J-Hawks honored Coach McNiel where more than 100 former wrestlers, coaches, opposing coaches, family, and JHS faculty greeted Coach at center mat. Many of the greeters traveled from out of state to honor Coach.
With a greatly beefed up schedule and a "weather out" SEP Inv. the individual records continued to improve dramatically: Brendan Baker (44), five wrestlers with 30+ wins Kelly May (33), Josh Allen (32), Luke Sedlacek (32), Bad Boy Tavian Rashed (32), and Kyle Briggs (30). Three others had 20+ wins: frosh Bad Boy Matt Culver (28), Dalton Kuehl (24), and PJ Rashed (22).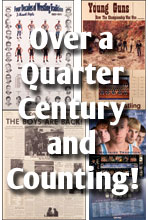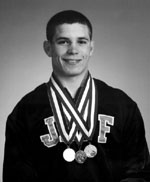 Our very own Mark Ironside,
Two-Time State Champion
has been inducted to the
Iowa Wrestling Hall of Fame
Class of 2010.
Read the article and more information on the 2010 induction ceremony!
cick here to visit website