Co-Head Coach
Dick Briggs
dbriggs@cr.k12.ia.us
Co-Head Coach
Matt Orton
morton@cr.k12.ia.us

Athletic Director
Chris Deam
cdeam@cr.k12.ia.us
parent/student
e-mail dist. list form
We hope this will make things easier when sending out forms and other important info via email to all our parents and wrestlers.
"The Night The Names On The Wall Came To Life!
2010 State Finalist Reunion
For those of you who were unable to attend we have posted a pdf version of the finalist program for you to download.
PLEASE CLICK HERE
Year by Year
A Condensed Look at the First Fifty plus years
of J-Hawk Wrestling...
1992 Seven state qualifiers bolstered the J-Hawks to a 1992 district crown. Mark Ironside-130 claimed his first state title less than two months after knee surgery capping a 32-1-1 junior season. He became the school's sixth state champion in the last four years. With one more year remaining he also rewrote four school records in the process. Senior Eric Baker-103 won his second state medal copping fourth while seniors Brad Pike-275 and Josh Lathrop-171 placed fourth and fifth respectively. The J-Hawk contingent scored the same number of tournament points as the year before when they placed third, however on this occasion it would only be good enough for seventh. Also qualifying for a trip to Des Moines were senior Darrin O'Brien-112, junior Jarod Young-160, and sophomore Travis Pike-145. In a strange twist of fate O'Brien left the District tournament in the Jefferson gym as runner-up but complaining he did not feel well. A day later he was forced to withdraw from the state tournament from his hospital bed. The team finished the dual season 13-4, losing twice to Cedar Falls. The second occasion being the regional state duals qualifier just days after the traditional state meet at Veteran's auditorium. It should be noted that three of the top four Class 3A schools at state were from the MVC. Yet, this team accomplished one thing no other Jefferson team ever had, they won their own J-Hawk Invitational. Coach Briggs recalled the season's highlight as, "the amount of hard work put in by individuals and the success they enjoyed as a result of that hard work." The upcoming year would see "senior" phenom Mark Ironside lead his team to a result that has never been equaled in the fifty-year existence of Jefferson wrestling.
1993 The Mississippi Valley Conference expanded from ten to fourteen teams in 1993. Two divisions, Mississippi and Valley, were created to hold seven teams each. The arrangement of each would shuffle and realign every two years assuring a variety in scheduling but allowing for traditional rivalries to continue. The four new members were East and West Waterloo, Cedar Falls, and newly built Xavier. In addition a new MVC Super-Meet in early February would crown a true MVC tournament champion in addition to the two divisional dual champions. In its inaugural season the Super-Meet was held in the Five Seasons Civic Center (later renamed the US Cellular Center) in downtown Cedar Rapids. It would be one of six tournaments the J-Hawks would win in 1993: Keith Young, North Scott, J-Hawk (second time), Ames, MVC, and a District title. But those school record-setting crowns paled in comparison to the two state team trophies this team earned from Des Moines (3rd) and Marshalltown (4th). To this day they remain the only Jefferson squad to harvest team hardware from both the traditional and dual state tournaments in the same year. It should be noted that the top three teams at the traditional state meet were all from the MVC, the J-Hawks missing the silver trophy by ½ point. Any discussion of this team begins and ends with Mark Ironside-135 lbs, the most successful wrestler Jefferson has ever produced. Mark would steamroll his way through his senior campaign on his way to a second state championship, a 41-1 season record, and a four-year mark of 138-5-1. During his championship match, in an attempt to secure bonus points and the silver team trophy, he set a state tournament record for most match points amassed during a finals match (27). After winning a second state title, but failing to earn a technical fall or pin, he angrily stormed to the basement of Vets Auditorium in disgust. Mark's only two losses (once as a junior once as a senior) were to undefeated four-time state champion Jeff McGinness (career record 126-0). Both seasons Jeff moved up a weight trying to help City High to victory. The first time it was successful, the second it was not. McGinness and Ironside had the most exciting matches ever witnessed by the Jefferson and City High faithful. On both occasions the steamy City High gym was rocking as both wrestlers were on the attack for six minutes. Their future Hawkeye coach, Dan Gable was in attendance, unable to contain a continuous smile throughout the match. Note: A separate page in this booklet chronicles Mark's entire wrestling career from his freshman year at Jefferson to his four-time All American status, his two Division I NCAA championships, and the Dan Hodge Trophy presentation. Mark was a key figure on four NCAA team champions (1995-98) from the University of Iowa, coached three seasons by the legendary Dan Gable and then as a senior by Jim Zalesky. But Mark did not win the 1993-team trophies alone; he had help from teammates that drafted alongside his greatness. Seniors Ray Ratcliff-112, Mark Pendergast-145, and Jarod Young-160 placed fourth, fifth, and fourth respectively. Juniors Jon Vlasek-103 and Travis Pike-152 garnered third and fourth place medals. Seniors George Horak-125 and Ron Gilson-171 also qualified for the trip to Des Moines. This was a team that responded to being pushed in practice and subsequently had the mental toughness to excel when the pressure was turned on from their opponents in addition to other challenges life presented. Several of the state medallists avenged losses to previous opposition; one (Gilson) rebounded from what could have been career-ending injury when he shattered his cheek bone and spent New Year's Eve having facial surgery. The entire team found the recipe for staying mentally focused in the regional dual victory over Fort Madison to earn a trip to the state dual tournament. In the final analysis it is crystal clear the team took their cues from the solid focus, supreme intensity, extreme passion, and unbridled excellence of their leader Mark Ironside.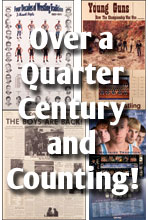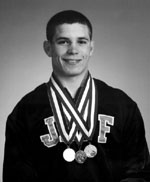 Our very own Mark Ironside,
Two-Time State Champion
has been inducted to the
Iowa Wrestling Hall of Fame
Class of 2010.
Read the article and more information on the 2010 induction ceremony!
cick here to visit website