Co-Head Coach
Dick Briggs
dbriggs@cr.k12.ia.us
Co-Head Coach
Matt Orton
morton@cr.k12.ia.us

Athletic Director
Chris Deam
cdeam@cr.k12.ia.us
parent/student
e-mail dist. list form
We hope this will make things easier when sending out forms and other important info via email to all our parents and wrestlers.
"The Night The Names On The Wall Came To Life!
2010 State Finalist Reunion
For those of you who were unable to attend we have posted a pdf version of the finalist program for you to download.
PLEASE CLICK HERE
Year by Year
A Condensed Look at the First Fifty plus years
of J-Hawk Wrestling...
| | |
| --- | --- |
| | 1994 While reflecting on his 1994 team Coach Briggs proclaimed this his, "most fun season of coaching to date. They were outstanding to be around, they were a hard working, fun, coachable, high achieving team. Each member brought their own personality and character to the room." They did not win a state trophy, placing second at the district tournament and sixth in Des Moines, but they did win at North Scott, the J-Hawk, and at Ames. |
They placed third in the MVC Super-Meet as Travis Pike-152 won his second outright MVC crown. To this day he is still the only Jefferson wrestler who can make that claim. When "zero hour" arrived at Veterans Auditorium all five state qualifiers brought home medals. Jefferson's fifth three-time qualifier Travis Pike played the ace of spades in his overtime finals match when he kelly-ied Casey Aldridge of Indianola to his back avenging one of only two defeats on the season. A new rule this season placed victory in all overtime matches (dual or tournament) on scoring the first point from your feet in a two-minute sudden victory. Pike was not the only J-Hawk finalist that Saturday evening on center stage, fellow senior and two-time medallist, Jon Vlasek faced his old nemesis (Eric Juergens of Maquoketa) for the fourth time in two years. The two gladiators faced off twice each his junior and senior year, they proved to be Vlasek's only losses. It is a fact if Juergens had been in 2A, as Maquoketa is today, Jon Vlasek would clearly have been a two-time state champion for Jefferson. In their final meeting in the 112 lb 3A state finals Vlasek immediately took Juergens down to his back and held him there for what seemed like an eternity. Slow to react, the dumbfounded official did not react in time or position himself to see both scapula clearly down on the mat for several counts. Unfortunately, Juergens fought off his back winning by decision on his way to becoming one of precious few four-time Iowa state champions. Juergens' career high school record was 144-0. He would go on to compete for the Iowa Hawkeyes becoming a four-time All American and two-time NCAA champion. Briggs would later reveal Jon Vlasek was, "the most complete wrestler I have ever coached, an excellent athlete, fierce competitor, great team leader, with awesome work ethic." Vlasek finished his career eclipsing Mark Ironside's four-year wins record with 142. Also becoming state medallists were seniors Jeremy White-103 and Jason Meier-135 both placing fifth, and junior AJ Williams-119 copping sixth. Footnote: White went on to wrestle four years for Central College and is an assistant coach at Oskaloosa today.
1995 In the six years previous to 1995 Dick Briggs' J-Hawks found a way to place in the top ten in Des Moines each season. Forty-three state qualifiers produced twenty-nine medals and eight individual state champions. In addition, the eleven years previous saw Jefferson sophomore teams post a dual record of 125-15-0. Although the 1995 varsity squad would not produce comparable results, they would find a way to do something that had not been done since the McNiel-era teams of the seventies. Cedar Rapids Prairie had not lost a dual to a metro team in almost twenty years. The streak came to an end at the hand of a determined group of J-Hawks, 27-25. In doing so, they also won the first MVC crown in ten years finishing 11-1. Oddly, that string-ending Prairie team would go on to win the state title at Veteran's Auditorium the next month. The MVC was well represented at the barn once again with two of the top four 3A schools. Briggs called it, "the best dual season since I've been coach at Jefferson." Eight wrestlers recorded more than twenty wins for the season. Unfortunately, it was also the worst district and state tournaments since he took over in 1983. Three seniors represented the blue and white in Des Moines. AJ Williams-112, Russ Tollefson-119, and Jake Smithhart-140, competed but all returned empty-handed (For only the third time in thirty-eight years). Because of this disappointment, but also because there was keen interest, a J-Hawk Youth Wrestling program began without an identifiable name, they would later be known as the Bad Boys.
1996 Add to that last statistic four times in thirty-nine years. In 1996 seven state qualifiers made the trip to the Big Barn and for the second year in a row each returned without a medal around their neck. Sophomores Nick Bloxham-103 and Tim Ironside-119, juniors Tom Eaton-145 and Dan Newhard-171, and seniors Brian Newhard-152, Tracy Donels-160, and Andy Evers-189 all made the trip for the J-Hawks. The dual season produced ten wins but also seven losses, due in part to grades, injury, illness, defection, and an inability to put a 275 lb competitor on the mat once all season. For the first time in school history the entire team roster slipped to just thirty brave souls. Four sophomores were varsity regulars and six freshmen strapped on a varsity singlet at some point during the course of the season. At one point the 1996 J-Hawks were 6-6 and still justifiably ranked tenth in 3A. They lost twice to the number one ranked team, had defeated the number six team, and lost tightly contested duals to numbers two, three, five and seven. Brian Newhard (Captain, MVW, 32 wins, 16 falls) led the team winning four tournaments including the J-Hawk, MVC Super-Meet, and Districts. Briggs recapped the season stating the obvious, "The coaching staff is very proud of the seven state qualifiers. From a team standpoint it was a frustrating season, knowing how good this team had the potential to be, but never realizing it."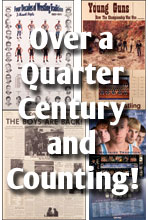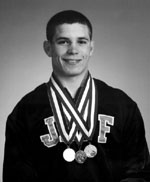 Our very own Mark Ironside,
Two-Time State Champion
has been inducted to the
Iowa Wrestling Hall of Fame
Class of 2010.
Read the article and more information on the 2010 induction ceremony!
cick here to visit website