Co-Head Coach
Dick Briggs
dbriggs@cr.k12.ia.us
Co-Head Coach
Matt Orton
morton@cr.k12.ia.us

Athletic Director
Chris Deam
cdeam@cr.k12.ia.us
parent/student
e-mail dist. list form
We hope this will make things easier when sending out forms and other important info via email to all our parents and wrestlers.
"The Night The Names On The Wall Came To Life!
2010 State Finalist Reunion
For those of you who were unable to attend we have posted a pdf version of the finalist program for you to download.
PLEASE CLICK HERE
Year by Year
A Condensed Look at the First Fifty plus years
of J-Hawk Wrestling...
| | |
| --- | --- |
| | 1997 The forty year anniversary of Jefferson wrestling produced a happy return to the top ten in 3A with an eighth place state team finish. It also produced one of the most unlikely individual state champions the school has ever seen in Toronald Harris-135 lbs. For the second time in as many years the J-Hawks sent seven grapplers to the state tournament in Des Moines.Junior Tim Ironside-119 placed fifth in his second appearance, also qualifying were junior Dillon Kuda-140 lbs and seniors Brett Richardson-125, Ryan Roff-152, Tom Eaton-160, and Dan Newhard-171 lbs. |
Harris capped an improbable run at the title. Possessing cat-like balance, incredible natural strength, and no fear of anyone, Toronald had been a four-year member of the Jefferson wrestling program but heretofore was incapable of finishing a season he began. In a stroke of genius, although not recommended, Coach Dick Briggs did not allow Harris to begin his season until after Christmas. He had so little mat time most knowledgeable students of the sport did not know who he was. Many shook their heads in amazement when he entered the District tournament with only five matches. Once there, he did not win a district title; he was pinned in his finals match. To Toronald's credit he was convinced he would (not could) be a state champion. He went to Des Moines with blinders on and single-minded; if he was not at the arena competing he was in the coaches' hotel room, uniform on, waiting for the van to leave for his next match. For three days he ultra-focused, with just one outcome on his mind, the four matches (one at a time) he needed to earn gold. He rolled through the preliminary matches entering the finals with a 10-1 season record. In a hard fought come-from-behind match he defeated a Mason City wrestler who was 35-0. After having his hand raised he executed his patented victory back flip on the 3A mat, after first being granted Coach Briggs' blessing. The J-Hawks finished the dual season 10-6 and in a testament to the strength of the MVC placed seventh at the Super-Meet, yet eighth in the state. In retrospect Briggs remembered the 1997 team as, "very hard working, they believed in themselves and their coaches, and they never lost sight of their goals." He attributed it all to great senior leadership. Sadly, only twenty-seven total wrestlers finished the season including six freshmen. It was a sad story that was playing out all over the MVC. No longer were sophomore and junior varsity duals contested, let alone freshman dual competition. Some rosters of MVC schools were in the teens. On a typical Thursday dual only one mat was now being used for a handful of matches preliminary to the varsity competition. There was cause for concern, yet the coaching staff had a plan, the results of which would not be seen for several seasons.
1998 Three-time state qualifier Tim Ironside went into the 1998 state tournament with the weight of the world on his shoulders. Both older brothers had won state titles; both had recently won national titles at the collegiate level. Could he complete the family trifecta? Entering the Big Barn Tim knew he was not odds on favorite. Returning state champion Eric Sinclair of Cedar Falls, who had already pinned Tim twice during the regular season, stood firmly in his way. The pressure was clearly a burden most of us can only imagine. Luck of the draw handed Tim no favors with his placement in the 130 lb bracket. But being an Ironside meant you never looked for an easy road. After a hard fought quarterfinals match, it was on to the semis where he would have his third meeting of the season with "headlock-specialist" Sinclair.
After being pinned by him earlier in the year (for a second time) Tim remarked, "I still don't see why I can't tech-fall or even pin him!"What a prophecy. Tim did just that, leading at the time, he showed Sinclair the "Friday Night Lights."
The fall was recorded and history was one match from being made.
In a rematch of the J-Hawk Invitational 130 lb final, Tim convincingly won his title match becoming Jefferson's twenty-ninth state champion and making the Ironside clan the "first-family" of wrestling in Cedar Rapids. It had to be especially satisfying for Tim, knowing he had defeated the second, third, and fourth place finishers in his weight class that weekend. Coach Briggs was later quoted, "I've held all three of the Ironside boys' state championship medals and Tim's was by far the heaviest. Knowing the mountain Tim had to climb to win his state title makes his gold medal the most satisfying ever, personally." Most had forgotten that earlier in the year Tim had surgery on both knees. He overcame injury, illness, and a host of nay-sayers that could not imagine the size of the heart that beat within his chest. Other state qualifiers in 1998 were juniors Mike Vagher-112 and Jason Cole-140 along with seniors Dillon Kuda-145 and Kris Ehlinger-160. Cole, an Ironside cousin, placed third at the district tournament but was inserted into state competition when the runner-up fell ill and could not compete. Interestingly, in Jason's third place consolation match at districts he defeated a Washington opponent that had beaten him 12-3 two weeks earlier in the final dual of the season. Let it never be said third place matches have no meaning. Dillon Kuda, a returning state qualifier, broke his hand in two places during practice five weeks before Des Moines. Not only did he return for the tournament run, he would not miss a practice while rehabilitating. The 1998 squad finished 6-9-1 as a dual team and would go down as the first sub .500 season in Dick Briggs' fifteen-year stint at Jefferson. However, when it came to producing state qualifiers Briggs reigned supreme when compared to the schools five previous successful coaches. A statistical analysis of coaches and qualifiers:
Coach Years Qualifiers Average/Year
Cameron 6 31 5.2
Fisk 3 16 5.3
Kurdelmeier 1 3 1.0
McNeil 11 56 5.1
Fowler 5 18 3.6
Briggs 15 87 5.8

1999 After analyzing the table above it seemed appropriate five state qualifiers once again made the trek to Veteran's Auditorium for Briggs' J-Hawks. Senior Mike Vagher-119 secured a fifth place finish culminating a 101-win career as a three-time letterman. Also qualifying for state were seniors David Daly-103 and Jason Cole-145, along with juniors Clint Miller-152 and Chris Buesing-189. In earning trips to state Daly and Buesing turned in season best performances at the district tournament. Daly, whose best tournament finish prior to districts was a third place showing at Ottumwa, scored in a last minute flurry during the wrestle-back round to earn his trip to Des Moines. Buesing (seeded fifth) outdid them all defeating three wrestlers who had beaten him earlier in the year on the way to his district crown. As a team the J-Hawks finished the dual season a frustrating 5-7 placing eleventh out of fourteen MVC teams at the Super-Meet. Coach Briggs described the 1999 squad as, "being too nice and accepting defeat much too easily." Would a new millennium see resurgence for the once proud program? Footnote: Mike Vagher would go on to become a five-year member of the Buena Vista College wrestling team and earn All American Scholar status. David Daly is a history teacher and assistant wrestling coach in Prescott, Arizona today.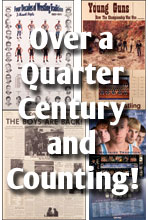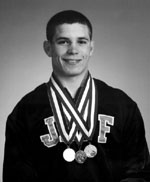 Our very own Mark Ironside,
Two-Time State Champion
has been inducted to the
Iowa Wrestling Hall of Fame
Class of 2010.
Read the article and more information on the 2010 induction ceremony!
cick here to visit website