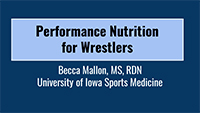 Download Presentation
PDF HERE
Head Coach
Rob Martin
romartin@crschools.us

Athletic Director
Chris Deam
cdeam@cr.k12.ia.us
We held our J-Hawk invitational last Saturday. 11 of the 16 teams coming were able to make the trek through the snow for a great days of wrestling. The J-Hawks placed 8 of 11 wrestlers on the podium. Our top two finishers came from Nunzio Salanitri at 106 and Cade Chism at 285. Both wrestlers went 3-2 on the day. In his 5th place match, Salanitri won by fall over ICCH's Kendall Kurtz in 1:29. Chism also wrestled a city High opponent, Cameron Lacina also winning by a fall in 3:12. Taking home 6th place were Colin Woods (220) and Shukuru Budederi (126) both went 2-3 on the day. Earning seventh place was Austin Clifton at 132. Finishing in eighth was Landon Rudnicki, Anthony Snodey and Frank Budederi.
This was a special day as we honored a great friend and loyal supporter of Jefferson athletics in Wyatt Schultz who passed away last August. Ben Keuter, 220 for Iowa City High, received the tournament's Outstanding Wrestler award voted on by the coaches. He is the first recipient of the award, now named in honor of Wyatt Schultz. Sharing in the presentation is Grant Schultz, one of Wyatt's sons and his wife Kirsten.
We also presented Kirsten and Grant each a framed print of our wrestling schedule poster this year that honored Wyatt.
Thursday night the J-Hawks traveled down to IC West for a tri dual along with Muscatine. The JV team went 2-0 on the night and the varsity fell in both their duals. In our dual vs. West the J-Hawks lost 50-22. Picking up wins for the boys in blue were Colin Woods at 220 with a MD 13-4. Cade Chism at 285 followed him with a fall in 1:13.
In the varsity matchup vs Muscatine we fell 49-21. At 106 Nunzio Salanitri won by fall in 1:06. At 160 Domicio Ndaizeye won by fall in 5:07.
JV goes 2-0 with a 39-18 win against ICW and 27-6 over Muscatine.
Pacific Roussi started the night off with a 8-3 decision win at 170. At 195 Connor Luensman won by pin in 3:08. Marc Petit followed him with a pin at 220 in 1:35. At 152 Adonis Kuundu won by fall in 1:50 to end the dual.
Against Muscatine, Dreni Zeneli picked up a 11-6 decision win at 132. Eli Szabo at 145 won by fall in 1:26. At 195 Marc Petit picked up his second win of the night with a pin in only :48 earning him the fastest pin of the night. Parker Chyma wrapped up the dual with a fall in 2:22.
Saturday coach Martin and staff loaded up the big yellow bus and

headed

to Benton for the always tough Jerry Eckenrod Invitational. The varsity team placed 13th with four wrestlers making the podium. Nunzio Salanitiri and Austin Clifton both placed sixth. Frank Budederi and Colin Woods placed eighth.

In the JV tournament 7 of our 16 Jeff wrestlers made the finals, 9 total placed in the top three with Cade Chism taking home top honors with a first place. Also making the finals but placing second were Parker Chyma, Anthony Snodey, Evan Parrott, Eli Szabo, Max Lathrop and Dreni Zeneli. Taking home third place finishes were Da'Angelo Evenand McGowen and Pacific Roussi.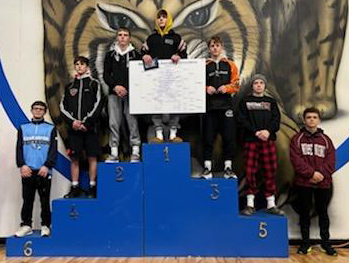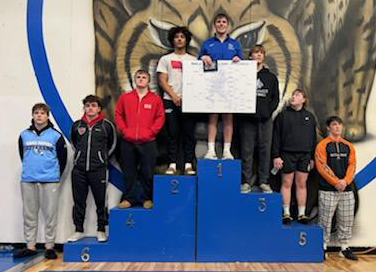 Thursday night our J-Hawks took a short trip up the road to take on cross-town rival Kennedy. In the varsity dual the Cougars were able to get past our boys 47-24. CRK took the early lead at 220 with a decision win. At 285 Zane Wilson got the J-Hawks going with a 5-2 decision win. Nunzio Salanitri at 106 continued the momentum with a fall over Jack Oleson in 2:45. The J-Hawks dropped the next three matches giving Kennedy the early lead 20-9. Austin Clifton at 132 got us back on top with a 5-1 dec. over Cael Smithart. Frank Budederi won by fall in 1:25 at 138. Luke Moses at 182 got the J-Hawks final victory of the night with a fall in 2:54 over Austin Raue.
In the JV dual Kennedy was able to get the win 52-24. Some highlights from the dual was Parker Chyma with a fall at 220 over Eli Eaton in 1:19. Cade Chism followed him at 285 with a fall of his own over Charles Cherry in 1:11. At 182 Anthony Snodey pinned Victor Sagastume in only 52 seconds earning him the fastest fall of the night for the J-Hawks. Marc Petit wrapped up the dual with a pin of his own in 3:28 over Ella Brown.
The team wrestled at the Central DeWitt tournament on Saturday coming home with a seventh place finish as a team with six wrestlers placing, including tournament champ Austin Clifton who won the 132 lb class. Other place winners were Nunzio Salantiri, AJ Buzynski and Zane Wilson who took third. Shukuru Bodederi, and Kalvin Setik placed sixth.
Since the 1983-1984 wrestling season we have had a J-Hawk schedule poster dedicated to our letterman and varsity team. This season we changed things up a bit and dedicated it to a very close friend of the program who passed away this past August. This years poster is dedicated to G. Wyatt Schultz. Wyatt was a long time supporter of our wrestling program and Jefferson athletics. Wyatt had a saying... "Let's Keep Wrestling on the Move." I hope he is looking down on us smiling knowing We Will "Keep Wrestling on the Move"
at Jefferson!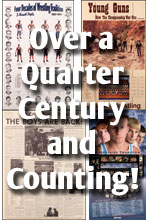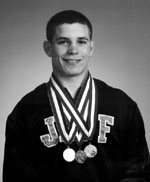 Our very own Mark Ironside,
Two-Time State Champion
has been inducted to the
Iowa Wrestling Hall of Fame
Class of 2010.
Read the article and more information on the 2010 induction ceremony!
cick here to visit website