Head Coach
Ryan Phillips
rphillips@cr.k12.ia.us

Athletic Director
Chris Deam
cdeam@cr.k12.ia.us
parent/student
e-mail dist. list form
We hope this will make things easier when sending out forms and other important info via email to all our parents and wrestlers.
"The Night The Names On The Wall Came To Life!
2010 State Finalist Reunion
For those of you who were unable to attend we have posted a pdf version of the finalist program for you to download.
PLEASE CLICK HERE
Congratulations to Kyle Briggs for placing second in the USAW Preseason National Wrestling Tournament held at the UniDome in Cedar Falls. There were 90 wrestlers in his weight class. Kyle defeated five wrestlers before falling in the finals. He defeated the third ranked wrestler in 2A from Iowa. He also defeated the number two seeded wrestler in the semi finals.
Banquet DVD's Are Available for ONLY $5.00


contact Todd Hunt or one of the coaches if you would like to purchase one


Michael Moncivais takes 6th Place at STATE!!
Every coach strives to have their kids peak come time for districts and the state tournament.
This year we had one such young man. Michael reached that plateau this year with a remarkable stretch. Going into Districts Michael was seeded 6th. Not only did he take the district conference title, he pinned all three opponent in the process. This alone would of made for a great end of the year. BUT, Michael was not ready to call it quite yet. He had one goal in mind... make the podium at State! So, what does Michael do, he goes out and in his first two matches he pins his opponents on his way to the semi-final round. In the Semi final round he lost to the eventual state champion Logan Ryan from Bettendorf.
Michael was not our only wrestler who had a wins this year at state. Kyle Briggs and PJ Rashed both fell one win short of the medal round. Drake Allen had two tough matches but came up on the losing end in both matches. All in all it was a very nice season. What impressed me most was how we kept getting better as the season progressed. The kids are started believing they can win, and as we know that makes all the difference. There is a bright future for our J-Hawks. We could have quite a few more wrestlers making state in 2014.
2013 Wabash Wrestling Camps


J-Hawk Wrestling Family,
This is a camp opportunity that was shared with us by Coach Martin. We would love to send our team to this camp and have an opportunity to learn from world class coaches and also give our athletes an opportunity to compete as a team. We know that this is an expense so we wanted to give our families the chance to come up with funds to support this camp. Please let us know if you have questions and if you are interested in attending. This would be a tremendous step for our team in reaching our goals for next season. Click here for more information!
Parents and athletes,
It is never too early to think about preparing for next year (unless, of course, you are a state qualifier). I received an email this weekend regarding the Cedar Hawk Wrestling Club . This is a great bargain for the instruction and will expose our wrestlers to the highest quality drilling partners in eastern Iowa. This is a huge part of our development and critical in our goals to bring home medals and trophies from the state duals and traditional tournaments. The cost is $30 per month plus the cost of your USA Card ($36 online…which provides insurance). The club meets twice a week, starting March 5 - May 30, 2012
Tuesday & Thursday Nights, 6:00pm – 7:30pm. Please let Coach Orton know if you have questions. In the past we have car-pooled to Coe College. This is right in our back yard – please take advantage of this opportunity to improve.
The van ride to Des Moines and the 2013 state tournament will have 4 J-Hawks with their gear packed ready to finish what they started back on the first night of practice!

Kyle Briggs, PJ Rashed, Michael Moncivais and Drake Allen
MAKE STATE!
What a day! Freshman Kyle Briggs (113) was our first wrestler to book his ticket to DSM taking second place. Junior PJ Rashed (120) also took second and will make a return trip to DSM this year. Next up was Sixth Seeded Junior Michael Moncivais (132) and boy did he make a statement today. Not only did Michael take the title, but he pinned all three of his opponents in the process. Senior Drake Allen (182) will also be riding in the van to state taking second place. We also had a couple wrestlers come up one match short. Senior Cody Hensel (126) did his part winning his final match but by RULE fell one place short. Sophomore Josh Allen (170) also won his final match but like Cody, he finished in Third too. Brenden Baker, Jontel Ware and Luke Sedlacek took fourth, while Kelly May, Dalton Kuehl and Dale Deaton all finished in fifth. Congrats to all our wrestlers. We saw a lot of heart out there on the mat today from the whole team and are very proud how everyone wrestled.
Feb. 2 —J-Hawks take 4th and crown two champs at JV/Soph MVC Conference Tournament. Our boys stepped up their game on Saturday with a really nice perfromance down at IC West. We had eight wrestlers place third or above! Chaney Floyd took the MVC JV title and Erik Hovey was crowned the MVC Soph Champion. In all we had 14 wrestlers place in the Top 5. Congrats to all out JV wrestlers for a strong performance!
Jan. 31 —J-Hawks dominate! Thursday night saw our boys head down to City High for their final double dual of the season with City High and Waterloo West. Both our varsity and jv teams had no problems coming away with victories.
First victim of the night was Wateroo West. The JV won their dual 59-6 with Richard Moomey and Callahan Moore both recording pins. Nick Dreakman scored a tech fall. The varsity also had no problem with a 57-19 victory. Dalton Kuehl, Dale Deaton, Brenden Baker, PJ Rashed and Jontel Ware all recorded pins!
Next victim of the night was the Little Hawks of City High. JV kept their momentum going with a dominating 66-6 victory. Joseph Sibomana, Caleb Ziegenhorn and Richard Moomey all recorded pins. The vasity also had no problems taking care of the Little Hawks coming away with a 72-3 win. Brenden Baker, PJ Rashed, Michael Moncivais, Jontel Ware and Josh Allen all recorded falls. Kyle Briggs continued his quest to make state with a tough hard fought SV1 over 2012 State Qualifier Lemus from City High.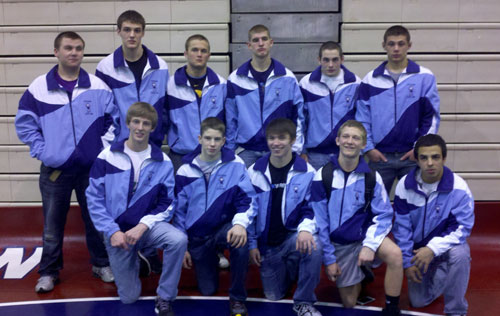 J-HAWKS TAKE 4TH AT THE MVC SUPER MEET
Jan. 26 — Saturday our varsity headed across town to Washington for the MVC Super Meet. Freshman Kyle Briggs led our J-Hawks with another impressive tournament placing second in a very tough bracket. Kyle has been improving every meet, and has his eyes set down for districts and a trip to the State tournament. We entered 11 wrestlers and ALL 11 finished 6th or better giving our team a 4th place finish. This is the best finish we have had as a team since 1995. The boys are starting to get it. Cody Hensel, Kelly May, Luke Sedlacek, Drake Allen and PJ Rashed all finished in 4th. Brenden Baker, Michael Moncivais, Josh Allen and Dale Deaton finished 5th with Dalton Kuehl taking 6th. We still have a long way to go if we want to be the dominating force Jefferson has been in the past but things are moving in the right direction.
Jan. 21 — Nick Dreckman is 2013 CRANDIC CHAMPION. Congratulations to the freshmen wrestlers for a fine job at the CRANDIC wrestling tournament last night. Barret Wise was 7th place, Collin Aarhus was 6th, Joseph Sibomanna, Alex Moncivais and Quintin Bruce were runner-ups.
Jan. 17 — J-Hawks Tame the Cougars!!!
Thursday night saw our boys travel to crosstown rival Kennedy. Both the Varsity and Junior Varsity teams took care of business coming home with dual wins. The JV startted us off with a nice 43-15 beating of the Cougars. The highlight of this dual by far was the performance of Richard Moomey who recorded his first ever pin. CONGRATS RICHARD!!
The Varsity took care of business too winning 43-27. Kyle Briggs started our four match win streak with a pin of his Kennedy foe in 2:34 seconds. Kelly May, Luke Sedlacek, Josh Allen, Drake Allen and Dalton Kuehl all recorded pins.
Jan. 12 — DRAKE ALLEN TAKES 2013 J-HAWK INVITATIONAL 182 LB TITLE!
Senior Drake Allen claimed the 2013 J-Hawk title with an impressive 18-10 major decision finals victory over his Clinton opponent. As a team we finished in 4th place, our highest team finish in quite a few years. The boys are stepping up their game. Cody Hensel was our next top placewinner with a 4th place finish. Kyle Briggs, Michael Moncivais, Kelly May and Luke Sedlacek all placed 5th with Brenden Baker taking 6th place.
Jan. 10 — Thursday night saw our boys back in action over at Linn-Mar for a double dual with Hempstead. We started off the night leaving where we left off Tuesday night with victories for both varsity and JV. The varsity team dominated Hempstead 55-9. Brenden Baker, PJ Rashed, Jontel Ware, Luke Sedlacek and Dalton Kuehl all recorded pins. Josh Allen and Cody Hensel both had nice wins. Our JV team had a little tougher time in their victory beating Hempstead 34-30. Logan Thompson won a tough tie breaker, while Chaney Floyd and Seth Jellison pinned their opponents. Quinn Hoffman and Nate Petersen also had decision wins.
Next up for our J-Hawks was the Lions of Linn-Mar. Both our teams fought tough but came up short of a victory. The JV came up short 27-35. Nate Petersen started a streak of 4 straight pins for our J-Hawks with Thompson, Moore and Floyd also recording pins. Seth Jellison had an exciting 16-11 win. The varsity team did not fair so well against one of the top ranked teams in the state losing 15-50. Josh Allen and Dale deaton both had pins. Nick Dreakman had a tough fought 7-5 victory.
Jan. 8 — Tuesday night was our make-up dual with Xavier and Wahlert, and our boys came out and took control from the start with the varsity and JV both going 2-0 on the night.
For the JV Richard Moomey had the crowd roaring with his major decision in the Xavier dual helping the J-Hawks to a 52-15 victory. Logan Thompson and Callahan Moore both scored pins. Wahlert was 69-0 victory due to a lot of forfeits. Alex Moncivais, Logan Thompson and Joseph Sibomana all recorded pins with Nate Petersen having a hard fought regular decision victory.
The varsity had a good night too defeating the Saints 54-16. Kelly May had quite a night pinning his Saint opponent in only:48 and majoring his Wahlert opponent 14-4. Luke Sedlacek also recorded a pin as did Dale Deaton, Dalton Kuehl and Brenden Baker. Michael Moncivais and Cody Hensel recorded wins in the dual. The Wahlert dual ended a little closer than some expected but our J-Hawks came away with a 36-24 win. Cody Hensel and Drake Allen recorded pins. Luke Sedlacek had another dominating performance with a major decision along with Brenden Baker. Kyle Briggs and PJ Rashed came away with a win.
Check out Kelly May's interview with Iowa Prep Sports reporter KJ Pilcher following the Tuesday, January 8th's double dual
Jan. 7 — Our Freshman headed over to Xavier for their 9th grade meet. Nick Dreckman had an outstanding night going 2-0 with two pins! Barrett Wise also had a nice win and Alex Moncivais improved his record with a nice major decision.
Jan. 5 — Our J-Hawks were back in action after the long holiday break. Our JV spilt up and went to both Benton Commuity and Clear Creek Amana. Coach Martin took some boys over to CCA finishing 4th as a team. Hovey and McCarrall both took second, while Kester and Bruce took third. Coach Buesing took some boys over to Benton Community for their Bobcat Invitational. Rashed took first, with Wise taking second. Hitchings and Howey both finished with a win and third place finishes.
Coach Briggs took the varsity over to the very tough Mendenhall Invitational in Ames after a few years of scheduling difficulties we are finally able to get this tournament back on our schedule. As a team we finished in 10th place. Brenden Baker lead the way with a nice third place finish. Kelly May wrestling in a tough bracket took home a nice fourth place finish, while Drake Allen took fifth. Kyle Briggs, Cody Hensel, Luke Sedlacek and Josh Allen all also finished the day with a win and seventh place finishes.
On a personal note... I realized Saturday that my blood is truely bleeding Full J-Hawk Blue.
It was tough that first year going to Ames with our boys as that was the first time I had stepped on the mats at Ames High not wearing Ames High Little Cyclone colors. :)
Dec. 15 — The varsity team headed over to the always tough Red Owens Holiday Tournament at Southeast Polk coming home with a nice 3rd place finish. We went 2-2 on the day and feel it could easily have went 3-1 on the day but for a couple bad breaks. We started off on a sour note losing to SEP 15-62. Drake Allen and Michael Moncivais both recorded nice pins, while Kyle Briggs came away with a tough fought 12-8 win.
Second up on the day for our J-Hawks was DSM East. We came away with better results in this dual defeating East 45-29. Freshman Brenden Baker was thrown into the fire this his first week of competition as he wrestled 3 of the top 10 3A kids in the state. After three tough loses, his desire to never giving up never faulted as he walked off the mat head, and hand held high pinning Fisher from East.
Next up was DSM Roosevelt and we kept the momentium going with a dominating 63-18 victory. J. Allen, D. Allen, D. Deaton, C. Hensel, K. May, N. Dreckman and L. Sedlacek all recorded pins.
Unfortunately we ended the day on a sour note losing a tough winnable battle vs. Knoxville
36-40. D. Deaton, B. Baker, K. Briggs, M. Moncivais, K. May and Nick Dreckman all came home feeling good with pins. But we also gave up too many to bring home a win.
Dec. 13 — Thursday saw our boys travel to Dubuque Senior for another double dual with Senior and CR Prairie. We started off the night with Prairie coming away with mixed feelings in the 58-12 loss. Michael Moncivias defeated in sudden victory 1 Prairie's #8 ranked wrestler in the state Dylan Becker 10-8. We had some other strong performances from our boys. Kyle Briggs continued his freshman campaign with a nice 6-4 win. If you can come away feeling good about a loss, then Drake Allen can feel that as he lost a very tough 1-0 decision to Prairie's #2 ranked 3A wrestler Austin Gould. Drake knows wrestling the best in the state now will only make him that much better come districts.
Our second dual of the night ended on a brighter note as we defeated Dubuque Senior 40-37 in a close battle. Kelly May, Dalton Kuehl, Kyle Briggs, Cody Hensel and Michael Moncivais all recorded falls on the night.
Dec. 10 — Our Freshman traveled down to Iowa City West for a 9th Grade meet going 7-7 on the night. We had three wrestlers going 2-0 on the night. Joseph Sibomana, Nick Dreckman and Callahan Moore. Alex Moncivais also went 1-1 on the night.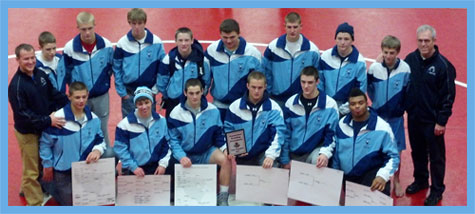 Dec. 8 — HELLO..... J-Hawks Dominate the Maquoketa Zimmerman Invitational with 6 Champs! Michael Moncivais, Kelly May, Josh Allen, Drake Allen, Dalton Kuehl and Michael Smith all stood atop the podium with first place finishes. Kyle Briggs, Luke Sedlacek and Dale Deaton all took second while Nick Dreckman and Seth Jellison brought home very nice third place finishes.
Dec. 8 — Our JV team split up again going to the always tough SEP JV Invitational and the Marion JV Invite. I will have to get back to you on the results from SEP, but I can tell you we had 5 kids who wrestled their butts (oops) off at Marion. Joseph Sibomana has been one of those kids this year that just keeps making you smile. He pinned all three of his oppenents in route to the title.
Dec. 6 — Thursday saw our boys head up to Cedar Falls again for a double dual along with CR Washington. The guys wrestled tough going 1-1 one the night for both varsity and junior varsity.
Dec. 3 — Our Freshman headed across town to Washington for a tough 9th grade meet. Nick Dreckman lead the way with two strong wins while we had six more wrestlers go 1-1 on the night.
Dec. 1 — Our varsity team headed up to the always tough Cedar Falls Invitational and was pleasently surprised with the outcome and performances of our wrestlers. Kyle Briggs, making his trip to Cedar Falls opened some eyes taking second place. Kelly May, Josh Allen, Michael Moncivais and Drake Allen all had very nice days as well.
Dec. 1 — Our JV team split up and took some kids to the Tipton JV Invite where Dale Deaton took second, while Jontel Ware took third, as did Nick Dreckman and Erik Hovey. The rest headed across town to the Cougar JV Invite and DOMINATED with 9 wrestlers placing in the top 3 of their respective weights. J. Sibomana 1st, C. Ziegenhorn 1st, L. Thompson 1st, D. Chittick 2nd, Q. Bruce 2nd, N. Petersen 3rd, C. Moore 3rd, C. Aarhus 3rd, T. Hitchings 3rd.
Nov. 29 — J-Hawks open the season this year at home with two very nice performances against Waterloo East and Iowa City West. In dominating form our J-Hawks took care of East in easy fashion 71-6. In the second dual of the night we gave Iowa City West everythting they could handle losing a close dual 31-35. What could of happened if we had our full varsity roster we will never know, but the outcome could very well have been a huge win!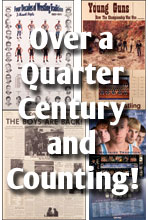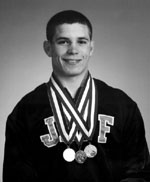 Our very own Mark Ironside,
Two-Time State Champion
has been inducted to the
Iowa Wrestling Hall of Fame
Class of 2010.
Read the article and more information on the 2010 induction ceremony!
cick here to visit website