Head Coach
Ryan Phillips
rphillips@cr.k12.ia.us

Athletic Director
Chris Deam
cdeam@cr.k12.ia.us
parent/student
e-mail dist. list form
We hope this will make things easier when sending out forms and other important info via email to all our parents and wrestlers.
"The Night The Names On The Wall Came To Life!
2010 State Finalist Reunion
For those of you who were unable to attend we have posted a pdf version of the finalist program for you to download.
PLEASE CLICK HERE
Brenden Baker is your 2016 Iowa/USA State
GRECO AND FREESTYLE STATE CHAMPION!
Brenden has been on fire ever since his third place finish at the state tournament. This weekend he continued his domination taking home both the Iowa/USA Wrestling Greco and Freestyle state titles in fine fashion! Greco on Saturday started the train rolling as Brenden recorded a fall and two tech falls in route to the title. Sunday was Freestyle and the train kept rolling. Brenden had a round 1 12-0 TF win vs. Griffith of Indee. He followed it up with a dominating win over North Linn state champion Brock Henderson with a 10-0 TF in round 2. Round 3 victim was Spencer Hutchinson of Valley by a fall in 1:52. Round 4 was probably one of the best matches of the day as he faced Bryce West. West came out on fire building up a 8-0 lead, but Brenden was far from done as he stormed back to take a 16-14 decision win. With all the momentum in his favor the finals match must have seemed like a walk in the park. McGwire Midkiff unfortunately was in the way of his title train losing by a fall in 2:34. Congratulations Brenden on a Great weekend!!
Kyle Briggs is our second 2016 senior to sign and continue his academic and athletic dreams at the next level

Brenden Baker was our first wrestler to continue his education when he signed with Iowa State. Kyle Briggs became our second as he announced yesterday he will be continuing his education and wrestling at Wartburg. We would like to congratulate both our wrestlers!
Brenden Baker takes Second Place at 2016 USA Junior Folkstyle Nationals!
Brenden had a very impressive tournament racking up two falls and an 8-2 decision on his way to the finals. In the finals match he was up against the #2 120# in the nation in Roman Bravo-Young from the Tucson Cyclones wrestling club in Arizona. It was a very good match and Brenden def. held his own losing a close match 1-3. I have to say, it was the best I have seen Brenden wrestle in well over a year. Congratulations Brenden on a job well done!!
North / South All Star Meet Recap
SOUTH 31, NORTH 27 - Coach Briggs "coached" the south to a victory! 2 of our 3 J-Hawks came away with wins. Joseph Sibomana proved to some of those non-believers that his win against England of CRP at the state tournament was not a fluke by taking him down again 2-1. #3 3A Brenden Baker, flowing locks and all gave the crowd an exciting match vs. #3 2A Conner Cleveland from New Hampton winning 7-5. Kyle had a rematch vs. state champ Clingenpeel. Kyle lost 2-6 but was the more aggressive wrestler, and if a call or two would of went the other way we would of came home with a win here as well. It was an exciting event and we are proud to have had three of our seniors selected to represent the south.

113 – Joseph Sibomana (Cedar Rapids Jefferson, South) dec. Marcus England (Cedar Rapids Prairie, North), 2-1. 120 – Brenden Baker (Cedar Rapids Jefferson, South) dec. Connor Cleveland (New Hampton, North), 7-5. 152 – Colton Clingenpeel (Council Bluffs Thomas Jefferson, North) dec. Kyle Briggs (Cedar Rapids Jefferson), 6-2.

We have posted some photos on our Flickr page that Wyatt Schultz of The Prediament took of our boys at the event. You can also see more in this months issue of the Predicament. There is a nice article of the event and some pretty cool photos from the nights action
2016 State Tournament Recap....


Little late in coming, but it was a great week at the 2016 state tournament. Joseph Sibomana placed sixth at 113, Brenden Baker fought back in flying fashion from a round one loss to place third. That is 5 straight wins he accomplished to take third. It is no easy feat to do that. Kyle Briggs took home fifth place. Nick Dreckman did not place, but he won a match giving him State Qualifier status. Kyle Briggs also became Jefferson's first 4-time state qualifier. Brenden and Kyle also became Jefferson's third and fourth 3-time medalists in the history of our storied J-Hawk program joining Mel Wieland and Mark Ironside as the only other three time medalists.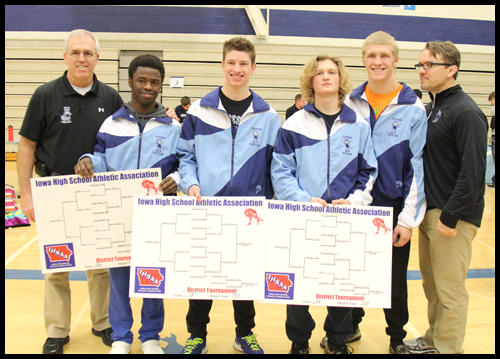 Sibomana, Baker, Briggs and Dreckman qualify for State!!
So proud of how all our boys wrestled today. Kyle Briggs also becomes Jeffersons' first ever 4-time state qualifier. Dalton Mastin, Tavian Rashed and Matt Culver all finished in third. We know all three of these young men will be back next season with one goal in mind and that is to win districts and make it to the tournament.
J-Hawks fall to Dowling Catholic 33-39 at regional dual in Johnston tonight
It was a rough night for our boys in blue. We know though that this will only fuel their fire come Saturday when we host districts.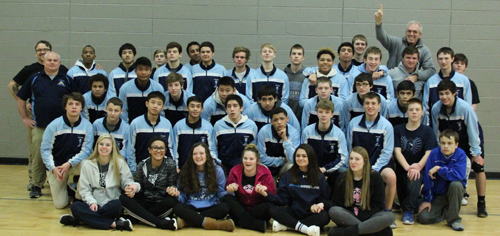 WHAT A GREAT YEAR IT WAS!!!
Your J-Hawks are the 2016 MVC 9/10
Conference Champions.
For the first time since it went to a super meet format your J-Hawks bring home the team title in dominating fashion. We crowned two champions in Colton Mastin and PJ Smith. We also had four wrestlers take home second place in Antonio Pagel, Tyreese Smith, Keegan Pappas and Jacob Sherzer. Colton Woods, Dustin Anderson, Fernando Castillo and Daeton Jones took third. All 13 wrestlers we had inour line-up placed in top 8. Noah Allers took 5th, while Braxton Bolden and Hieu Trinh took home 6th place. We are so very proud of how all our wrestlers went after it today. The progress of their improvements throughout the year made this one of the best squads we have ever had. Thank you to coach Martin and Garber for bringing out the best in all our wrestlers this season. BE PROUD.... YOU ARE THE 2016 CONFERENCE CHAMPIONS!!!! Coltin Endsley, Jacob Hadish, Dillon Primmer and Blake Owens all took home second place. 7 other wrestlers placed in the top 8 in the JV portion of the tournament. Noah Fernandez took 3rd, Enyeto Ahedo-Jiroutek took 4th, Thao Trinh, Rhett Thompson and Jun Helgenberger took 6th. Jake Silbaugh took 7th and Brandon Lehman took 8th!
Jefferson's Varsity and Junior Varsity teams are your
2016 MVC Valley Conference Dual Champions!
Can you say... 3-Peat. J-Hawks are your MVC Valley Varsity Champions for third year in a row! After being slighted by the IWCOA in the final team rankings our J-Hawks had something to prove last night and the boys in blue came through with flying colors defeating Dubuque Senior 66-12 and higher ranked (according to IWCOA that is) Kennedy 39-21. The Junior Varsity also dominated both of their duals with a 69-12 win versus Dubuque Senior and then dominated the Cougars 63-18. They also wrapped up an undefeated MVC season and outright conference dual title last night. Congrats to Coach Martin and Garber!. It was also senior night. We are really going to miss this group of seniors. They have made a huge impact on the progression of our program and things will only get better in the future. Saturday your junior varsity team travels up to Cedar Falls to try and bring home a MVC Conference championship.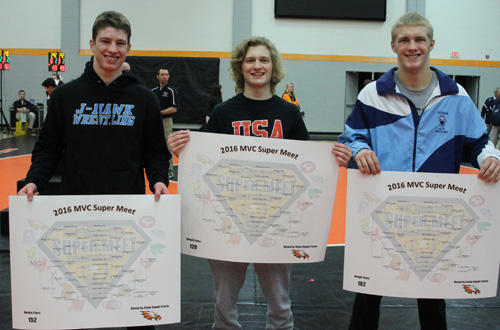 Brenden Baker is Jefferson's First Three-Time
MVC Conference Champion! J-Hawk Take Second at Conference Tournament.
No move-ins, no transfers. Just SW siders grinding it out with that blue collar work ethic. We are so proud of all of the athletes who are part of our program. Congrats to our 11 medalists and our teams runner up finish. Champions were Brenden Baker, Kyle Briggs and Nick Dreckman. Big congrats to Nick Dreckman and Kyle Briggs as they claimed their first MVC Conference Championships and Brenden Baker for being Jeffereson first three-time conference champion! Runner ups were Dalton Mastin and Tavian Rashed. 3rd Place in Joseph Sibomana and Matt Culver. 4th place in Cody Clendenen. 5th place in Zach Main. 7th place in David Bonner and 8th place in Keenan Stewart.
J-Hawks are your 2016 CRANDIC Champs!
The freshmen wrestlers dominated the CRANDIC tournament last night. They took first place as a team with 144 points, a whopping 65 more points than the 2nd place team. Placing for the J-hawks were Caleb Koehler 6th, Dru Bowers 4th; Antonio Pagel, Noah Fernandez, and Chris Castillo 3rd, Colton Woods and Jake Silbaugh 2nd. Noah Allers, Dustin Anderson, and PJ Smith are your 2016 CRANDIC Champs!
J-Hawks take home 3rd place at annual Hegarty JV Duals
Our J-Hawks showed again why we are so proud of this group of JV wrestlers yesterday as we finished in 3rd place at our annual Hegarty JV Duals behind second place Western Dubuque and 2016 champ SE Polk. Colten Mastin and Colton Woods both went 5-0 on the day. Pagel, T. Smith and Coltin Endsley all went 4-1. Owens went 3-1 and Pappas, Bolden and H. Trinh went 3-2. We had a ton of action and a lot of exhibition matches. we are so very proud of how these boys are wrestling this year and can not wait to show our stuff at the MVC conference meet in two weeks! Be sure to check out our Flickr page as we posted over 600 photos from the days wrestling action! https://www.flickr.com/…/130482075@…/sets/72157663890087305/
J-Hawks Dominate crosstown rival Washington
Thursday night we took on our crosstown rival the Warriors of Washington in single dual action, coming home with two sound victories. We had a couple very exciting matches, one at each level. JV started the night off with a dominating 63-6 win. Ethan Helgenberger in his first match back from injury fought hard but kind of ran out of steam in the end losing 5-6. We look for Ethan to be back to his full potential tomorrow at our JV Duals. Pagel, Pappas, Endsley, Hadish, Bolden and Owens came home with victories. Woods, Hurt,Lorimer, Primmer and H. Trinh had FF's. The varsity match of the night came midway through a 65-11 domination of the Warriors. Cody Clendenen had the match of the night for the varsity dual in a TB-1 10-12 loss. In both these matches, the entire gymnasium was rocking. You would of thought it was the state finals with the roar of the crowd and both teams jumping up and down cheering on their wrestler. It made for some exciting wrestling for a rivalry that has been happening since the late 1950's. It felt like the old days when this dual would be standing room only. Sibomana, D. Mastin, Viktora, Stewart, Bonner and C. Mastin had falls. Briggs recorded another TF winning 18-1 in 3:45. Rashed, Culver, Dreckman and Collins also had FF wins.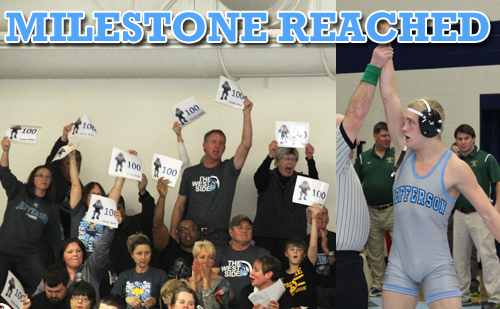 J-Hawks put Three in Finals at J-Hawk Invite
For the first time this season when we did not finish in second place in a varsity tournament. It was a very tough day with some very tough competition and maybe some very questionable calls. It just did not seem to be our day. Baker Rashed and Dreckman finished in second. On a happy note Nick Dreckman earned his 100th win in his second match of the day. Congrats Nick! Kyle Briggs took home third, Matt Culver took 4th, Zach Main finished 5th and Colten Mastin, Cody Clendenen and Taylor Viktora took home 6th place finishes..


J-Hawks Take Down Saints in Home Dual
This night was also a special night for our own Coach Briggs.15 of 16 Coach Briggs' paid assistants throughout his tenure as our Jefferson head coach were there in attendance. Coach Briggs has served as our Head Wrestling coach for 33 years. During these 33 years he has had 16 assistant coaches. Jefferson Wrestling and Coach Briggs would like to thank these men for their contributions to the student athletes that they were privileged have mentored. Without their guidance, leadership, teamwork, and friendship the success of the Jefferson Wrestling program would not have been. Honestly is there a better feeling than when you have earned an athlete's and the communities respect to have them call you coach. Thank you Coaches!
Now, let's get back to the nights action. IT WAS A PIN FEST!!! 10 OF OUR 11 WRESTLERS WHO WON THEIR MATCH WON VIA A FALL. KYLE BRIGGS WAS OUR ONLY WRESTLER WHO DID NOT SCORE A PIN. ALTHOUGH HE DID DO THE NEXT BEST THING IN RECORDING A TF. The junior varsity started us off with a route of the Saints 72-6, this included a lot of forfeited matches on the Saints part. Pagel, T. Smith and Esparza had falls.
Varsity was up next and easily handled the Saints 53-27. We recorded 7 Falls and 1 TF on the evening. C. Mastin, Baker, Main, D. Mastin, Rashed, Culver and Dreckman all recorded pins. Kyle Briggs recorded a 27-9 TF.
Tomorrow we host our Jefferson Invitational, we hope to see everyone there supporting your J-Hawks. We have quite a few ranked teams coming in to try and take the title home with them. We do not plan on giving up this title!

Our JV 9/10 team continued their winning ways last night when they traveled over to LM for 9/10 meet. Our J-Hawks came home with 12 wrestlers taking first place! Roja's, Pagel, Anderson, C. Castillo, Hurt, Stewart, Bower, Nickell, Collins, PJ Smith, Lorimer and T. Smith.
J-Hawks finish in 2nd at 2016 Bobcat Jerry Eckenrod Invite
We had 7 wrestlers in th finals crowning two champions in Brenden Baker and Kyle Briggs. Sibomana, Main, Rashed, Culver and Dreckman finished second. Clendenen took 4th, D. Mastin took 5th, Owens took 7th and Bonner finished 8th.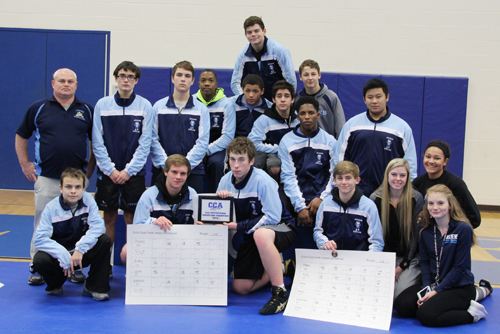 J-Hawks JV takes home team title at Clear Creek Amana!
Coach Martin's team puts 8 wrestlers in the final and wins the Clear Creek Amana Invitational! What a day it was! We are so proud of how all our boys wrestled today. They are showing heart and grit and we love that! We crowned 4 Champs today in Colten Mastin at 113, Keegan Pappas at 145, Coltin Endsley at 152 and Jacob Sherzer at 160. We also had four take second place; Colton Woods at 120, Braxton Bolden at 170, Dillon Primmer at 195 and Keenan Stewart at 220. Colten Mastin pinned his way through the tournament in a total time of 3:53 minutes. That's 5 matches folks! Pappas had 2 byes but pinned his opponents in his final three matches also. Endsley had 3 pins and our last champ Sherzer had two falls.
JV Crowns 4 Champs at 2016 Bobcat Jerry Eckenrod Invite
Coach Garber also had 8 finalists crowning 4 champions today at the Benton JV tournament. Caleb Koehler, Rhett Thompson, Alex Moncivais and Anthony Lorimer were all Champs! T. Trinh, Fernandez, Nickell and Smith took second
#10 J-Hawks fall to #4 Hempstead 29-36
You knew going into this dual it was going to be decided by one or two matches and it was. We came up on the short end of a couple matches but overall feel pretty good about our progress for the season. Sibomana, Baker, Rashed and Dreckman all recorded falls. Briggs had another good night staying undefeated with a TF 21-6. Our Junior Varsiry faired much better with a dominating 44-18 win. Pagel, Smith, Pappas, Sherzer, Bolden and Stewart all recorded pins. Endsley and F. Castillo had major decisions, while Primmer won by decision.
Briggs reunites with former
J-Hawk wrestler Brian Bos


The J-Hawks traveled six hours to the SW corner of Minnesota. The J-Hawks were hosted by former J-Hawk wrestler (1985) and Pipestone HS coach Brian Bos. Our J-Hawks went 4-1 and placed second in the dual meet tournament. The J-Hawks beat TMS/WWG (50-24), Pipestone (39-27), Luverne (52-27), and Medford (75-5). They fell to Wabasso/RRC (37-26). Kyle Briggs and Matt Culver went 5-0 on the day. Briggs collected 3 pins, 1 Tech Fall, 1 FF while Culver had 3 pins, a dec., and a FF. Going 4-1 on the day were: Joseph Sibomana, Brenden Baker, Zach Main, Tavian Rashed, and Nick Dreckman. It was great to see Coach Bos again and the outstanding job that he and his athletes are doing. He has certainly made a big impact at Pipestone.
Varsity claims three champions and second place team finish at SE Polk Invitational
Saturday saw our varsity come home with another strong performance at the tough SE Polk Invitational with a second place team finish. Nick Dreckman and Cody Clendenen take home their first varsity tournament championships. Kyle Briggs continued his strong start to the season with another title. Brenden Baker, Tavian Rashed and Matt Culver also made it to the finals but came home with second place finishes. Joseph Sibomana and Dalton Mastin brought home third place finishes.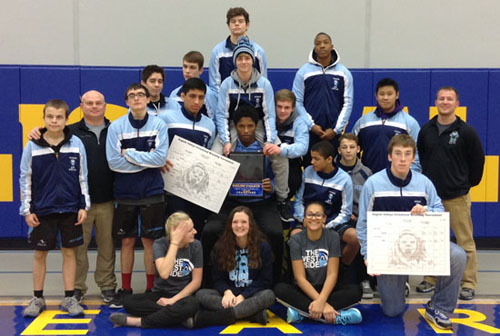 Jefferson JV Takes Team Title At English Valley Invitational
Puts 9 Wrestlers in the Finals with Six Champions!
For a third day in a row our JV team had another great day taking nine wrestlers to the finals
with six champs and bringing home the team championship. Colten Mastin, Antonio Pagel, Keegan Pappas, Coltin Endsley, Fernando Castillo and Dillon Primmer all claimed titles. Keenan Stewart, Braxton Bolden and Tyreese Smith also made finals coming home with
runner-up finishes.
Rojas, Esparza, Watkins and Chris Castillo claim titles at Indianola JV Invitational
Friday night saw Coach Martin take a team of JV wrestlers to Indianola for their Invitational. The J-Hawks had for champions while Thao Trinh, Noah Fernandez and Daeton Jones took home runner-up finishes.
Varsity comes up on losing end of dual vs. CRP
Our J-Hawks had a tough night last night vs. #4 Prairie coming up a little short of a win with a 30-42 loss. it was a pin fest for sure on both sides of the mat with J-Hawks Coltin mastin,Kyle Briggs, Tavian Rashed and Nick Dreckman recording falls. Our JV team started off the night with a huge win beating the prairie hawks 48-25. Colton Woods, Antonio Pagel, Coltin Endsley, Jacob Sherzer, Fernando Castillo, Braxton Bolden, Dillon Primmer, Keegan Stewart and Hieu Trinh recording big wins. JV Travels tonight to Indianola for a JV invitational and tomorrow varsity travels to the always tough SEP Invitational while JV wrestles again at English Valley.
Varsity takes Second at Valley!
Our J-Hawks had a busy weekend and all three teams came home feeling pretty good about themselves. The varsity team traveled to Valley for a very tough tournament bringing home second place behind DSM Valley taking five wrestlers to the finals. Kyle Briggs continued his winning ways taking first place. I believe he has beat 4 top 10 opponents so far this season. Our freshman sensation Colton Mastin, Brenden Baker, Tavian Rashed and Nick Dreckman all took home second place. Dalton Mastin and Matt Culver brought home third, while Zach Main, Cody Clendenen and Keenan Stewart took fourth. David Bonner took fifth. Coach Martin took a team to the very tough SEP JV Duals and came away with a third place team finish going 3-2 on the day only losing to the two SEP teams. Coach Garber took some boys over to Marion and also had an outstanding day crowning six individual champions in Tyler Hurt, Noah Fernandez, Marco Esparza, Tyreese Smith, Jun Helgenberger and Michael Watkins. Chris Castillo had his best day so far as a J-Hawk taking second place.
The boys in blue shined last night at Linn-Mar!
Our J-hawks headed over to Linn-Mar last night for a double dual versus Iowa City West and host Linn-Mar. Both the JV and Varsity left no doubts that the boys in blue are ready for another good season. We started off the night with the trojans from Iowa City West, both JV and Varsity left no doubts that the almighty trojans are not that almighty anymore with JV winning 61-24 and varsity winning 44-26. Next up was the always tough Lions of Linn-Mar... Not on this night! JV won 39-26 and our varsity team dominated the Lions 56-21. A highlight of the night was our 113lb freshman sensation Colten Mastin. Last Saturday he takes first place in the Tipton JV tournament (first high school tournament of career) and follows it up last night with TWO varsity wins. The Mastin brothers are both going to be fun to watch these next few years and we expect to see both standing on the podium at state before their high school careers are done. Tomorrow the varsity heads to Des Moines for the Valley tournament, while JV travels to Marion and SE Polk for tournaments. Good luck to all.
Twelve J-Hawks go 2-0 at Xavier Freshman/Sophomore meet.
Not a bad way to start the season for our boys. We had 12 boys go 2-0 taking first place and had 5 boys take second. PJ Smith, Anthony Lorimer, Fernando Castillo, Michael Watkins, Braxton Bolden, Dustin Anderson, Marco Esparza, Tyreese Smith, Matt Storm, Antonia Pagel and Tyler Hurt all were champs! Ethan Helgenberger, Colton Wood, Noah Allers, Karl Green and Caleb Koehler took second place going 1-1 on the night.
J-Hawks Take Second at CF Invitational with 3 Champs and 5 Finalists! JV brings home champions at CRK and Tipton.
Our J-Hawks placed second at the always tough Cedar Falls Invitational. Breden Baker, Kyle Briggs and Matt Culver (Matt's first varsity championship) all bring home titles. Joseph Sibomana and Nick Dreckman took second, while Tavian Rashed and Dalton Mastin (first varsity tournament) took home third place finishes.
JV Update from CRK Invite.. E. Helgenberger, N. Allers and T. Smith all took first. C. Koehler and Dustin Anderson took second. N. Fernandez, R. Rojas, B. Lehman. T. Nickell, J. Sherzer, J. Hadish. J. Helgenberger and M. Watkins all took third. Overall th boys wrestled tough. We have some work to do as coaches though, but for first tournament of the year we were pleased with the effort put forth by the boys today.
Final update from Staurday. Rob Martin took a group of JV to the Tipton tournament and brought home some nice results! Colten Mastin in his first high school tournament did not little his big brother take all the glory as he brought home a first place finish. Can Colten get down to 106? Could we have a pair of brothers in our varsity line-up soon? Ok, maybe he cant make 106 because of body fat test. Matt Storm, Cody Clendenen and Taylor Viktora all took second. Fernando Castillo, Coltin Endsley and Keegan Pappas took third.
J-Hawks open 15-16 season in dominating fashion
Kyle Briggs gets win #100!
Thursday night our J-Hawks continued their winning ways from last season when they headed up to Cedar Falls to take on CF and DBQW. Leaving no doubt, they dominated both opening duals of the season with impressive wins. In the first dual of the evening the varsity beat DBQW 61-13. Kyle Briggs also recorded his 100th win in this dual. Congrats Kyle!! JV also dominated Wahlert winning 66-18. Next in line was home host Cedar Falls. The J-Hawk varsity team put away the Tigers 51-27, while the JV redeemed a loss last year beating the Tigers 60-18!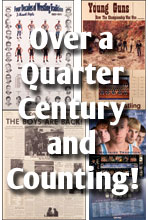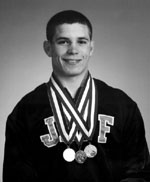 Our very own Mark Ironside,
Two-Time State Champion
has been inducted to the
Iowa Wrestling Hall of Fame
Class of 2010.
Read the article and more information on the 2010 induction ceremony!
cick here to visit website