Head Coach
Ryan Phillips
rphillips@cr.k12.ia.us

Athletic Director
Chris Deam
cdeam@cr.k12.ia.us
parent/student
e-mail dist. list form
We hope this will make things easier when sending out forms and other important info via email to all our parents and wrestlers.
"The Night The Names On The Wall Came To Life!
2010 State Finalist Reunion
For those of you who were unable to attend we have posted a pdf version of the finalist program for you to download.
PLEASE CLICK HERE
Congratulations to our Senior Class of 2014!!
Josh Allen, Michael Moncivais, William Orr, PJ Rashed, Cierra Maas, Emily Walton and Cole Speth!
We will miss you all!
The freestyle season started at the Mick Pickford tournament on Saturday. Four J-Hawks made the trek to Ft Madison. They were Brenden Baker, Kyle Briggs, Jake Hensel, and Tavian Rashed. The wrestlers are grouped by weight so you never know where you will fall in your particular grouping - weight wise.

It's always interesting to see how much weight wrestlers (from every school) have gained since the season and where they will fall in the groupings. This makes for interesting and different match ups from the regular season. An example would be that one of Brenden's opponents was about a foot taller than him. Brenden wrestled well but went 2-2 and finished with a 3rd place medal.

Our super freshman Tavian lost a hard fought battle with a very defensive wrestler finishing 3-1 on the day, taking home the silver medal.
In Kyle's last match the official was evidently using international rules (or lack of) and letting the wrestlers pound each other's heads as both wrestlers walked away bleeding from heavy hands to the face. Fortunately, bleeding is nothing new to Kyle and he had is hand raised. Kyle finished 4-0 on the day and a gold medal.

Impressive was that win or lose the guys tried different techniques than they used during the regular season which will help them to develop even more offense next season. Keep up the good work.
Baker takes 3rd and Briggs takes 7th
at 2014 State Tournament.
Both of our boys wrestled great smart matches and took it to their opponents! Congrats to our entire team. This was a TERRIFIC Season and we know that things will only get better. We have a bunch of boys and coaches that know this was not where we wanted to finish. Thank you to everyone who helped make this a great season.
Our J-Hawks also finished in 7th place at the State Dual Team Tournament. WHAT A YEAR!!!
Cedar Hawk Wrestling Club Spring & Summer Freestyle
Coe College Wrestling Room / Eby Fieldhouse
Open to All Schools & Students (Grades 7-12)
March 4 - May 29, 2014
Tuesday & Thursday Nights
6:00pm – 7:30pm
FOR MORE INFORMATION CLICK HERE
J-HAWKS ARE 2014 DISTRICT CHAMPS!!!
The boys showed up to wrestle today as SEVEN wrestlers are going to ride the bus to the state tournament. Brenden Baker and Josh Allen were both district champs. Kyle Briggs, Tavian Rashed, Kelly May, Luke Sedlacek and Dalton Kuehl all finished in second place also earning them a trip on the bus to state. Tavian, Kelly, Luke and Dalton all had to win their true second match in order to ride the bus to state and they all stepped up with big time wins!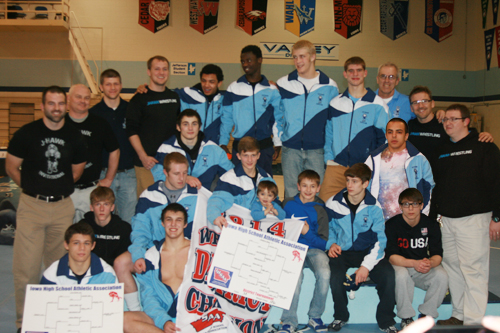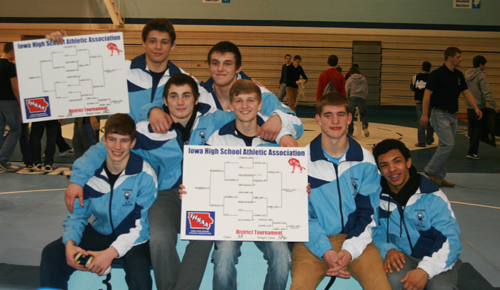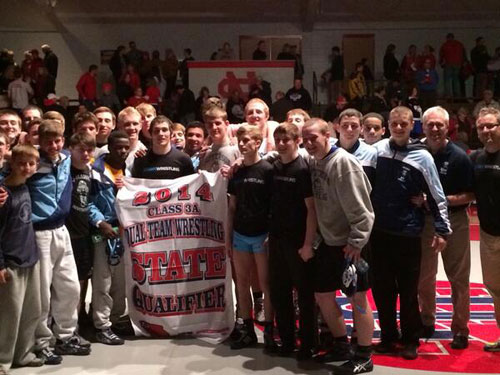 J-Hawks Are 2014 State Dual Team Qualifiers
Boy was last night FUN! Our boys headed over to North Scott for a showdown vs. the Lansers for the chance to go to the state dual championships. As has been the case for the whole season, the boys were fyling high coming home with a 41-29 win. Joseph Sibomana started off the night with a HUGE upset win. North Scott thought by having their ranked 106 lber move up a weight to avoid our Brenden Baker they would come away with a win. Joseph had other ideas when he showed NS that this is a TEAM full of talent. Joseph dec. Schipper 11-7! Kyle Briggs got back on the winning track with a nice pin. Matt Culver had a 11-3 major decision, Michael Moncivais moved up a weight and had a HUGE pin. Tavian Rashed scored another major decision for the boys in blue. Kelly May and Luke Sedlacek both recorded falls. Brenden Baker left no doubt who was the better team pinning his opponent in the first period locking up the dual and giving our J-Hawks their first State Dual Team appearance since 1994!
Saturday we host districts so come out and cheer on your 2014 State Dual Team Qualifiers!
The MVC All-Division Selections were announced and Jefferson lead the way in the Mississippi Division with SEVEN First Team selections and our coaching staff received STAFF OF THE YEAR! First Team Honors go out to: 106 - Brenden Baker, 120 - Kyle Briggs, 138 - Matt Culver, 145 - Tavian Rashed, 152 - Kelly May, 160 - Luke Sedlacek and 182 Josh Allen. M. Moncivais, Nick Dreckman and William Orr all received Second Team Honors. PJ Rashed, Erik Hovey and Dalton Kuehl all received Honorable Mention Honors.
Jefferson Crowns Three Champs at Soph/JV MVC Conference Tournament on Saturday!
Congrats goes out to Caleb Ziegenhorn, Zach Kester and Dylon Pappas for championship performances today!
Soph; 106 - Zach Main 6th / Soph 120 - Tyler Unkel 3rd / Soph 126 - Michael Handley 5th / Soph 132 Colton Endsley 3rd / Soph 138 - Andrew Carney 4th / Soph 145 - Kordell Joness 4th / Soph 152 - Blake Owens 7th / Soph 182 - Dillon Primmer 5th
JV; 113 - Jake Hensel 2nd / JV 120 - Barrett Wise 4th / JV 126 - Rhett Thompsons 7th / JV 126 - Seth Jellisons 5th / JV 170 - Richard Moomey 4th
J-Hawks improve their record to 13-1 with two dominating performances last night in a double dual at Waterloo West. We started off the duals making easy work of City High winning 71-9! Moncivais, Culver, May, Sedlacek and Allen all recorded pins. 3A's #1 ranked 106lber Brenden Baker tech falled is opponent 22-4. Next up to feel the pain from the hands of the J-Hawks was host school West. West faired a little better only losing 50-19. Briggs, Moncivais, May, Orr and Baker pinned their opponents. Culver had an exciting SV-1 win vs. Wests McKnight.
The Junior Varsity team also showed no mercy tonight coming away with two wins. Handley, Endsley, Pappas, Kester, Ziegenhorn, Moomey, Primmer, Bonner, Moore and Main all came away with victories vs. City High winning 55-24. The JV team also defeated West 61-12 getting victories which were not forfeits from Pappas,Jones, Ziegenhorn, Main and Wise.
Be sure to come cheer on our Junior Varsity team Saturday at the MVC Conference tournament being hosted by CR Kennedy. Wreslting gets underway at 9:30am!
J-HAWKS TAKE SECOND PLACE AT 2014 MVC SUPER MEET!

Our boys in blue showed the rest of the conference and state that the J-Hawks ARE BACK!
Brenden Baker and Josh Allen both are 2014 MVC CHAMPS. Baker eased his way through his bracket in route to the 106 lb championship. Josh Allen at 182 turned some heads defeating higher ranked wrestlers and avenging earlier season loses in route to his title. But it took a team effort to bring home a second place finish. We had 6 finalists and 13 wrestlers finish in the Top 7. It was a great team effort. Sibomana took 5th, Briggs took 4th, M.Moncivais placed 5th, Matt Culver also finished 5th. Another of our freshmen sensations Tavian Rashed is making some big noise this year making it to the finals but eventually coming up just short taking 2nd place. Kelly May and Luke Sedlacek continued their winning ways also coming in 2nd. Nick Dreckman took 6th as did Erik Hovey. William Orr fought hard all day coming in 7th and Dalton Kuehl wrestled tough all day on his way to the finals but just came up short of a MVC title coming in 2nd.
Thursday night saw our J-hawks hosting dub. Senior and crosstown for CR Prairie. first off we want to thank the student body, family and friends for PACKING the gym for this night. It has been a long time since we have had the gym full of fans like it was that night. Varsity warmed up the night against Dubuque Senior making easy work of the Rams 65-15. JV also had a easy time winning 58-12.
Then came the dual that everyone came to witness and boy did they get their moneys worth! The boys fought hard all night long with came up just shy of a victory losing 25-35. A match won here or there, or a more dominant win by a wrestler or two and we would of upset the hawks.
It looks like I got a bit behind in posting results, so here we go... Our J-Hawks finished 5th Saturday as we hosted the Hegarty JV Duals going 3-2 on the day. We had a couple tough loses to a couople powerhouse teams but the boys showed heart and kept fighting all day long. As a whole we were very pleased with how the boys wrestled. Being young we still have a lot to work on i
n the room before the MVC Soph and JV tournament.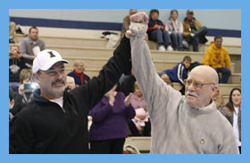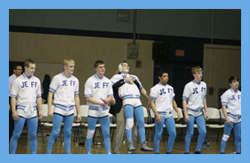 The J-Hawk varsity dug out the 1970's throwback uniforms

Thursday

night to honor Hall of Fame coach Bill McNiel. Then they kept their dual meet record unblemished by beating the crosstown Kennedy Cougars 66-12. The boys-in-blue collected pins from Kelly May, Nick Dreckman, Dalton Kuehl and Will Orr, a technical fall from Tavian Rashed, and a major decision from Luke Sedlacek. Between duals a special recognition paid tribute to McNiel, who led the J-Hawks to state wrestling titles in 1973 and 1974."It was great. Amazing there were that many people that were here," said McNiel. "It made it special," said Kelly May. "I'm sure it was a lot of fun for him to come back and see us and wearing the uniforms that he used to coach." "It was very special tonight," said Coach Briggs, who wrestled for McNiel on his two state championship teams. "Neat to see all of the people who thought so much of Bill, and not only from our J-Hawk community. People came from all over."
You can check out the video feed from last nights dedication by CLICKING HERE
J-HAWKS DOMINATE 2014 INVITATIONAL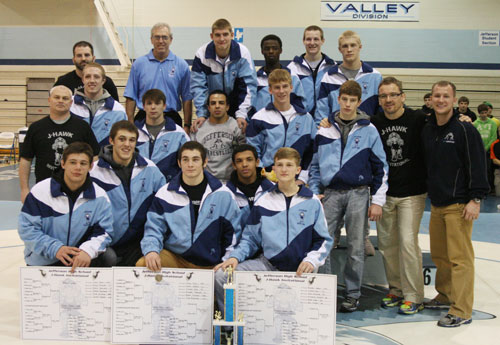 Our boys kicked butt today! We won our Invitational for the first time since 1993 with 5 finalists and three Champions. Brenden Baker, Kelly May and Josh Allen all took first with Kyle Briggs and Luke Sedlacek taking second. Michael Moncivais, Matt Culver, Tavian Rashed and Dalton Kuehl all took third with PJ Rashed taking fourth and Erik Hovey taking sixth. As a team we dominated the invitational from the start beating powerhouses West Delaware, Clinton and Alburnett with a team total of 241.0 points, and winning by 69 points! It was another great day to be a J-Hawk!
The boys traveled to Hempstead Thursday night for duals against Hempstead and Linn-Mar. The boys in blue came home with two wins on the night beating Hempstead 44-18 and defeated Linn-Mar 47-21. Saturday is our big J-Hawk invitational so please come out and support our J-Hawks!
Nice job to the JV wrestling team. For a 34 to 30 victory over the Mustangs of Dubuque Hempstead. And a tough loss 27 - 42 to the lions of Linn-Mar. Catch your JV wrestlers next Thursday at home against crosstown rival Kennedy.
Our J-Hawks shined again today at Benton Community taking 2nd place as a team behind Davenport Assumption! Brenden Baker continued his winning ways taking first place with three pins and a decision. Kyle Briggs and Josh Allen both took second. PJ Rashed took third. Dalton Kuehl took fourth, with Luke Sedlacek and Nick Dreckman taking fifth. Michael Moncivais, Matt Culver and Kelly May took sixth. Joseph Sibomama took seventh with Tavian Rashed and Erik Hovey taking eighth. All 13 of our wrestlers placed in the top 8. It is another great day to be a J-Hawk! JV update from Benton. Jellison, Hoffman and Carney all take home 1st with Endsley taking 2nd place. Click Here to see a report from Iowa Prep Sports on the tournament.
Coach Martin took a group of JV wrestlers over to the Clear Creek Amana Invitational Saturday and also had a pretty decent day crowning three champs in Alex Moncivais, Dylon Pappas and Zach Kester. As a team we finished tied for third place. Out of the 9 wrestlers we took, 6 of our J-Hawks came home with winning records. Zach Kester dominated his competition going 5-0 on the day with 5 FALLS! Alex Moncivais also went 5-0 with 4 FALLS. As a team we recorded 17 falls on the day.
Thursday night saw our J-Hawks head over to Xavier for a double dual against the Saints and Dubuque Walhert. It is starting to sound like the best broken record ever with our J-hawk varsity team dominating both duals! We started off the night vs. Walhert with varsity winning 53-6, and our JV team winning 66-9. On the varsity side Culver, T. Rashed, May, Sedlacek, Dreckman, Hovey, Kuehl, Baker, Briggs, P. Rashed and Moncivais all came away with victories. On the JV side Pappas, Kester, Ziegenhorn, Jones, Primmer, Main and Unkel came away with wins. Next up for our J-Hawks were the Xavier Saints and we left no one in the gym realizing who the best team was as our varsity dominated the Saints 60-12 with May, Allen, Hovey, Kuehl, Baker and Culver coming away with pins. JV had a little closer night but still came home with a victory winning 42-34. Saturday both teams head over to the always tough Benton Community Tournament to continue their winning ways. Good luck J-Hawks!
After what seemed like forever, we were finally back in action Saturday as our varsity team traveled to Pleasant Valley for the Mike Hall Invitational. 3" of snow and down right cold conditions in PV did not keep Brenden Baker from continuing his quest for a state title as he notched another first place finish with a 3-0 victory in the finals over Dack Punke of Washington. Freshman Tavian Rashed continues to impress also making the finals. Tavian came about 2 seconds from taking down Millard Souths Alex Mendez losing 7-6. With time ticking away Tavian continued to press the action just coming up a second late on a match winning takedown. As a team we finished in 6th place. As a whole we wrestled pretty good, but we know we still have a lot to improve on. Josh Allen wrestled tough bringing home a very nice 3rd place finish. Kyle Briggs took 4th, PJ Rashed and Luke Sedlacek both took 5th with Kelly May taking 6th place.
Cedar Rapids Jefferson sophomore Brenden Baker is the winner of the Metro Spotlight Award this week for high school boys, the Metro Sports Report announced Sunday Dec. 22nd. Click on the above image to read the whole story!
Coach Martin and Buesing took our Freshman wrestlers down to ICW for a 9th grade CRANDIC meet Monday night. Our JV boys are not letting the varsity out shine them this year having 5 boys go 2-0 on the night with a total of 10 falls. Dalton Mastin, Coltin Endsley, Kordell Jones and Zach Main each recorded two falls on the evening.
It is like old times, the boys in blue are showing their true colors so far this season with another weekend of great wrestling. We will start off with our JV teams. 12 wrestlers competed at the Marion JV Wrestling Tournament

Saturday

. Andrew Carney and Nick Hall were Champions. Jack Richardson, Rhett Thompson, Alex Moncivais, and Kordell Jones had second place finishes. Andrew Carney, Nick Hall, Alex Moncivais, Kordell Jones, and Jack Richardson recorded falls against their opponents. Freshman wrestlers will compete again

Monday

at Iowa City and join the rest of their teammates in big duals versus Dubuque Senior and rival Prairie

on Thursday

at Jefferson. Rob Martin took another group of JV kids to the always tough SEP Invitational with the team going 3-2 on the day, and finishing in Fifth place as a team. Callahan Moore and Joseph Sibomana stole the show, each going 5-0 on the day.
The varisty team treaded on new ground this year as they were also in the DSM area for the Valley-Johnson Invitational. WOW, is the best word to descibe how our boys did placing in 2nd place behind WSR. We had six wrestlers reach the finals. Brenden Baker continued his quest for that state title taking first place as did Josh Allen who wrestled up a weight at 195. Kyle Briggs, Tavian Rashed, Kelly May and Dalton Kuehl also made the finals but came up short taking second place. Kelly and Dalton both beat ranked kids in their weights to make the finals. Out of our 13 wrestlers we took, 12 of them made the Top 7. That is a pretty darn good day! I can't wait till Thursday night when we host CRP and DBQS. It should be a couple exciting duals!
Our J-Hawks had another impressive night Thursday as we hosted Cedar Falls and crosstown rival Washington. This team is starting to believe in themselves up and down the line-up and it is showing as we defeated powerhouse Cedar Falls 53-21. Brenden Baker continued his winning ways pinning his opponent. Kyle Briggs, PJ Rashed, Tavian Rashed, Kelly May, Josh Allen and Dalton Kuehl also recorded falls, with freshamn Matt Culver scoring a tech fall. Our JV boys came up just short losing 40-36. Jake Hensel, Tyler Unkel, Zach Kester and Callahan Moore contined the pin fest.
Next up on the night was the Warriors of Washington. This rivalery is not waht it used to be as the J-Hawks dominated a depleated warrior team. Varsity won 63-7 with Dalton Kuehl, Brenden Baker, Luke sedlacek and Nick Dreckman recording wins which were not foreits. Our JV team outcome was pretty much the same winning their dual 66-18.
Can you say Keith Young Champ?
Sophomore Brenden Baker can! Brenden took down the #1 3A ranked wrestler in the State in Jack Wagner of Bettendorf! The kid has arrived! Sophomore Kyle Briggs takes 3rd, Senior PJ Rashed takes 5th. Wrapping up the Keith Young Invite, Kelly May took 4th, Luke Sedlacek took 3rd, Josh Allen took 4th, Dalton Kuehl and Michael Smith both took 6th. Our J-Hawks as a team finished in 4th place, not a bad day at the office if I must say.
We also had some great performances out of our JV squad today at CR Kennedy. Endsley, Moriston and Jones took 1st, while Wise, A. Moncivais and C. Kuehl took 2nd.
Coach Martin took some JV wrestlers to the Tipton Invite today too. As a team we finished in 5th place. Callahan Moore was a Tipton Champ! Hoffman took 2nd, Main, Mastin and Orr took 3rd, and Hensel, Unkel and Moomey took 5th. Very proud of all our J-Hawks today.
J-Hawks open 13-14 season with two impressive wins!
Our J-Hawks traveled up to Waterloo East Thursday night to begin their 2013-14 wrestling season focased and ready to dominate. We started off the night against MVC power house ICW stepping on the mat. West realized what we already knew... this team is going to be tough this year when we wrestle to our potential as we beat West winning 9 0f the 14 matches 37-19!! Baker was the first J-Hawk to put points on the board pinning his opponent. Dalton Kuehl aslo recorded a pin, while our two Freshman sensations Tavian Rashed and Matt Culver both won their first match as a Jefferson J-Hawk! JV fought hard but came up a little short losing 36-39.
Our J-Hawks did not let this win satisfy them as they showed Waterloo East that it was not a fluk dominating East 72-3! 11 of our varsity wrestlers recorded pins with Baker, Dalton Kuehl and Tavian Rashed with 2 pins each on the evening. The JV team also came through with a nice dominating win 69-6.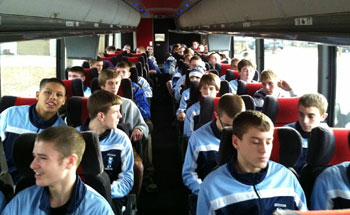 Focused and ready to romp, there's no shortage of wrestlers here ready for opening night!
What a day! Freshman Kyle Briggs (113) was our first wrestler to book his ticket to DSM taking second place. Junior PJ Rashed (120) also took second and will make a return trip to DSM this year. Next up was Sixth Seeded Junior Michael Moncivais (132) and boy did he make a statement today. Not only did Michael take the title, but he pinned all three of his opponents in the process. Senior Drake Allen (182) will also be riding in the van to state taking second place. We also had a couple wrestlers come up one match short. Senior Cody Hensel (126) did his part winning his final match but by RULE fell one place short. Sophomore Josh Allen (170) also won his final match but like Cody, he finished in Third too. Brenden Baker, Jontel Ware and Luke Sedlacek took fourth, while Kelly May, Dalton Kuehl and Dale Deaton all finished in fifth. Congrats to all our wrestlers. We saw a lot of heart out there on the mat today from the whole team and are very proud how everyone wrestled.
Feb. 2 —J-Hawks take 4th and crown two champs at JV/Soph MVC Conference Tournament. Our boys stepped up their game on Saturday with a really nice perfromance down at IC West. We had eight wrestlers place third or above! Chaney Floyd took the MVC JV title and Erik Hovey was crowned the MVC Soph Champion. In all we had 14 wrestlers place in the Top 5. Congrats to all out JV wrestlers for a strong performance!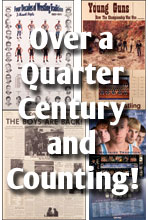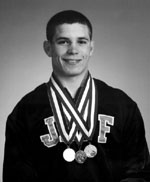 Our very own Mark Ironside,
Two-Time State Champion
has been inducted to the
Iowa Wrestling Hall of Fame
Class of 2010.
Read the article and more information on the 2010 induction ceremony!
cick here to visit website