Head Coach
Matt Orton
morton@cr.k12.ia.us

Athletic Director
Chris Deam
cdeam@cr.k12.ia.us
parent/student
e-mail dist. list form
We hope this will make things easier when sending out forms and other important info via email to all our parents and wrestlers.
"The Night The Names On The Wall Came To Life!
2010 State Finalist Reunion
For those of you who were unable to attend we have posted a pdf version of the finalist program for you to download.
PLEASE CLICK HERE
Mark Ironside ~ Once in a Lifetime...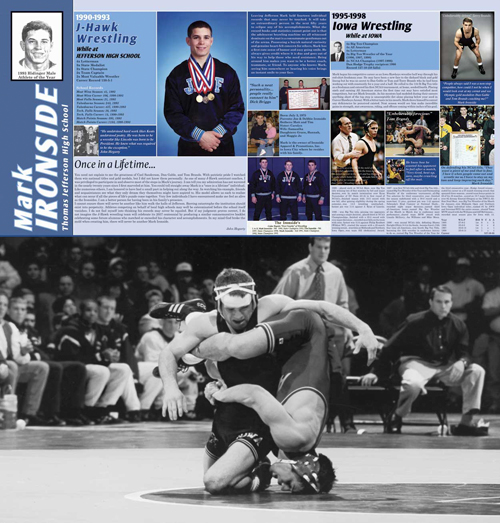 It is early. Dawn will not break for several hours. In the dead of a snowy Iowa winter he is awake long before the 5:00 am alarm sounds. Another day on his mission, the quest begins anew. Soon a lone shadowy figure scampers through the neighborhoods of southwest Cedar Rapids. Slowing briefly at each porch, the daily Gazette is deposited and immediately he is on to the next, and the next. All that is left for early risers to know he beat them up again this morning are the shuffling tracks of hunting boots in the fresh snow. Quick work is made of

the route he could do with his eyes closed, but the time elapsed belies the evidence of this grueling per-dawn
ritual; his coveralls are soaked through with sweat. No time to delay, off to school. There are weights for lifting and a wrestling mat for drilling before heading to first period class. For the second time this morning he is drenched in perspiration from head to toe. His reward? A long hot shower and hearty breakfast? Rarely. To understand what drove the paperboy you must understand the unique family that lives at 2424 Victoria Drive SW.
He understood hard work like Keats understood poetry. He was born to be a wrestler like Lincoln was born to be President. Mark Ironside knew what it required to be the exception. The concept is simple to understand, you train the mind to run the body. But it is not easy. One must never let the body tell the mind what to do. A body's potential is limitless if the mind is not tired. For Mark, lonely hours of painful and inconvenient sacrifice would soon yield to glory. For him, the focal point of each day was not eating junk food, playing video games, or hanging out aimlessly with friends. It was the 3:00 pm two-hour practice session most high school grapplers dread. Mark intensely focused on every minute of the warm-up, drilling, and hard-goes. He reveled in the physical and mental challenge, and upon completion would invariably stay on continuing his drilling after the rest were showered or even home. His body was indefatigable, but his mind was constantly working too. One overriding theme existed directing all expenditure of energy. Call it his prime directive. Like an exam question he rehearsed before bed, one thought returned each evening. It has been said that, "The true test of a man is what he does when no one is watching." Heeding this maxim led to post-dinnertime scrutinizing of video shot by his mother. Then, as a result, discharging the pent up emotions from watching it. Invariably the prescription was a second neighborhood patrol…this time ending the day, in the dark, once again in total anonymity.
What nurtured the internal drive and deep pride? Was it a one-ups-manship attempt at keeping-up with his older brother Matt? Or was it initiated as a routine which patriarch and father Joe Ironside instilled in all his boys while working the streams trapping, hunting in the fields, or fishing in the rivers? Perhaps it was a combination of many things, only he understands for certain. Being born into this clan means living by a code of honesty, industry, purpose, dedication, and discerning how to stalk success. To be an Ironside means you know the great enthusiasms afforded while living the strenuous life. Not only do you thrive on challenges, you seek out the most severe confrontations, pushing your body and mind to unattainable limits. It means having one thing on your mind at all times and everything you do takes you one step closer to your goal. Imagine this young man entering the Jefferson wrestling room as a freshman in the fall of 1989.
Mark completed his first season as a J-Hawk 33-0. Yet, incredibly he was the fourth man at 119 lbs on a team that produced two state champions and seven medallists. They would score 102 points at the State Tournament and bring home a silver trophy in class 3A. On the fight ladder Mark found himself behind three seniors (a state medallist, a returning state qualifier, and another senior who could beat the qualifier but not the medallist). Oddly enough, in the final dual meet of the season (a regional state dual qualifier vs. West Waterloo) Mark was inserted into the line-up "up-one-weight" at 125 lbs for his first exposure to varsity duty. He promptly defeated Jamal Fox, a state medallist, 10-8. With that initiation it was time to spread his wings in an endeavor that would become an off-season obsession- freestyle.
During his first spring and summer on the freestyle and Greco circuit Mark found out he was not far from competing with, even defeating the best in the state (and nation). With assistance from mom and dad (hours of driving and video chronicling each match) he sought out competition whenever and wherever it was held. His confidence swelled, his appetite whetted for a place on the award stand in Des Moines where he had just seen older brother Matt presented with a fifth place medal during his junior year. Mark understood what was possible and secretly vowed the two of them would both stand on the top step the following winter.
His sophomore season began with a tough lesson at the Cougar extravaganza tournament as Mark got caught in a spladle and had to spend the whole third period watching the clock tick down for a 3-2 loss. The loss came at the hands of Chad Vance of Charles City. That was one of only three losses he would suffer that year. The following weekend was the prestigious Keith Young Invitational at Cedar Falls. The results from this tournament would hail the wrestling community like a trumpet call. He was now to be recognized as a serious contender. Mark took the title that day by defeating the returning state champion and number one ranked wrestler Matt Dickey in a chaotic and riotous semi-finals match. Mark was able to take down Dickey in the closing seconds to win 8-7. He did it with an arm spin move he learned the previous summer from wrestling freestyle. In the finals Mark avenged his loss from the previous weekend to Chad Vance with a dominating 7-2 victory. Mark's name now rang in the ears of everyone around the state.
Things were progressing nicely until the week of the District tournament when he severely sprained his ankle during PE class. Competing on one leg, he pinned his way through the field and qualified for his first state tournament. Upon entering the Big Barn, Mark was immediately in his element. He made short work of the preliminary opposition on his way to a Friday night semi-final showdown with number one ranked Derek Mountsier, a senior from Newton. In a wild, fast paced, and flurry-filled match Mark came up short 6-5, but left everything on the mat in a scrappy attempt. Defeat burned with a searing sting.
It festered overnight until re-entering the arena on Saturday
morning for the medal round. Several of the J-Hawk faithful erupted in wild support upon seeing him take the mats for warm-ups. The Friday night semi-final loss momentarily eased as his next duty became clear. He punished highly regarded Brian Bonser of Keokuk for third place. Falling short of his ultimate goal he was forced to watch senior brother Matt from the stands that night as he won the first state title for the Ironside family. Tears of personal disappointment and love for his older brother welled in Mark's and every J-Hawk's eyes. The two brothers and their teammates earned the third place team trophy that night. There would be no disappointment for Mark the next two years in Veterans Auditorium. The Big Barn was now his personal domain.
The off-season that followed for Mark would be like no other. He went on a spring and summer tear that would net over a hundred matches and a third place Cadet National medal around his neck. His training regimen turned relentless. If there was any negative related to his obsession it was the punishment his knees took. Shortly after beginning his junior campaign Mark knew something was faulty leading to surgery in late December. His exceptional shape and conditioning allowed for a speedy recovery, but not even head coach Dick Briggs could imagine the plan Mark proposed for the two week point into rehab. Mark's intent was to wrestle the number one ranked 130 lber in the Lancer Invitational the first Saturday in January. The next Thursday he wanted to wrestle the number one ranked 135 lber in the Linn Mar dual, and the following Saturday cut down to 125 lbs and face the two time defending state champion from Iowa City. The lone blemish on his junior record was a setback to Jeff McGinness 7-3 in the City High dual. It would not be the last time the two would square off in a dual meet.
Wisely, there would be no participation in PE class the week of the district tournament this time around for Mark. He entered the State Tournament with a single-minded focus that would not allow anyone or anything to stand in his way. The punishing tenacity displayed on the mats that February produced his first trip to the top step of the award stand. The truth is any vicarious pleasure J-Hawk fans enjoyed while watching him those three days was earned by Mark alone in the isolated obscurity of endless reclusive hours spent in preparation…"when no one was watching."
Follow Us All Year Long on...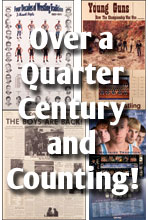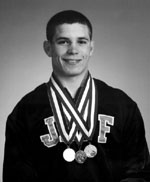 Our very own Mark Ironside,
Two-Time State Champion
has been inducted to the
Iowa Wrestling Hall of Fame
Class of 2010.
Read the article and more information on the 2010 induction ceremony!
cick here to visit website