Head Coach
Ryan Phillips
rphillips@cr.k12.ia.us

Athletic Director
Chris Deam
cdeam@cr.k12.ia.us
parent/student
e-mail dist. list form
We hope this will make things easier when sending out forms and other important info via email to all our parents and wrestlers.
"The Night The Names On The Wall Came To Life!
2010 State Finalist Reunion
For those of you who were unable to attend we have posted a pdf version of the finalist program for you to download.
PLEASE CLICK HERE
Be sure to check out our photos from this season on our Flickr page!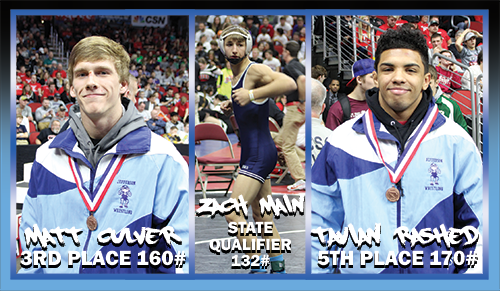 Matt Culver takes 3rd and Tavian Rashed takes 5th place
at 2017 State Tournament!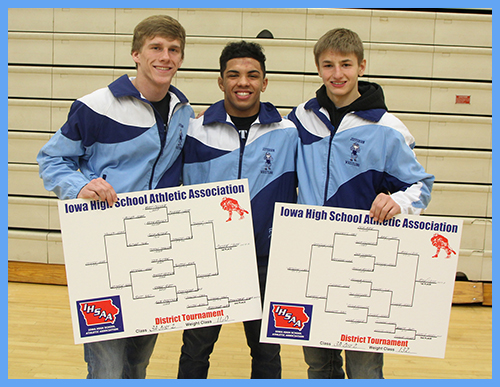 The 3 Amigos onto State!


Zach Main, Matt Culver and Tavian Rashed punched their ticket to state Saturday at Districts!
Zach and Matt both brought home Districts titles, while Tavian took home second. It was really wonderful to see Culver finally punch his ticket to state. No kid deserves to make state, but if they did, Matt would be my first choice. Outstanding young man he is.
It was a fun day with our J-Hawks having 10 wrestlers make Top 6. Pagel and Bolden both came up just short in third place. Look for both of these young men to lead their team next season and punch their own tickets to state. Colton Woods and Dillon Primmer both had a good day taking fifth. It was really great to see Dillon finish his high school career with a pin and a win. Little fond of that kid. I am in luck though as Dillon will be attending Iowa State next year and we will be able to keep in touch and even have lunch maybe. Someone has to show him the good places to eat in town. Dakota Tatro, Dusty Anderson and Chris Castillo all finished on the podium bringing home sixth place finishes.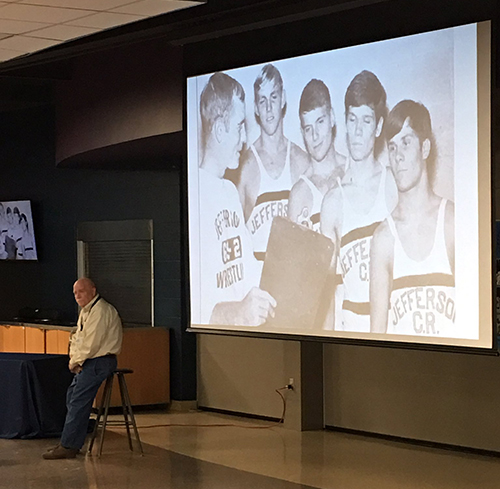 Bill McNiel: Wrestling coach and teacher, who oversaw the most successful wrestling venture in school history inducted into the 2017 Jefferson Athletic Hall of Fame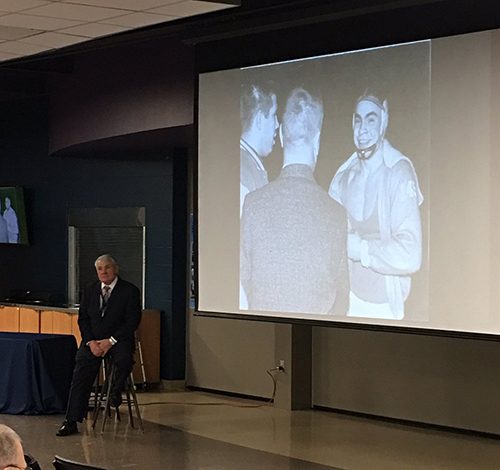 Mel Wieland: Wrestling state champion, Big Ten Champion for Iowa, and Iowa Wrestling Hall of Famer

inducted into the 2017 Jefferson Athletic Hall of Fame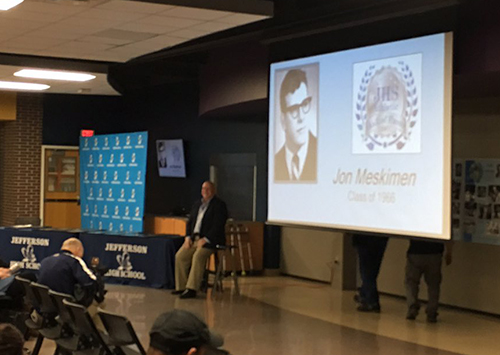 Jon Meskimen: Earned All State titles in football, wrestling and track and field

inducted into the 2017 Jefferson Athletic Hall of Fame
BACK TO BACK!


Our Junior Varsity proved again the Westside IS the best side best crowning 6 champions on their way to a conference title for a second year in row.

City High was a distant second 39 points back. I'm not sure what lit the fire in Jaden Collins these last few weeks, but Jaden won the 106 pound title with two pins in a total of 2 minutes! Tyler Hurt also had two falls on his way to the 120 pound title and an undefeated season. Surprise to some, but not to us, Enyeto Ahedo is your 132 pound champion. Enyeto with three nice, tough hard fought wins on the day. At 160, Marco "Flex" Esparza in a loaded bracket had four victories in route to his title. Anthony Lorimer is your 170 pound champion. Anthony pinned both his guys in a total time of 3:48 to claim the championship. Braxton Bolden was our sixth champion on the day, also pinning both his opponents for the title. Dillon Primmer went 3-1 on the day taking home third place in another loaded bracket. Tyler Buzynski went 2-2 on the day taking fifth, and Seth Konen placed sixth.
Our Freshman and Sophomores also had a nice tournament. Dakota Tatro and Dallas Hartgrave both went 2-1 taking home fifth place finishes. Colon Woods took second at 120, and Nathan Lauterwasser at 126, Noah Aller at 132 and Cameron Burnell at 138 took home third place finishes. At 145 Antonio Pagel took home second place. Caleb Koehler took home fifth at 152. Karl Green had a really nice day taking home second place at 160. Dawson Sweet at 195 and Max Madsen at 220 took home third place. And your Fresh/Soph 285 pound champion is our very own Chris Castillo!
I have really enjoyed my time helping out in a small way our JV team/entire team these past 12 seasons. You all will have a special place in my heart forever. Thank you coach Martin for allowing me to be a small part of your teams through the years.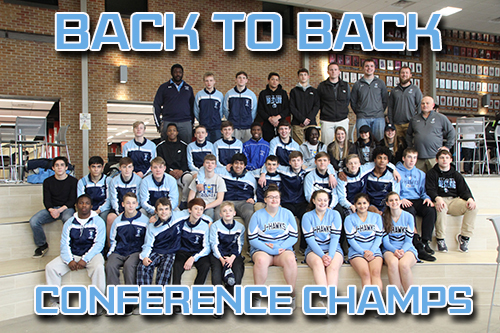 J-Hawks send off Class of 2017 in style with dominating wins over Dubuque Senior


Coach Martin and our JV team won in fine fashion 63-12. Cameron Burnell, Karl Green, Anthony Lorimer, Dawson Sweet, Jaden Collins and Tyler Hurt all recorded falls. In-between duals we recognized a special senior class. This is always a rough time knowing our time with these kids is close to an end. We recognized 10 wonderful seniors and their families. The varsity team kept the spirits high with a dominating 63-15 win. Before anything else, we would like to give a huge shout to Nathan Lauderwasser and Dillon Primmer, both these young men won their first varsity match. Pretty special night for both these kids, with a little extra maybe for Dillion, being senior night and winning with a pin. Colton Woods recorded a TF, Dusty Anderson had a nice 14-3 major decision, Taylor Viktora also recorded a pin.
Matt Culver is your 2017 MVC Champion


BIG shout out to senior Matt Culver who brought home a conference title. Nothing less then a title was in Matt's mind the whole week and from his wrestling Saturday you knew he was on a mission. It is a pleasure to watch him wrestle, he is so smooth. Matt started off with a TF in round one, then followed it up with a fall in quarter finals. Semi finals Steicher of Linn-Mar would be next to realize Matt was on fire, 4-2 win for Culver. This was now the moment he was working for, and was very pleased to know who was going to be stepping on opposite. It was time to revenge a loss the previous week against Rohweder from ICW. From the whistle Matt was in total control, coming home with a solid 6-2 win. Zach Main brought home third place recording two pins on the day. Tyresse Smith also stood on podium with an 8th place finish. Dusty Anderson had a finish taking fifth place. Tavian Rashed also made the finals but fell 2-6 in the championship match and Braxton Bolden eighth.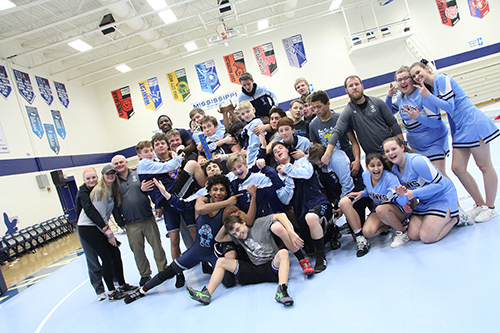 NOW TWO-TIME JOHN HEGARTY JV DUALS CHAMPIONS!!!


What a great day it was. I am so blessed to be a part of this program and these wonderful kids. It is something I am truly going to miss. Coach Martin and Garber had the boys focused today on one goal... A TITLE! That would mean going 4-0 before a very likely match up versus the 7 time dual champions in Southeast Polk.
We would start off the morning with a dual win against Mt. Vernon 57-18. When Jaden Collins started off the dual with a fall you knew something special could happen today. Colton Woods, Nathan Lauterwasser, Enyeto Ahedo, Dusty Anderson, Marco Esparza, Braxton Bolden all recorded falls, along with a win from Cameron Burnell. Second up was the always strong Western Dubuque team. But on this day we were the stronger team coming away with a solid 45-28 win.
Jaden Collins again let it be known that they all were focused on one goal as he had another fall! Colton Woods and Marco Esparza recorded their second falls of the morning. Nathan Lauterwasser had an extremely exciting 26-9 TF win. Noah Allers and Dawson Sweet also had pins. Tyreese Smith and Dillon Primmer won by decisions, and Braxton Bolden had a major decision.
Match #3 victim would be the Hawks of West Delaware as our boys soundly won 50-29. Colton Woods, Noah Allers, Dusty Anderson and Dawson Sweet recorded their second falls of the day, along with a fall from Antonio Pagel. Marco Esparza had a 17-4 Major decision win.
In round 4 the always tough CR Prairie team would be the next on the chopping block as our boys let it be known they were not to be stopped on this day with a 54-19 victory. Nathan Lauterwasser, Marco Esparza, Anthony Lorimer, Dawson Sweet and Dillon Primmer all had pins. Anthonio Pagel and Braxton Bolden also had wins.
All the stars were aligned today, because across the mat in the championship match would be the Rams of Southeast Polk. Dakota Tatro, who in my opinion had the most exciting match of the day electrified the crowd with a fall in 3:16. Colton Woods then follows it up with another fall in 4:18. Antonio Pagel wrestled a very solid match coming away with a 1-0 decision. Tyresse Smith gave the J-Hawks 6 more points with a fall in 47 seconds. Dusty Anderson wrestled his way to a very hard fought 8-7 win and with a fall from Anthony Lorimer in 1:13 and 8-1 decision by Braxton Bolden, the trophy would be staying home this year. So, with the championship won you would think maybe the boys would relax a little bit and celebrate right...Nope, goes out and Dawson Sweet dominated his opponent with a 16-7 major decision. Chris Castillo and Dillon Primmer record falls and YOUR J-HAWK WIN THE DUAL 49-15!
Check out our Flickr page... there are over 400 photos are posted from the duals!
Varsity splits triangular dual with CRX and ICW.


Thursday night saw our men travel down to Iowa City for a triangular dual with West and Xavier. Coach Martin and Garber had the JV rolling again with two big wins. First victim was Xavier falling to our JHawks 60-12. Next on the chopping block was West and they only fared a little better losing 46-25. Tyler Hurt remained undefeated going 2-0 on the night. Varsity had a little tougher night going 1-1 on the night. In the first dual our JHawks beat Xavier 49-30. Marco Esparza recorded his first varsity win with a fall over his opponent. Anderson, Culver, Bolden amd Viktora also recorded falls. Our second dual vs. West did not end up like we had hoped losing 13-54. Congrats to Cameron Burnell and Noah Allers both went 2-0.
MATT CULVER IS YOUR 2017
J-HAWK INVITATIONAL CHAMPION!
Dustin Anderson takes 5th. I'm not sure if I have seen Culver wrestle any better then he did Saturday. Starting the day as the #3 seed, he would have to be on point to win it all. Round one he Tech falled his opponent 25-10. Second round is where we knew this was going to be a special day as he pinned his opponent in 3:50. His victim would be the #2 ranked kid in the state, Ryan Gorman of New Hampton (38-2), Matt was in control of this match from the start. Gorman had nothing for him. In the finals he would go up against #9 ranked Tucker Franklin of Alburnett. From the opening whistle Matt was on attack mode not giving Franklin even a chance to catch his breath. With a 19-6 Major Decision Matt Culver is your 2017 Champ! Matt was not the only one who had a good day. Dustin Anderson has turned a corner in his wrestling this season coming home with a real nice 5th place finish.
It's Great To Be A J-Hawk!


Everyday is great, but when you can topple your cross town rival it makes it even better. Last night our J-Hawks hosting Washington and dominated both the JV and Varsity duals. JV started the night off blanking the warriors 71-0. Green, Esparza, Lorimer, Bolden and Tiernan all had pins. Varsity was not going to let the JV have all the fun and they did not go away unhappy with their 60-17 win. Woods, Mastin, Anderson and Sherzer all had falls. Be sure to come out Saturday and cheer on your J-Hawks as we host the Jefferson Invitational.
J-Hawks crown three champs Monday night at ICCH 9-10 CRANDIC meet!
Martin and staff had the boys wrestling great again Monday night. Nathan Lauterwasser, Jake Silbaugh and Zachary Tiernan all went 3-0.

Burnell, Troh

, Sweet and Castillo all went 2-1.
J-Hawks put 4 in finals at Benton Community
Tavian Rashed captured the Bobcat title while Culver, Sherzer and Bonner all took second. Colten Mastin, Zach Main and Dustin Anderson finished in seventh, while Antonio Pagel finished in 8th place. On the junior varsity side if they had kept team scores we are pretty sure our boys came home with a dominating win. We had 8 wrestlers take home titles. Tyler Hurt remained undefeated on the season with a first place finish. Lauterwasser, Ahedo, Allers, Smith, Jones, Bolden and Dawson Sweet also all brought home titles. Tatro, Burnell, Lorimer, Silbaugh and Castillo took second.
Happy New Year!
We started off 2017 with a dual vs. ICCH. The year did not quite start off for varsity like we had hoped with a 21-47 loss Thursday night. Our JV kept things rolling though with a 43-32 win. On the JV side Tatro, Madsen and Castillo received byes, while Tyler Hurt, Esparza, Lorimer, Bolden and Dawson Sweet all had nice wins to help seal the victory.
Our varsity did not fair so well losing 21-47. Zach Main, Tyreese Smith, Matt Culver, Tavian Rashed and David Bonner had wins for the J-Hawks.
2nd week is in the books and our J-Hawks are improving.

Colten Mastin made his season debut with a very nice fall in :53 seconds versus our first opponent of the evening in Waterloo West. Main, Anderson, Culver, Sherzer and Rashed also all had pins in a 54-28 victory. The JV team claimed a 66-18 win with Silbaugh, Bolden and Castillo getting falls. Things did not fare so well against Linn-Mar. Varsity lost 28-36. Main and Bonner recorded falls. Pagel, Culver, Sherzer, Bolden and Rashed all had wins. Our JV also had a rough night in a 15-57 loss. Coyle, Allers and Viktora all had falls.
Friday night Coach Martiin and Garber took a team over to Indianola for their Ugly Sweater JV Invitational. From the looks of this photo below. We think coach Garber must have won. The boys had a really good night with 10 wrestlers on the podium, including 6 wrestlers in the finals, bringing home two champs in Tyler Hurt and Karl Green. Buzynski, Troh, Jones and Tiernan took second. Hamilton, Hartgrave, Cook and Konen also placed.
Saturday we dealt with some nasty weather conditions. The JV tournament in English Valley was cancelled. The varsity was able to make it over to SEP for their Annual Red Owens Holiday Classic Invitational. Santa came a little early this year for both Culver and Rashed with both young men taking home titles. Stewart and Main both took second, while Colton Woods took home third.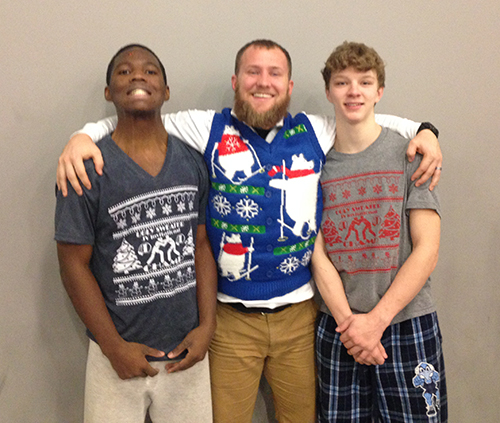 Saturday was a busy day for our J-Hawks
Tyreese Smith goes 5-0 at SEP JV Invitational
Culver and Rashed earn their 100th wins!
Coach Orton and the varsity team traveled over to the Johnston Tournament bringing home 4 wrestlers finishing in the top 3. Culver and Rashed both finished in second place, while Pagel and Bonner both took third. Coach Herman took a JV team over to the always tough SEP JV Invitational. Our JV teams are continuing to improve and fourth place team finish with a limited lineup proves that. Tyreese Smith could very well have been chosen Wrestler of the Tournament going 5-0 with 4 falls and a major decision. He is starting to get it and his results this season have shown that. Ahedo and Sweet also came home with winning records on the day. Coach Garber took some JV wrestlers over to Marion and had three of 6 wrestlers finish in top 3. Zach Tiernan came home as champion going 3-0 on the day. Amos Troh (2-1) finished in second and Nathan Cook (2-1) took third.
J-Hawks Dominate Waterloo East and Dubuque Wahlert


Thursday our J-Hawks traveled up to Waterloo East for a double dual with Dubuque Wahlert. Both our Varsity and JV teams came home with 2 victories. In JV action we beat Wahlert 54-21 with Silbaugh, Madsen and Hurt all having pins. JV kept ther win streak going with a dominating 72-3 win vs. Waterloo East with Hartgrave, Sweet and Castillo recording falls.
The varsity team also had a good night with two victories defeating both Wahlert and East 48-18. Collins, Tatro, Woods, Coyle, Main and Pagel all recorded falls vs. Wahlert. While Main, Burnell, Anderson and Sherzer recorded falls against East.
9/10 meet Monday night at home saw 11 J-Hawks finish in 1st or 2nd place!


Monday night we hosted the 9th Grade Meet in the old gym. We had 6 wrestlers take first place in Coyle, Burnell, Lauterwasser, Tieman, Allers, Ahedo-Jiroutek. We also have 5 wrestlers finish in second place in Troh, Madsen, Konen, Sweet, Koehler. Thursday night both the varsity and jv head up to Waterloo East to battle East and Wahlert.
First week of the season is in the books!

Our J-Hawks started off te season at Kennedy for a cross town dual. The JV came away with a 54-18 win, while the varsity had a tougher time losing 24-49. T. Smith, Stewart, Hurt, Lauterwasser, Sweet and Burnell all had wins for the JV. While Endsley, Culver, Rashed, Bonner and Main had wins for the varsity.
Saturday saw our varsity team travel up to the Cedar Falls invite bringing home three place winners. Culver finished third while Rashed and Bonner both took home titles!
Our JV went to both the Kennedy JV Invite and the always tough Tipton Invitational. Coach Martin and Coach Briggs helped our JV team bring home a second place team finish with 6 men finishing in the top three. Bolden and Stewart both took home titles, while Pagel and Anderson took second. T. Smith and Jones brought home third place finishes. Coach Garber took a team over to the Kennedy JV Invite and brought home 8 wrestlers finishing in top two. Hurt, Buzynski and Sweet took first, while Burnell, Lauterwasser, Troh, Klein and Madsen took second.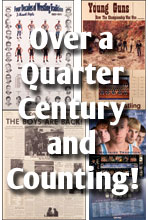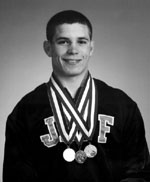 Our very own Mark Ironside,
Two-Time State Champion
has been inducted to the
Iowa Wrestling Hall of Fame
Class of 2010.
Read the article and more information on the 2010 induction ceremony!
cick here to visit website