Head Coach
Ryan Phillips
rphillips@cr.k12.ia.us

Athletic Director
Chris Deam
cdeam@cr.k12.ia.us
CONGRATULATIONS TO FORMER J-HAWK STANDOUT KYLE BRIGGS ON HIS ALL-AMERICAN FINISH THIS SEASON AT WARTBURG!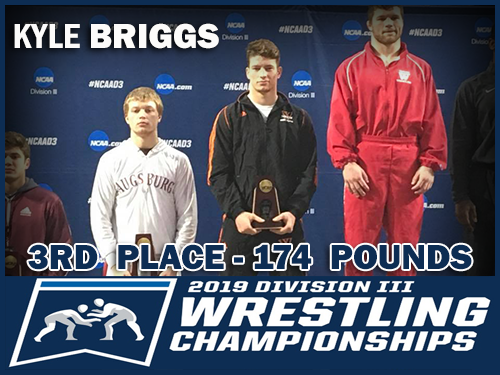 DAWSON SWEET
TAKES HOME
6TH PLACE
AT 2019
STATE
TOURNAMENT
S

TATE PHOTOS ARE POSTED ON OUR FLICKR PAGE
Eli Benion is your 2019 JV MVC Champion!
Saturday saw our Junior Varsity/9/10 wrestlers step on the mats one last time this season as they competed in the MVC JV Conference Tournament at CR Xavier. As a team we placed in 7th place. As a whole we are pleased with how they competed. Eli Benion was on fire as he recorded three pins and a tech fall on his way to the 152 pound title. Eli won his finals match over his Western Dubuque opponent by a fall in 1:16. A.J. Buzynski also had a very good day finishing as conference runner-up. A.J. had a really nice season and improved throughout the year making him one to look forward to seeing next season. Jake Silbaugh made it back on the mat one last time finishing in fourth place after being injured a lot of the season. Damon Rector and Arnold Agut both finished the day in sixth place. Preston Bruck and Carter Smith were our remaining placewinners both taking home eight place finishes.
They also held a JV Reserve Tournament where Dallas Hartgrave won by fall in his finals match in 4:50. Dallas recorded three pins on the way to his 145 pound title. Donovon Fleetwood finished the day in third place. Jean Mukiza placed fifth and Carson Duball placed eight. Big props to Karmen Hawkins for efforts this season. Although she did not perform as well as she knows she can it was a pleasure to have her in the room this season.
We have a lot to look forward too next season. Once we get all the kids to buy into the system and what it takes to stand on the podium at state we should see some nice results in the future from this group.
J-Hawks end regular season at Kennedy


We wrapped up our regular season Thursday night at Kennedy. It was a rough night for our J-Hawks. The JV started off the night with a 18-58 loss. Forfeits are not helping us this year. but the kids are wrestling tough. Andrue Bowers, Karmen Hawkins and Eli Benion all three recorded falls! The varsity did not fair much better losing 15-61. Forfeits and a good Kennedy team made this a lopsided victory for the cougars. Dakota Tatro and Colton Woods both pinned their opponents. Austin Clifton had a hard fought 1-0 win.
Saturday is the MVC JV/10/9 Conference Tournament at Xavier.
Come out and cheer on your J-Hawks as they wrap up their 18-19 season.
J-Hawks place 5 at MVC Tournament.


Dawson Sweet was our top finisher taking home a fourth place finish at HWT in a weight stacked with ranked state wrestlers. Antonio Pagel and Dakota Tatro both took seventh place. I believe their opponents were also state ranked. "The Austins" Clifton and McAllister both finished the day standing on the podium in eight place.
The newest KCRG-TV9 Athlete of the Week is Jefferson wrestler Chloe Clemons!!!
She won the 120-pound state title last week in the first ever girls' state wrestling tournament. Chloe won her finals match by a fall!!!
Watch as she pins her way to a state title and read the full article HERE
Check out some photos from this years action on our FLICKR page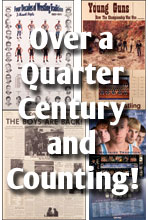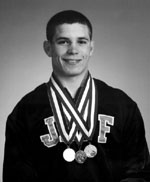 Our very own Mark Ironside,
Two-Time State Champion
has been inducted to the
Iowa Wrestling Hall of Fame
Class of 2010.
Read the article and more information on the 2010 induction ceremony!
cick here to visit website