Head Coach
Matt Orton
morton@cr.k12.ia.us

Athletic Director
Chris Deam
cdeam@cr.k12.ia.us
Be sure to check out our photos from this season on our Flickr page!
MATT CULVER IS YOUR 2017
J-HAWK INVITATIONAL CHAMPION!
Dustin Anderson takes 5th. I'm not sure if I have seen Culver wrestle any better then he did Saturday. Starting the day as the #3 seed, he would have to be on point to win it all. Round one he Tech falled his opponent 25-10. Second round is where we knew this was going to be a special day as he pinned his opponent in 3:50. His victim would be the #2 ranked kid in the state, Ryan Gorman of New Hampton (38-2), Matt was in control of this match from the start. Gorman had nothing for him. In the finals he would go up against #9 ranked Tucker Franklin of Alburnett. From the opening whistle Matt was on attack mode not giving Franklin even a chance to catch his breath. With a 19-6 Major Decision Matt Culver is your 2017 Champ! Matt was not the only one who had a good day. Dustin Anderson has turned a corner in his wrestling this season coming home with a real nice 5th place finish.
It's Great To Be A J-Hawk!


Everyday is great, but when you can topple your cross town rival it makes it even better. Last night our J-Hawks hosting Washington and dominated both the JV and Varsity duals. JV started the night off blanking the warriors 71-0. Green, Esparza, Lorimer, Bolden and Tiernan all had pins. Varsity was not going to let the JV have all the fun and they did not go away unhappy with their 60-17 win. Woods, Mastin, Anderson and Sherzer all had falls. Be sure to come out Saturday and cheer on your J-Hawks as we host the Jefferson Invitational.
J-Hawks crown three champs Monday night at ICCH 9-10 CRANDIC meet!
Martin and staff had the boys wrestling great again Monday night. Nathan Lauterwasser, Jake Silbaugh and Zachary Tiernan all went 3-0.

Burnell, Troh

, Sweet and Castillo all went 2-1.
J-Hawks put 4 in finals at Benton Community
Tavian Rashed captured the Bobcat title while Culver, Sherzer and Bonner all took second. Colten Mastin, Zach Main and Dustin Anderson finished in seventh, while Antonio Pagel finished in 8th place. On the junior varsity side if they had kept team scores we are pretty sure our boys came home with a dominating win. We had 8 wrestlers take home titles. Tyler Hurt remained undefeated on the season with a first place finish. Lauterwasser, Ahedo, Allers, Smith, Jones, Bolden and Dawson Sweet also all brought home titles. Tatro, Burnell, Lorimer, Silbaugh and Castillo took second.
Happy New Year!
We started off 2017 with a dual vs. ICCH. The year did not quite start off for varsity like we had hoped with a 21-47 loss Thursday night. Our JV kept things rolling though with a 43-32 win. On the JV side Tatro, Madsen and Castillo received byes, while Tyler Hurt, Esparza, Lorimer, Bolden and Dawson Sweet all had nice wins to help seal the victory.
Our varsity did not fair so well losing 21-47. Zach Main, Tyreese Smith, Matt Culver, Tavian Rashed and David Bonner had wins for the J-Hawks.
2nd week is in the books and our J-Hawks are improving.

Colten Mastin made his season debut with a very nice fall in :53 seconds versus our first opponent of the evening in Waterloo West. Main, Anderson, Culver, Sherzer and Rashed also all had pins in a 54-28 victory. The JV team claimed a 66-18 win with Silbaugh, Bolden and Castillo getting falls. Things did not fare so well against Linn-Mar. Varsity lost 28-36. Main and Bonner recorded falls. Pagel, Culver, Sherzer, Bolden and Rashed all had wins. Our JV also had a rough night in a 15-57 loss. Coyle, Allers and Viktora all had falls.
Friday night Coach Martiin and Garber took a team over to Indianola for their Ugly Sweater JV Invitational. From the looks of this photo below. We think coach Garber must have won. The boys had a really good night with 10 wrestlers on the podium, including 6 wrestlers in the finals, bringing home two champs in Tyler Hurt and Karl Green. Buzynski, Troh, Jones and Tiernan took second. Hamilton, Hartgrave, Cook and Konen also placed.
Saturday we dealt with some nasty weather conditions. The JV tournament in English Valley was cancelled. The varsity was able to make it over to SEP for their Annual Red Owens Holiday Classic Invitational. Santa came a little early this year for both Culver and Rashed with both young men taking home titles. Stewart and Main both took second, while Colton Woods took home third.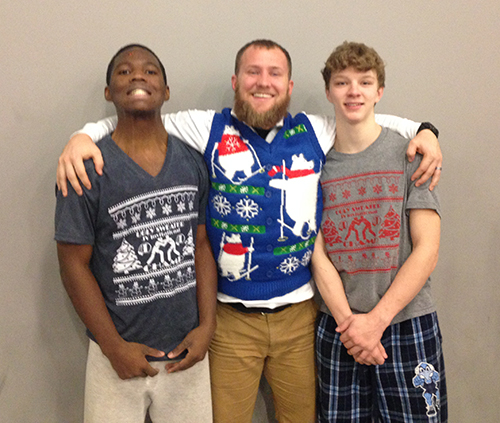 Saturday was a busy day for our J-Hawks
Tyreese Smith goes 5-0 at SEP JV Invitational
Culver and Rashed earn their 100th wins!
Coach Orton and the varsity team traveled over to the Johnston Tournament bringing home 4 wrestlers finishing in the top 3. Culver and Rashed both finished in second place, while Pagel and Bonner both took third. Coach Herman took a JV team over to the always tough SEP JV Invitational. Our JV teams are continuing to improve and fourth place team finish with a limited lineup proves that. Tyreese Smith could very well have been chosen Wrestler of the Tournament going 5-0 with 4 falls and a major decision. He is starting to get it and his results this season have shown that. Ahedo and Sweet also came home with winning records on the day. Coach Garber took some JV wrestlers over to Marion and had three of 6 wrestlers finish in top 3. Zach Tiernan came home as champion going 3-0 on the day. Amos Troh (2-1) finished in second and Nathan Cook (2-1) took third.
J-Hawks Dominate Waterloo East and Dubuque Wahlert


Thursday our J-Hawks traveled up to Waterloo East for a double dual with Dubuque Wahlert. Both our Varsity and JV teams came home with 2 victories. In JV action we beat Wahlert 54-21 with Silbaugh, Madsen and Hurt all having pins. JV kept ther win streak going with a dominating 72-3 win vs. Waterloo East with Hartgrave, Sweet and Castillo recording falls.
The varsity team also had a good night with two victories defeating both Wahlert and East 48-18. Collins, Tatro, Woods, Coyle, Main and Pagel all recorded falls vs. Wahlert. While Main, Burnell, Anderson and Sherzer recorded falls against East.
9/10 meet Monday night at home saw 11 J-Hawks finish in 1st or 2nd place!


Monday night we hosted the 9th Grade Meet in the old gym. We had 6 wrestlers take first place in Coyle, Burnell, Lauterwasser, Tieman, Allers, Ahedo-Jiroutek. We also have 5 wrestlers finish in second place in Troh, Madsen, Konen, Sweet, Koehler. Thursday night both the varsity and jv head up to Waterloo East to battle East and Wahlert.
First week of the season is in the books!

Our J-Hawks started off te season at Kennedy for a cross town dual. The JV came away with a 54-18 win, while the varsity had a tougher time losing 24-49. T. Smith, Stewart, Hurt, Lauterwasser, Sweet and Burnell all had wins for the JV. While Endsley, Culver, Rashed, Bonner and Main had wins for the varsity.
Saturday saw our varsity team travel up to the Cedar Falls invite bringing home three place winners. Culver finished third while Rashed and Bonner both took home titles!
Our JV went to both the Kennedy JV Invite and the always tough Tipton Invitational. Coach Martin and Coach Briggs helped our JV team bring home a second place team finish with 6 men finishing in the top three. Bolden and Stewart both took home titles, while Pagel and Anderson took second. T. Smith and Jones brought home third place finishes. Coach Garber took a team over to the Kennedy JV Invite and brought home 8 wrestlers finishing in top two. Hurt, Buzynski and Sweet took first, while Burnell, Lauterwasser, Troh, Klein and Madsen took second.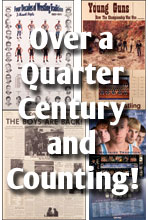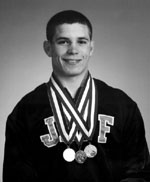 Our very own Mark Ironside,
Two-Time State Champion
has been inducted to the
Iowa Wrestling Hall of Fame
Class of 2010.
Read the article and more information on the 2010 induction ceremony!
cick here to visit website