The end of the year wrestling banquet will be

February 28th from 5 to 7 PM.

Dinner will be potluck style.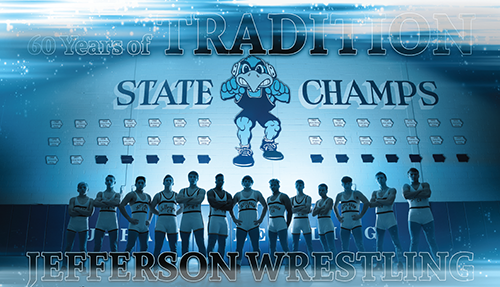 BRAXTON BOLDEN TAKES HOME 8TH PLACE AND FOR ALL TIME WILL BE A 2018 IOWA HIGH SCHOOL 3A STATE WRESTLING ALL-AMERICAN!!!
BRAXTON BOLDEN QUALIFIES FOR STATE!!


Braxton has had a outstanding season. The progression he made from the previous season is remarkable. Dawson Sweet, Jacob Sherzer and Antonio Pagel all came up a little shy of reaching their season goals. Good luck this week Braxton, J-Hawk Nation is behind you!
JV Matches Varsity Placing 8 At MVC JV/SOPH Tournament


Our JV was not going to let varsity outshine them at the conference tournament this season also putting 8 wrestlers on the podium. Top finisher of the day for the west side was Dylan McVeigh taking home a 3rd place finish earning him co-wrestler of the meet honors. Will Johnson was our second honors recipient. After losing his first round match Will came back STRONG winning 4 straight matches in route to a very hard fought fifth place finish. Brandon Johnson, Preston Bruck and Jamar Taylor all placed forth. Quintin Murray took fifth, while Jayden Luongben and Arnold Agut took home sixth place finishes. Coach Garber would like to give a shout out to this years squad. They fought hard every week and showed the willingness to improve that 1% everyday. As our slogan stated this season.... We Are Back!
Varsity end the regular season with a W at Senior!


Thursday night our J-Hawks traveled to Dubuque to end out the regular season. The JV had a rough 24-48 loss due to quite a few forfeits. Arnold Agut, Noah Fernandez and William Johnson all came home with wins by way of falls! The varsity has a better night recording six pins on their way to a 43-29 win. Anthony Lorimer, Taylor Viktora, Dakota Tatro, Colton Woods, Nathan Lauterwasser and Dustin Anderson.

Braxton Bolden and Daswon Sweet both had nice wins. Saturday the varsity heads to CR Prairie for Districts, while the JV ends their season at the JV MVC tournament. Good luck men!
8 J-HAWKS PLACE AT MVC SUPER MEET


Braxton Bolden was our top finishers taking home a very nice 3rd place finish. Dawson Sweet was our next top finisher with a real nice 4th place finis at 220. Colton Woods took home 8th at 120, Enyeto Ahedo also placed 8th at 132. Cameron Burnell placed 6th at 138, while Antonio Pagel finished in 5th place at 145. At 160 Jacob Sherzer placed 8th and Taylor Viktora took home a nice 5th place finish at 195. Thursday night closes out the regular season as we travel over to Dubuque Senior. Good Luck men.
J-HAWKS TAKE 2 FROM WARRIORS


Thursday night was another good night for our boys in blue as we took on cross town rival Washington. Both the varsity and junior varsity came home with victories. Varsity winning 45-27 and Junior Varsity winning 36-21. Carter Smith started off the night in grand fashion with a fall for the JV. Arnold Agut and Tyler Buzynski also recorded falls in the win. In the varsity dual both Enyeto Ahedo and Dustin Anderson won by fall. Austin McCallister also had a nice 7-2 decision win. Be sure to come cheer on your J-Hawks Saturday as we host the MVC Super Meet starting at 10:00 A.M.!
Buck takes third Monday night at the 9/10 CRANDIC!


Monday saw our young guns head over to Prairie for a CRANDIC. Preston Buck took home a nice third place going 2-1 on the night. William Johnson also went 2-1 taking home a nice fifth place finish.
Jefferson JV goes 4-1 on the day!


The boys in blue were at it again Saturday as we hosted our own John Hegarty Jr. JV Dual Tournament. Coach Garber had the boys ready as we started off the day defeating Mt. Vernon 48-36. Next on the block was West Delaware. The boys in blue made easy work winning 49-30. Third round saw our boys defeating Western Dubuque 43-31. Going into round four we knew we had to be on our A Game with CR Prairie across the mat. With pins from Colton Woods, Cameron Burnell, Arnold Agut, Dustin Anderson, Braxton Bolden and Dawson Sweet we were able to defeat the hawks 38-36. Once again across the mat from us in the championship match was the always strong SEP Gold team. This is the second time this season we faced off with them. Even though we came up a little short losing 35-41 the boys can be proud knowing they have improved since earlier in the season when we lost to them 24-57. We had five wrestlers goe 5-0 on the day in Colton woods, Enyeto Jiroutek, Cameron Burnell, Braxton Bolden and Dawson Sweet. Well Done Men!
J-Hawks Dominate CRX


Thursday night was a good night for our boys in blue as we traveled across town to take on Xavier. Both the varsity and junior varsity came home with wins. The junior varsity made quick work of the Saints via a lot of forfeits and wins by Dallas Hartgrave and Arnold Agut in route to a 42-0 victory. varsity kept things going with a nice 54-23 win. Canmeron Burnell, Antonio Pagel, Dustin Anderson, Anthony Lorimer all recorded pins. Jacob Sherzer and Dawson Sweet had victories of their own. Saturday we host our JV tournament so be sure to come out and cheer on our J-Hawks!
Braxton Bolden is your 2018 J-Hawk Invitational Champion!
Dawson Sweet is Runner-up!
Braxton and Dawson both picked the ideal day to bring home our top varsity tournament finishes of the season Saturday at the J-Hawk! We had 7 wrestlers stand on the podium. Jacob Sherzer and Dakota Tatro both finished in sixth place. Enyeto Jiroutek and Taylor Viktora placed seventh and Austin McAllister took home eighth place. For those in attendance, they were treated to some great matches throughout the day, including a rematch between Teske and Thomsen.
J-Hawks crown 4 CRANDIC champs at CRW


Eight wrestlers finished in the Top Two Monday night at Washington in the 9/10 CRANDIC. Dylan McVeigh, Arnold Agut, Preston Buck and Jamar Taylor were all CRANDIC champs. Dallas Hartgrave, Cameron Burnell, Tyler Buzynski and Amos Troh all took home second place. JV is off this weekend as we host our JHawk Invitational.
J-Hawk JV Bounces Back From Tough Start To 2018
Crowning 4 Champs at Bobcat JV Invitational
Dylan McVeigh, Cameron Burnell, Noah Fernandez and Braxton Bolden all claimed titles this past Saturday at the always tough Bobcat JV Invite in Benton Community. Brandon Johnson also has a really nice day taking home a runner-up finish. The freshmen and sophomores head over to CRW tonight for a 9/10 meet. Good luck men and keep fighting hard.
Rough Start to 2018 for our J-Hawks


Senior night did not end up like we had hoped as we met a very tough City High team who is ranked #6 in the state. JV lost 0-69 via a lot of forfeits. Varsity did not fair much better losing 11-67. Taylor Viktora and Dawson Sweet both had big wins by fall to start the night off for varsity! Nice way for Taylor to go out on senior night in front of the home crowd for sure. Dawson continues his great season pinning his opponent in 3:20. Saturday both the junior varsity and varsity will head over to Benton Community for the always tough Eckenrod Invitational. Good luck men!