Head Coach
Ryan Phillips
rphillips@cr.k12.ia.us

Athletic Director
Chris Deam
cdeam@cr.k12.ia.us
parent/student
e-mail dist. list form
We hope this will make things easier when sending out forms and other important info via email to all our parents and wrestlers.
"The Night The Names On The Wall Came To Life!
2010 State Finalist Reunion
For those of you who were unable to attend we have posted a pdf version of the finalist program for you to download.
PLEASE CLICK HERE
Entering his senior year Mark had posted 97 career wins and already set four school records in the process. There was no doubt in his mind where he would continue his career after leaving high school. True to the Iowa Hawkeye and Dan Gable mindset, he began his final prep season with one idea in mind-domination. In addition, there was a secondary goal related to his team. Mark wanted his J-Hawk squad to bring home two state team trophies, a feat no Jefferson team had yet accomplished. That winter, he and his teammates made school history in Des Moines (3rd) and Marshalltown (4th). To this day, they remain the only team to do so.
Mark would steamroll his way through his senior campaign on his way to a second state championship, a 41-1 season record, and a four-year mark of 138-5-1. During his championship match, in an attempt to secure bonus points and the silver team trophy, he set a state tournament record for most match points amassed during a finals match (27). After winning a second state title, but falling short of earning a technical fall or pin, he angrily stormed to the basement of Vets Auditorium in disgust.
| | |
| --- | --- |
| | Mark's only two losses (once as a junior, once as a senior) were to four-time state champion Jeff McGinness (high school career record 126-0). Both seasons Jeff was moved up a weight in an attempt to help City High gain a toehold towards victory. The first time it was successful, the second it was not. Eastern Iowa's wrestling community knew it was inevitable there would |
be a clash of titans. Anticipation of the dream match-up made the McGinness-Ironside bout a must see event. The two gladiators did not disappoint, showcasing the most exciting matches ever witnessed by the Jefferson and City High faithful. On both occasions the steamy City High gym was standing room only. The sounds were deafening, the action was rocking as both wrestlers were on the attack for six minutes. Their future Hawkeye coach, Dan Gable, was in attendance unable to contain a continuous smile throughout the match.
Leaving Jefferson Mark held fourteen individual records that may never be touched. It will take an extraordinary person in the next fifty years to eclipse any of his accomplishments. What the record books and statistics cannot point out is that the adolescent brawling machine we all witnessed dominate on the mat is a consummate gentleman out of the arena. Possessing a boyish natural curiosity and genuine heart-felt concern for others, Mark has a first-rate sense of humor and easy going smile. He always gives credit where it is due and goes out of his way to help those who need assistance. Being around him makes you want to be a better coach, teammate, or friend. To anyone who knows Mark, seeing him somewhere or hearing his voice brings an instant smile to your face.
Mark began his competitive career as an Iowa Hawkeye wrestler half way through his red-shirt freshman year. He may have been a new face to the diehard black and gold lineup but he was no secret to Dan Gable or Tom and Terry Brands who he had been working out with constantly for a year and a half. He rolled to the 134 lb Big Ten title as a freshman and entered his first NCAA tournament, at home, seeded fourth. Placing sixth and earning All American status the first time out may have satisfied most competitors, but not Mark Ironside. As his mentors had modeled during their careers anything short of the top step is unacceptable (let alone placing below your seed in Carver Hawkeye Arena). With a bitter taste in his mouth, Mark drove himself to correct any deficiencies he perceived existed. Next season would see him make incredible gains in strength, mat awareness, riding, and offense coming within inches of his goal.
1995 NCAA Tournament @ Iowa City, Iowa (University of Iowa)
Finish Seed Name School
1 1 TJ Jaworsky (Tournament OW) North Carolina
2 2 Babak Mohammadi Oregon State
3 5 Steve St. John Arizona State
4 3 Eric Kimble Ohio
5 10 DeWayne Zinkin Fresno State
6 4 Mark Ironside Iowa
7 un Frank Laccone Purdue
8 9 JJ Fasnacht Pittsburgh

Mark Ironside's 1995 NCAA Tournament Pathway
Match Name School Outcome
1 Ryan Nunemaker NC State Won 21-6 5:00
2 Steve Feckanin Edinboro Won 11-4
3 Steve St. John Arizona State Lost 3-4
4 Jason Davids Minnesota Won 8-2
5 Frank Laccone Purdue Won 17-7
6 Eric Kimble Ohio Lost 2-3
7 DeWayne Zinkin Fresno State Lost 4-5
During the 1996 season Carver Hawkeye Arena hosted the NWCA All Star meet. At 134 lbs number one-ranked Cary Kolat of Lock Haven met number two-ranked Mark Ironside. After falling behind early to the cat-like and funky Kolat, Ironside turned on the heat dominating the third period, letting him up and taking him down at will for the win. Kolat was so rubber-legged after Ironside's physical domination he could barely walk off the mat. The arena erupted in a pounding rage as the wolf arose in the hearts of all Iowans. The following match was unable to begin for several minutes. In case you are wondering who Cary Kolat was in the wrestling world his accomplishments include:
4 Time Pennsylvania State Champ (Undefeated in High School) 1999 – Pan-American Games – GOLD Medalist
2 Time NCAA Champion (134-1996) and (142-1997) 2000 – Pan-American Games – GOLD Medalist
4 Time NCAA All-American 2000 – U.S. Olympic Team
1998 – World Championships – Bronze Medalist 2001 – World Cup – Silver Medalist
1998, 1999, 2000 – World Cup – GOLD Medalist
Mark won his second Big Ten title and was named the Big Ten Wrestler of the Year for the first time (he would win three in a row). But Kolat would stand on the top step in 1996 and earn the coveted gold medal in the upcoming NCAA's. Seeded number-one at the NCAA's in Minnesota, Ironside would not meet Kolat again falling to Steve St. John in the semi-finals on a takedown in overtime. Losing in that manner and not placing at or above your seed was a hard pill to swallow. Especially when Mark's hallmark, his unbridled tenacity and conditioning, allowed him to drive opponents to the brink of exhaustion.
If a seven-minute match would ever make it to overtime, Ironside was accustomed to pushing the lesser-conditioned athlete over the
edge.
It was the second year in a row St. John defeated Mark in a tightly contested match. For Ironside this was maddening. The next off-season would witness his extreme desire and dedication, driving him to the brink of perfection. That loss in the semi-finals was the last time he would lose in college winning the next 67 matches in a row, including unblemished junior and senior years.
1996 NCAA Tournament @ Minneapolis, Minnesota (University of Minnesota)
Finish Seed Name School
1 2 Cary Kolat Lock Haven
2 4 Steve St. John Arizona State
3 1 Mark Ironside Iowa
4 3 Steven Schmidt Oklahoma State
5 un Tony Pariano Northwestern
6 8 Yero Washington Fresno State
7 10 Oscar Wood Oregon State
8 6 Frank Laccone Purdue
Follow Us All Year Long on...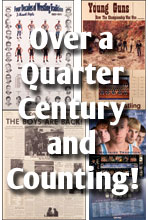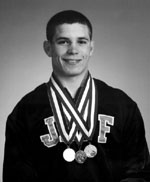 Our very own Mark Ironside,
Two-Time State Champion
has been inducted to the
Iowa Wrestling Hall of Fame
Class of 2010.
Read the article and more information on the 2010 induction ceremony!
cick here to visit website