Head Coach
Ryan Phillips
rphillips@cr.k12.ia.us

Athletic Director
Chris Deam
cdeam@cr.k12.ia.us
parent/student
e-mail dist. list form
We hope this will make things easier when sending out forms and other important info via email to all our parents and wrestlers.
"The Night The Names On The Wall Came To Life!
2010 State Finalist Reunion
For those of you who were unable to attend we have posted a pdf version of the finalist program for you to download.
PLEASE CLICK HERE
Mark Ironside's 1996 NCAA Tournament Pathway
Match Name School Outcome
1 Jason Solomon Northern Illinois Won 20-5 6:45
2 Ed Schillig Ohio University Won 4:27
3 Yero Washington Fresno State Won 4:55
4 Steve St. John Arizona State Lost 4-6 OT
5 Tony Pariano Northwestern Won 3-0
6 Steven Schmidt Oklahome State Won 7-4

Each of the first two seasons Mark fell short of his personal goal but was a key component on national championship teams under the direction of Dan Gable at the University of Iowa. In four years Mark would never wrestle on a Hawkeye team that failed to win the NCAA team title. The 1997 version of Gable's Hawkeyes was to be his last before retiring from head coaching and the dynasty he had created. At the UNI-Dome in Cedar Falls Mark and his teammates would give Dan Gable a going away present that would amaze the wrestling world. The Hawks crowned an astounding five individual champions and set an all time record, 170 team points over the three-day tournament. Gable's final contingent is arguably dubbed the greatest in the history of college grappling. To give you some example of how dominant Mark had become at the 134 lb weight class here is a description of his finals match on his way to his first of two gold medal finishes: Mark dominated Steve Schmidt of Oklahoma State 10-4. He began the scoring early with a takedown 12 seconds into the match. Schmidt escaped with 14 seconds left in the first. Mark chose down in the second and escaped 8 seconds into the period. He added two more takedowns by the end of the second. Schmidt started down in the third and escaped 50 seconds into the period. Ironside added a takedown for a total of four with riding time to clinch the 10-4 win.

1997 NCAA Tournament @ Cedar Falls, Iowa (Northern Iowa)
Finish Seed Name School
1 1 Mark Ironside Iowa
2 2 Steven Schmidt Oklahoma State
3 3 Yero Washington Fresno State
4 6 Jeremy Ensrud Oregon
5 5 James Guzzio Maryland
6 un Joey Heckel Arizona State
7 4 Carl Keske Cornell
8 un Jason Nase Rider
Mark Ironside's 1997 NCAA Tournament Pathway
Finish Name School Outcome
1 Jason Wells E. Illinois Won 4:07
2 Chris Marshall Clarion Won 19-9
3 Jeff Bucher Ohio State Won 9-8
4 James Guzzio Maryland Won 8-4
5 Steven Schmidt Oklahome State Won 10-4
| | |
| --- | --- |
| | Entering his final year of collegiate competition Mark welcomed a new head coach that was not all that new. Jim Zalesky succeeded the legendary Dan Gable as Tom Brands continued at the assistant level. For Ironside, both personally and team-wise, the results were the same, utter perfection. He capped his 30-0 junior season with a 35-0 senior campaign. Mark helped his 1998 teammates to Iowa's 25th consecutive Big Ten title and 18th NCAA crown. In doing so Ironside was awarded the prestigious Dan Hodge trophy (wrestling's equivalent to the Heisman trophy). |
1998 NCAA Tournament @ Cleveland, Ohio (Cleveland State)
Finish Seed Name School
1 1 Mark Ironside Iowa
2 7 Shawn Enright Ohio
3 3 Jeremy Ensrud Oregon
4 2 Mark Angle Clarion
5 8 Michael Lightner Oklahoma
6 4 Dustin Denunzio Harvard
7 6 Whitney Chelbove West Virgina
8 5 Scott Schatzman Northwestern


Mark Ironside's
1998 NCAA Tournament Pathway
Finish Name School Outcome
1 Chad Jesko Pittsburgh Won 23-8 5:55
2 Nick Flach Northern Iowa Won 5:51
3 Michael Lightner Oklahoma Won 11-8
4 Dustin Denunzio Harvard Won 5:3
5 Shawm Enright Ohio Won 9-3
| | |
| --- | --- |
| | The list of accolades Mark Ironside left behind as he completed his final NCAA tournament leaves us breathless. 4-time Big Ten Champion. 4-time All American (one of only sixteen all-time for the Hawkeyes). 3-time Outstanding Wrestler at the Big Ten Tournament. 2-NCAA individual titles at 134 lbs. 4-NCAA team titles. Dan Hodge Trophy winner his senior year. |
The self-motivation, internal drive, and supreme desire Mark possessed while wearing a black and gold Iowa singlet were prodigious, yet expected. Try to imagine the supreme feeling of confidence and pride he invariably had when glancing over at his corner and seeing two Olympic gold medallists in the persons of Dan Gable and Tom Brands. It was expected great things would happen. In his own words, "People always said I was a non-stop competitor, how could I not be when I've got those guys?" Mark completed the college experience with a 127-10 career mark making him one of the top-ten most successful wrestlers ever for the Iowa Hawkeyes.
Career Record Based on winning percentage (minimum 100 matches)
Wrestler (Years) W-L-T Pct.
1 Lincoln McIlravy (1993-97) 96-3-0 0.97
2 Tom Brands (1988-92) 158-7-2 0.952
3 Terry Brands (1988-92) 137-7-0 0.951
4 Barry Davis (1981-85) 162-9-1 0.945
5 Chris Campbell (1974-77) 122-6-3 0.943
6 Jim Zalesky (1981-84) 131-8-1 0.939
7 Ed Banach (1980-83) 141-9-1 0.937
8 Joe Williams (1994-98) 129-9-0 0.935
9 Duane Goldman (1983-86) 132-10-0 0.93
10 Mark Ironside (1995-98) 127-10-0 0.927
Follow Us All Year Long on...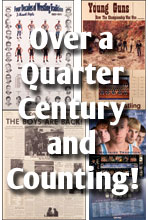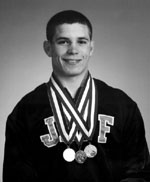 Our very own Mark Ironside,
Two-Time State Champion
has been inducted to the
Iowa Wrestling Hall of Fame
Class of 2010.
Read the article and more information on the 2010 induction ceremony!
cick here to visit website