Co-Head Coach
Dick Briggs
dbriggs@cr.k12.ia.us
Co-Head Coach
Matt Orton
morton@cr.k12.ia.us

Athletic Director
Chris Deam
cdeam@cr.k12.ia.us
parent/student
e-mail dist. list form
We hope this will make things easier when sending out forms and other important info via email to all our parents and wrestlers.
"The Night The Names On The Wall Came To Life!
2010 State Finalist Reunion
For those of you who were unable to attend we have posted a pdf version of the finalist program for you to download.
PLEASE CLICK HERE
Year by Year
A Condensed Look at the First Fifty plus years
of J-Hawk Wrestling...
2007 The fiftieth edition of J-Hawk wrestling saw weight loss monitoring of high school athletes rise to new levels of complexity. Hydration testing, body fat composition analysis, and a maximum weekly weight loss of no more than 1.5% of a competitor's body weight made computer reporting to the IHSAA mandatory. On the mat, dual meet futility produced just two varsity victories, due chiefly to a reliance on freshmen or sophomores at six of the fourteen weight classes. Only five of the varsity regulars finished the season with more wins than losses. Yet, Coach Briggs declared this team one of the most cohesive and "fun-to-coach" to date. Team leader and senior Weston Marling-160, ranked in the top eight all season, failed to qualify for state while finishing his career with 93 wins. Due to an extremely difficult district assignment at Iowa City West, only junior Cody Northern- 215 qualified for the State tournament. On the first day of competition at the Wells Fargo Arena he tipped the scales 20 pounds under weight. After recording a consolation bracket fall on day one he was eliminated one win shy of the top eight medal round.
This year marks the 50 Anniversary of Jefferson Wrestling and the totals are pretty amazing:
3 State Championships
1 Three time State Champion
4 State Runners-Up Teams
8 Three time State Qualifiers
3 State Third Place Trophies
2 Two time State Champions
2 State Dual Meet Trophies
43 Two time State Qualifiers
13 MVC Titles
29 Individual State Champions
15 MVC Runners-Up
17 Individual Runners-up
14 District Titles
20 Individual Thirds
16 District Runners-Up
26 Individual Fourths
14 Top-Five State Meet Finishes
18 Individual Fifths
23 Top-Ten State Meet Finishes
8 Individual Sixths
0 Individual Seventh
1 Individual Eighth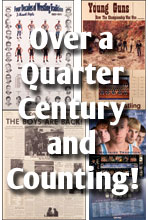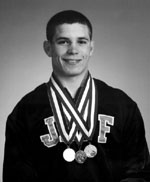 Our very own Mark Ironside,
Two-Time State Champion
has been inducted to the
Iowa Wrestling Hall of Fame
Class of 2010.
Read the article and more information on the 2010 induction ceremony!
cick here to visit website