Co-Head Coach
Dick Briggs
dbriggs@cr.k12.ia.us
Co-Head Coach
Matt Orton
morton@cr.k12.ia.us

Athletic Director
Chris Deam
cdeam@cr.k12.ia.us
parent/student
e-mail dist. list form
We hope this will make things easier when sending out forms and other important info via email to all our parents and wrestlers.
"The Night The Names On The Wall Came To Life!
2010 State Finalist Reunion
For those of you who were unable to attend we have posted a pdf version of the finalist program for you to download.
PLEASE CLICK HERE
Year by Year
A Condensed Look at the First Fifty plus years
of J-Hawk Wrestling...
2008

For the second season in a row the J-Hawks only managed a pair of dual meet victories (rivals CRK and CRW). By season's end just seven varsity members finished with more than ten victories. Juniors dominated the varsity line-up that included three seniors and relied heavily on three freshmen and three sophomores.
However, when Saturdays rolled around the team placed higher in every tournament than the previous year. Senior Cody Northern won or made the finals in every tournament he entered with the exception of State. Northern and junior Jason McCormick both qualified for trips to the Wells Fargo Arena and brought home medals. In placing fifth at 215 pounds Northern joined the 100-Win-Club capping a consistent and solid high school career. In placing eighth at 160 pounds McCormick overcame two seasons worth of injuries and setbacks that would have discouraged even the most seasoned veteran. Happy to have two medallists for the first time in eleven years Coach Briggs challenged his young team to work harder in practice (and the off-season) and "expect-to-win". Based on the success of the junior varsity's fifteen dual victories and a fourth place finish at the Tipton varsity tournament Briggs knew his team was ripe. He hinted at the potluck banquet 2009 could be a breakout year.
2009

Led by ten seniors possessing character, poise, and mature leadership the 09 season slogan was "J-Hawk Tough- True Blue Believers". Improvement across the board was obvious as the squad produced nine dual meet victories and a top five finish at the MVC Super Meet (without one of their state medallists). But the biggest headline of all was reserved for the last two weeks of the season, "J-Hawks Take Eight to State: Team Qualifies for State Dual Tourney." Senior Jason McCormick - 171 made a triumphant return to the Wells Fargo Arena hungry to stand higher on the award stand Saturday night.

After a thrilling hard-fought round one victory over bitter rival Aidan Brock of Cedar Falls (requiring 7 periods) McCormick battled his way to the finals before yielding to #1 ranked Kyven Gadsen (37-0) of East Waterloo 3-2.
Also standing tall on the medal stand in his blue and white J-Hawk warm-up was senior Casey DeHoedt- 189, placing eighth. DeHoedt capped a brilliant four-year run finishing just shy of 90 career wins. DeHoedt also won three tournaments including a championship at the J-Hawk Invitational where he was also voted outstanding wrestler by the opposing coaches. What got lost in the details was the fact both McCormick and DeHoedt battled and rehabbed through painful injuries and serious surgeries to finish proudly on the award stand. Also qualifying for trips to the "Bank" were sophomores Brice Lukasko-112 and Blake Carson-119, juniors Dillon Wiegel-103 and Vince Mulnix- 135, and seniors Michael Lindauer- 145 and David Richards- 215. In the regional dual qualifying meet for the State Duals the J-Hawks were paired with State Champion Waverly Shell Rock and were defeated soundly. But it was the first time in sixteen years the J-Hawks wrestled the week after traveling to Des Moines.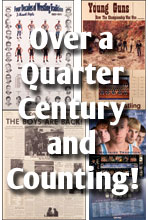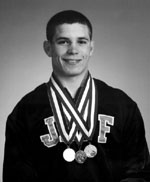 Our very own Mark Ironside,
Two-Time State Champion
has been inducted to the
Iowa Wrestling Hall of Fame
Class of 2010.
Read the article and more information on the 2010 induction ceremony!
cick here to visit website