Co-Head Coach
Dick Briggs
dbriggs@cr.k12.ia.us
Co-Head Coach
Matt Orton
morton@cr.k12.ia.us

Athletic Director
Chris Deam
cdeam@cr.k12.ia.us
parent/student
e-mail dist. list form
We hope this will make things easier when sending out forms and other important info via email to all our parents and wrestlers.
"The Night The Names On The Wall Came To Life!
2010 State Finalist Reunion
For those of you who were unable to attend we have posted a pdf version of the finalist program for you to download.
PLEASE CLICK HERE
Year by Year
A Condensed Look at the First Fifty plus years
of J-Hawk Wrestling...
1964 Jack Fisk became Jefferson's first head wrestling coach during the 1963-64 season. The J-Hawks were noted for being a strong dual meet team. A product of their strength was Jeff's second MVC championship as they finished 12-1 overall and 9-0 in the conference. Fisk's troops survived a series of personal setbacks to send seven grapplers to the state meet and finish in eighth place. The only finalist was Rich Mihal who finished second at 127 lbs. Don Berger-120 and Bill Schwartz-112 both finished fourth. Also qualifying in 1964 was Dennis Gunder-95, Ray Pena-103, Russ Tesar-145, and Bill Sommers-Hwt. The next winter would find Fisk's J-Hawk grapplers primed for another run at the state title. Note: In the spring of 1967, f
or the second time, tragedy befell the J-Hawks as Dennis Gunder was killed in action during the Vietnam War. In 1968, to honor fallen veterans Jon Winger and Gunder, a new wrestling trophy case was built in the old gym hallway and new vapor lights were installed to highlight center stage on the wrestling mat during varsity duals
.
| | |
| --- | --- |
| | 1965 The Gazette headline read "Jeff Point Shy of Mat Crown." Coach Fisk sent but five wrestlers to the state meet and they combined for an eleven-win, four-loss record at the Hippodrome in Waterloo, yet they missed being state champs by one point. In an exciting finish that held the J-Hawks in suspense until the last match of the evening, the Jefferson faithful watched as West Waterloo's heavyweight won a controversial one-point decision copping the state crown for the Wahawks. |
Rich Mihal-138 and Frank Spinka-154 won titles for Jeff, while Lynn Lamb-145 and Jon Meskimen-Hwt took third, and Rick Madison-120 was fourth. It is important to note Rich Mihal went on to Rochester Community Technical College where he placed second at the NJCAA Wrestling Nationals in 1966 and first in 1967. He then transferred to the University of Iowa and qualified twice for the NCAA Division I wrestling tournament, in 1968 at 160 lbs, and again in 1969 when he cut to 152 and went to the finals finishing as national runner-up to Gobel Kline of Maryland.
| | |
| --- | --- |
| | 1966 The fine print towards the end of the post state meet article in the Gazette read, "One of the top bouts was in the class 2A 112 lb division where CR Jeff's Don Briggs and West Waterloo's Dan Gable clashed. The fabulous Gable was given strong opposition by Briggs in the opening minutes before gaining complete control of the match…" Briggs-112 finished second, Jon Meskimen-Hwt was third again and Jim Kimball-138 was fourth. Also qualifiying was Terry Kemme-95. |
The J-Hawks finished with an 11-3-0 dual mark, good enough for second in the MVC. The team was also second in their district and sixth at state. Thus ended J-Hawk wrestling's three years with Jack Fisk at the helm. He would go on to become an exceptional head football coach at Jefferson leading his 1972 squad to the 4A state title game in Kinnick stadium defeating Dowling 6-0. Again, it is worthy of mentioning that Jon Meskimen would also go on to gridiron greatness as a first team All Big Ten pulling guard and captain for the University of Iowa football team. (Jon was also a state indoor and outdoor shot put champion as a junior, as a senior he was eclipsed by fellow J-Hawk state and national champion-sophomore Doug Lane).
1967 New coach Gary Kurdelmeier renewed Jefferson's Cresco connection. He was greeted by ten returning lettermen in his first and only season in Cedar Rapids with the J-Hawks. The former University of Iowa national champion predicted early the troubles that lay ahead for the team. He stated, "We could be a good squad. But one problem is that we have too many of our better wrestlers in the upper weights." He went on, "We are counting on at least five other non-lettermen to help us fill the holes." His prediction held true as Jim Kimball-138 became a two-time state qualifier but only Don Briggs-120 placed at state, third this time. Ron Pierce-165 also qualified for state. Kurdelmeier would leave Jefferson and go on to coaching greatness as skipper at the University of Iowa, winning a national team title and luring Dan Gable to be his successor. Kimball, Briggs, and another teammate, Tim Fowler, would go on to wrestle at the collegiate level for Kurdelmeier at Iowa. Kimball would later return to town and excel in coaching as a longtime headman at CR Prairie. Briggs would join Chuck Patton at UNI and later become the headman there from 1983 to 1997, renewing his rivalry with Gable. Fowler would later return to Jefferson as head coach from 1979 to 1983.
| | |
| --- | --- |
| | 1968 The Jefferson wrestlers greeted their fourth head coach during the 1967-68 season. The "red-head" Bill McNiel, a Cedar Rapids native, joined the J-Hawk staff after a five-year stint at Harlan and one year at Wayne State College. He was a Franklin High School graduate who had competed against Cameron's Wilson teams. He immediately talked Bo Cameron out |
of retirement for "one-year"- which turned into nine seasons as coach of the JV squad. Bo referred to his reserves as the "Number-ONE-Team". Coach McNiel was quick to point out that this would be a young squad that might need a lot of juniors and sophomores to fill important gaps. McNiel's young squad finished 11-3, good enough for second in the MVC. The team secured a fourth place finish from Bob Shaffer-95 while Denny Burke-127 also qualified. But Jefferson was on the rise again, full of optimism, and good things were waiting around the corner.
| | |
| --- | --- |
| | 1969 Bill McNiel's second season was the first of six in which his troops would finish in the top four teams in the state meet. The 1969 edition of J-Hawk wrestlers finished third in the 48th annual state tournament, held at McElroy Auditorium, in Waterloo. Finalists Dick Ingvall-133 and Henry Banke-Hwt split their matches with heavyweight Banke becoming McNiel's first state champ at Jefferson. |
Third place finishes by Dick Fowler-103 and Bob Miller-175 aided the cause, while Don Starr-112 finished fourth. Clark Beltz-145 also qualified. The varsity dual meet record improved to 12-1 in 1969, good enough for first in the MVC, the first of six conference titles McNiel's J-Hawks would earn. Banke would go on to become an All American for Upper Iowa in 1973. Ingvall would go on to become a four-year letter winner in wrestling for Upper Iowa from 1970-73. He was a two-time Iowa Conference Champion. Ingvall then started coaching at Gilmore City-Brodgate in 1973, and after three years he moved to La Porte City to continue as coach at Union High School. He retired in 2005 with 324 victories, eighth on the all-time list in Iowa history. For 22 years, Ingvall's teams had winning records, and he earned Class 2A Coach of the Year recognition in 1988 and 2003. In addition, he was voted into the Iowa High School Wrestling Hall of Fame in 2004. Also in 2004, Ingvall received the National Federation Iowa Wrestling Coach of the Year award. He coached 105 state qualifiers and seven state champions. Ingvall's 2004 team captured the Dual Team Championship. Four other times his teams finished as state runners-up.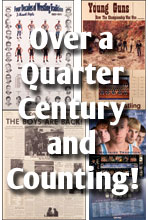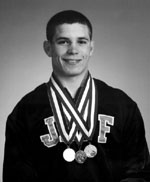 Our very own Mark Ironside,
Two-Time State Champion
has been inducted to the
Iowa Wrestling Hall of Fame
Class of 2010.
Read the article and more information on the 2010 induction ceremony!
cick here to visit website