Co-Head Coach
Dick Briggs
dbriggs@cr.k12.ia.us
Co-Head Coach
Matt Orton
morton@cr.k12.ia.us

Athletic Director
Chris Deam
cdeam@cr.k12.ia.us
parent/student
e-mail dist. list form
We hope this will make things easier when sending out forms and other important info via email to all our parents and wrestlers.
"The Night The Names On The Wall Came To Life!
2010 State Finalist Reunion
For those of you who were unable to attend we have posted a pdf version of the finalist program for you to download.
PLEASE CLICK HERE
Year by Year
A Condensed Look at the First Fifty plus years
of J-Hawk Wrestling...
1970 Jefferson used two district champs (Dan Rowray-130 and Clark Beltz-155) and two runners-up (Steve Sadler-145 and Tim Balvanz-165) to take sixth place in the first state tournament to be held in Veteran's Auditorium in Des Moines. Rowray became Coach McNiel's second state champ at Jefferson while Beltz took second and Sadler fourth. The J-Hawks were second in the conference with an 8-1-1 record.
Later that spring Rowray would break his neck in a freestyle tournament at SE Polk High School.
At the time, he was told he would never walk again, but being single-minded and strong willed, Dan proved the experts wrong. He lives in Cedar Rapids to this day. Balvanz would go on to compete for UNI and then become a successful long time high school head coach in Washington, Iowa.
1971 A strong dual meet squad posted a 10-1 record to win Coach McNiel's second MVC conference crown. Good things were on the horizon as the sophomore team posted an impressive 9-0 dual record. The super-sophs would make themselves known to all Iowans over the next two years. Jefferson sent two individuals to state getting a third place finish from Bill Williams-138. Mark Beltz-185 also qualified. The next three seasons McNiel's J-Hawks would produce a string of victories and unparalleled success in school history.
1972 The 1971-72 grapplers completed only the second undefeated season in the school's history. But the optimism was so great, history teacher Ken Marsh turned on a blue victory light bulb in his hallway window that would not to be dimmed until someone defeated the J-Hawks in a dual. It would glow brightly for several years. The team featured many underclassmen that posted fine records throughout the season as well as at the state tournament. Five individuals qualified for state, including seniors Mike Gallagher-98, Brad Suma-126, and Steve Riess-Hwt, along with juniors Gary Bentrim-119 and Kent Miller-145. Gallagher, Suma, and Bentrim made the championship finals. Both Mike and Brad won titles. Bentrim finished second, although he was handily ahead in his title match before "getting caught" and losing by fall. Miller garnered third, Riess sixth. Jefferson scored 51 points in the tournament, good enough for second place in the "Big Barn". Gallagher and Riess would go on to compete for Luther College. Mike then returned to Jefferson as an assistant coach under Tim Fowler. The Norsemen inducted Gallagher into their athletic Hall of Fame in the fall of 2006. State runner-up status would not be good enough for McNiel's grapplers the next two seasons.
| | |
| --- | --- |
| | 1973 This proved to be a year of many firsts. First in the MVC, sectionals, districts, and first in the state of Iowa. McNiel's second consecutive 11-0 season was capped by one of the most exciting final rounds in state tournament history, and it involved two familiar foes, rivals from the same city. The J-Hawks were protecting a slight lead going into the Saturday night championship session over arch nemesis CR Washington. Both Jefferson and Washington had three men in the finals, all |
at different weights.
The winner would be the team that could come up with the most champs. Jeff got its first break when Paul Vornbrock of LeMars scored in the third period to defeat Wash's Marion Ray at 105 lbs. Brothers Glynn and Chuck Jones were quick to put the Warriors ahead with state crowns at 112 and 119 lbs respectively. Just as quickly, Jeff's Gary Bentrim grabbed the 126 lb title, erasing the pain of losing in the finals the previous year. This left Jefferson 2.5 points behind the Warriors. Jeff's next finalist, Don Zimmerman at 138 lbs, sealed the team victory with a win over Merrill Norris of Indianola. All that was left was for Howard Johnson at 167 lbs, one of three undefeated J-Hawks on the season, to push the team total higher and claim a more convincing team victory. Johnson, suffering from a knee injury, was unable to fulfill his dream, but his second place medal along with fourth place winners Don Hittenmiller-98 and Larry Harkness-145 were enough to bring the gold trophy home to the west side of Cedar Rapids. Actually the J-Hawks figured to win state handily, taking a school record ten qualifiers at twelve weights. But as assistant coach John Weld recalls, "We sent all our district runners-up down to the "Barn" for competition a day ahead, without the team leaders who had won district titles". First day losses by Paul Viktora-105, Dan Kruse-112, Terry Lutz-119, Tom Cornally-132, and Scott Smith-Hwt made it a nail-biter finish to remember. Bentrim, with his patented arm drag and cradle, went on to become a three-time NCAA Division II national champion at UNI.
1974 Jefferson repeated as state champs in 1974 with what could be categorized as truly a team effort. Seven matmen went to Des Moines for the title defense and six returned with medals. Cassim Igram became an instant hero as the senior who carried a 14-9 record to state, topping three previously undefeated 185 ponders to make the finals. Those three wrestlers left the tournament with a combined 79-3 record for the season. Coach McNiel was quick to point out that winning a state title is always a team effort. Seniors Don Hittenmiller-105, Paul Viktora-112, and Dick Briggs-138 took second, third, and fourth respectively. Juniors Jed Brown-126 and Jim Comried-145 were third and sixth. Junior Tom Sadler-155 rounded out the list of qualifiers. Ironically, Igram was Jeff's only loser in a memorable 40-3 dual meet thrashing of the Warriors earlier in the season. That win was one of the J-Hawks twelve dual meet victories in their third consecutive undefeated season. Bill McNiel recorded his fourth MVC title in six years as head J-Hawk. Briggs would go on to become a four-year letterman and two-time All American for UNI at 150 lbs. He would later make a return in 1983 as the skipper of the J-Hawk grapplers. Igram wrestled two seasons at UNI, one season as their varsity 190-pounder.
| | |
| --- | --- |
| | 1975 Three state qualifiers returned from the 1974 championship team. Jed Brown-132, Jim Comried-145, and Tom Sadler-155 all made the return trip to the Barn with six of their teammates. In all, six of the nine qualifiers won places on the award stand, but that was only good enough for fourth place team honors. Comried became McNiel's seventh state champ at Jefferson, Brown repeated his third place standing and Sadler came in fifth. Seniors Bruce Feuerhelm-167 and Dave Johnson-185 were fourth and sixth respectively and junior Tom Chapman-105 was fifth. Seniors Jim Gallagher-112 and Jim Balvanz-119 also qualified. |
The J-Hawks won their fifth consecutive MVC crown posting an 11-1 record. However, cross-town rival Washington halted the three-year undefeated streak and Ken Marsh's blue victory-light had to be extinguished. Ironically senior Tom Sadler avenged his dual meet loss to Washington's Milton Turner in the 5th place match at 155 lbs. That J-Hawk victory meant that Washington, the team that stopped Jefferson's 3½ year dual meet consecutive victory string was shutout without scoring a point in the 1975 tourney. Brown went on to wrestle at 158 lbs for Dan Gable at Iowa and was an NCAA qualifier in 1979, losing a hard fought 13-11 decision to Cyclone national champion Kelly Ward before bowing out.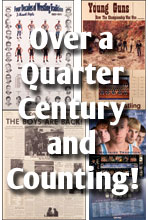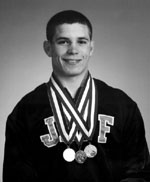 Our very own Mark Ironside,
Two-Time State Champion
has been inducted to the
Iowa Wrestling Hall of Fame
Class of 2010.
Read the article and more information on the 2010 induction ceremony!
cick here to visit website