Co-Head Coach
Dick Briggs
dbriggs@cr.k12.ia.us
Co-Head Coach
Matt Orton
morton@cr.k12.ia.us

Athletic Director
Chris Deam
cdeam@cr.k12.ia.us
parent/student
e-mail dist. list form
We hope this will make things easier when sending out forms and other important info via email to all our parents and wrestlers.
"The Night The Names On The Wall Came To Life!
2010 State Finalist Reunion
For those of you who were unable to attend we have posted a pdf version of the finalist program for you to download.
PLEASE CLICK HERE
Year by Year
A Condensed Look at the First Fifty plus years
of J-Hawk Wrestling...
1976 Gazette sports writer Steve Allspach summed it up this way. "The pressure of the 'big house' here, better know as Vet's Auditorium, has gotten to countless young prep athletes during the state meet. For Jefferson's Tom Chapman and Dave Zimmerman though, they couldn't have picked a better time to put together physical and mental toughness for the glory road that leads to a state championship. Both young men advanced to the championship final tonight and the way Chapman attained his spot in the 112 pound final has to be the story in 3A." Chapman had defeated Dan Glenn 2-0 in overtime to advance to the semi-finals. Glenn, later to place second in the NCAA national tournament for Gable and the Hawks, had not allowed a single point to be scored against him during the 1975-76 season. In the end, both Chapman and Zimmerman-145 lost out in their finals bid. Scott Pospisil placed sixth while the J-Hawks finished eighth in the team standings.
| | |
| --- | --- |
| | 1977 In terms of state meet placing, it may be said that this edition of the wrestling J-Hawks got the most from the least. Jeff advanced only three wrestlers to Des Moines, Newly arrived California transfer Jerry Johnson-112, Bob Gallagher-105, and Dave Edmunds-155. With first, fifth, and fourth place finishes respectively, these grapplers allowed the team to finish fourth in |
the 3A division.
Johnson's title match was particularly close and not decided until well after a wild defensive flurry at the buzzer. He would go on to Slippery Rock University and compete in the 1982 NCAA Division I national championships in Ames at 126 lbs.
1978 Bill McNiel ended his eleven-year coaching stint at Jefferson at the conclusion of the 1978 season. The J-Hawks were 3-10 in duals and sent but two representatives to state competition, Jon Russell-112 lbs and Perry Harris-145 lbs. Both placed third with Russell narrowly missing a chance at the championship finals bout. McNiel amassed a long list of accomplishments during his tenure. The list includes eight individual champions, eight seconds, eight thirds, eight fourths, three fifths, and four sixths. Obviously Bill had his shortcomings when it came to 5ths and 6ths! His 1973 and 1974 teams were 3A champions and his 1972 squad was second. Eight of Bill's eleven teams finished in the top eight in the state. He was inducted into the Iowa Wrestling Coaches and Officials Hall of Fame in 1981 and the National Wrestling Coaches Hall of Fame in 1998. He and wife Judy continue to live on First Avenue West near Cleveland Elementary School.
1979 Tim Fowler became Jefferson's fifth head coach at the beginning of the 1978-79 season. Fowler, a 1967 grad, came into a program that had just suffered its first losing season in school history. His goal was to put Jefferson back on the winning track. He immediately signed Jim Cox and former state champion Mike Gallagher as his assistants. The up-and-down season ended at 6-5-1. Four individuals advanced to state competition: Randy Krumm, who finished sixth at 98 lbs, Jeff Visek-105, Don Cook-126, and Dan Franklin-167. Only Krumm made it through the first round.
1980 The conclusion of the 1980 district tournament was a signal of good things to come. Two sophomores, Dean Miller-132 and Joe Hill-Super Hwt, along with junior Mike Johnson-167 qualified for the trip to state. Miller and Hill were the first sophs to make the trip in twenty years. Both were eliminated in the early rounds, but Johnson placed fifth. There was reason to believe that next year promised to be very exciting.
| | |
| --- | --- |
| | 1981 Third year coach Fowler adopted the theme "We're Movin Up"…and move they did. Dean Miller-132, Mike Johnson-155, Jeff Roman-167, and Tom Fye-Super Hwt represented Jefferson at state. The four-man contingent scored forty-six points in 3A to cop seventh place in the team race. Roman came in fourth and Big Tom Fye surprised everyone but his coaches with fifth in the super heavyweight division, a weight class which only lasted a handful of seasons. Mike Johnson made up for his disappointing finish (up a weight) the year before by being the only class 3A wrestler to pin his opponent in Saturday night's finals. |
A week earlier he had been a district runner-up. He became the third member of his family to climb the awards stand in Vets Auditorium. All three Johnsons helped their respective teams to a top ten placing at state. Howard (2nd-167 in 1973) helped his team to a title. Dave (6th-185 in 1975) was a member of the fourth place team. In a side note, former coach Bill McNiel was inducted into the Iowa wrestling Coaches/Officials Hall of Fame before the finals in Des Moines.
1982 Fowler's grapplers won Jefferson's first MVC championship since 1975. The dual meet season climaxed with an exciting 24-24 tie vs. Iowa City West, thus enabling the J-Hawks to win the title. They qualified junior Justin Reinert-112, and seniors Chris Chicchelly-126, Dean Miller-132, and Joe Hill-Super Hwt to the state tournament. Miller became Jefferson's third three-time state qualifier, finishing fifth. Hill pinned four opponents, losing only to the returning state champion, while posting a solid third place finish. This year marked the twenty-fifth for wrestling history at Jefferson. The twenty-five year totals were very impressive. Many are listed below:
3 State Championships
9 Sectional Championships
3 State Runners-Up Teams
3 Sectional Runners-Up
10 MVC Titles
7 District Titles
9 MVC Runners-Up
9 District Runners-Up
16 Top Ten State Meet finishes
| | |
| --- | --- |
| | 1983 The beginning of the second twenty-five years of Jefferson wrestling did not produce the success Tim Fowler had become accustomed to. In an injury-plagued year, the J-Hawks suffered through a disappointing 5-6 dual campaign. To this point it was only the second losing season in school history. Seven varsity mainstays produced above .500 records but inconsistency in the remainder of the lineup and a reliance on sophomores filling-in hindered team results. As with the first Jefferson losing season five years earlier, the result was a change in head coaches. |
Tim Fowler stepped aside to upgrade his career in education as an administrator. Fowler would be remembered as a passionate and caring coach that lived each win and loss along with his athletes. Three young men qualified for the state meet, junior Jeff Miller-98, and seniors Scott Meier-138 and Mike Potter-126. None was able to secure a medal at the Big Barn marking the first time in school history a J-Hawk squad would return empty handed. However, there was a former J-Hawk coaching for the Warriors across the river that unknowingly was in need of a lawnmower.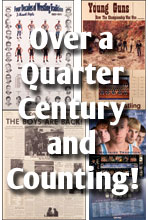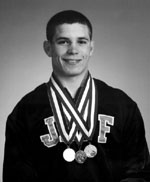 Our very own Mark Ironside,
Two-Time State Champion
has been inducted to the
Iowa Wrestling Hall of Fame
Class of 2010.
Read the article and more information on the 2010 induction ceremony!
cick here to visit website