Co-Head Coach
Dick Briggs
dbriggs@cr.k12.ia.us
Co-Head Coach
Matt Orton
morton@cr.k12.ia.us

Athletic Director
Chris Deam
cdeam@cr.k12.ia.us
parent/student
e-mail dist. list form
We hope this will make things easier when sending out forms and other important info via email to all our parents and wrestlers.
"The Night The Names On The Wall Came To Life!
2010 State Finalist Reunion
For those of you who were unable to attend we have posted a pdf version of the finalist program for you to download.
PLEASE CLICK HERE
Year by Year
A Condensed Look at the First Fifty plus years
of J-Hawk Wrestling...
| | |
| --- | --- |
| | 1989 The changes just kept coming, shuffling and modernizing the sport of wrestling. 1989 began with a new number (thirteen) and configuration of the weight classes starting at 103 and ending at 275. It worked out well for the J-Hawks as the head table at the banquet had to make room for a bronze state dual meet trophy. In addition, two individual gold medals and framed wall charts would be on display for gazing eyes to enjoy. |
As one father remarked, "Coach Briggs you've been trying to have a baby for nine years and you've come up with twins." Marc Chase-119 and Matt Orton-135 both demonstrated that championship mentality could exist in a blue and white uniform. Chase entered the third period of his finals match tied, before stunning the Veteran's Auditorium crowd with a combination standing half nelson/hip toss for a fall. Orton, trailing 6-0 early on, rallied to tie the match and force the overtime of three one-minute periods. His superior mental and physical conditioning ensured the win as his father, assistant coach Henry Orton, sat alongside Briggs in his corner and later was honored to place the gold medal around his son's neck. Fellow senior tri-captain Jeff Karr-125, placed third to round out the place winners. The three compadres, Chase, Orton, and Karr literally rewrote the record books as 19 of the 24 school wrestling records fell…Karr personally staked claim to twelve of the twenty-four. All three won over thirty matches on the season. Six other J-Hawks qualified, juniors Mike Waldron-103, Ed Burnell-140, Jeff Horak-189, and seniors Bill Randall-160, Trent Donels-171, Rod Dennis-275. It all added up to a fourth place finish as the team fashioned 70.5 points in Des Moines. The next week they made short work of Davenport West in a regional qualifying dual on their way to the UNI-Dome and the state dual tournament in Cedar Falls. Once there, the J-Hawks lost to Dowling (the eventual champions) then defeated Marshalltown soundly for the third place trophy. They finished the dual season 11-2. In reflection Briggs recalled his troops were "the hardest working team I ever coached because of the quality of their practices and positive attitudes." Once again both the sophomore and junior varsity squads went undefeated on their way to MVC championships. Could next year be even better? Footnote: Matt Orton went on to wrestle for Southwest Missouri State and compete in the 1994 NCAA Division I Championships IN North Carolina. He lost 3-2 to Laszlo Molnar of Cal State-Fullerton (runner-up to Mark Branch of Oklahoma State).
| | |
| --- | --- |
| | 1990 Years of waiting for someone to stand on the top step saw the dam burst as the J-Hawks crowned two more individual champions in 1990. Seniors Ali Igram-125 (cousin of 1974 finalist Cass Igram) and Jeff Horak-189 each secured gold and capped thirty-plus win campaigns. For only the second time in school history the J-Hawks had seven state medalists. The team toted home a silver team trophy from Vets Auditorium surrendering the |
team title to Dowling by 1.5 points, but not before scoring a school record 102 points. Seniors Chad Gallagher-112 and Sean Martin-119 placed fourth, junior Matt Ironside-130 and senior Ed Burnell-140 garnered fifth, while senior Mike Solberg-275 took sixth. Senior Jeremy Jones-135 also qualified. Dick Briggs copped 3A State Coach of the Year honors as voted on by his peers in the Iowa Coaches and Officials Association. Briggs remembers the team as one that, "just flat out loved to wrestle, all year long." The seniors competed in over seven hundred off-season matches alone. As a total unit they were emotional and fiery, full of intensity and deep pride. They possessed an inner arrogance that would periodically bubble to the surface and they thrived on challenges. At 119 the competition to break the varsity lineup was so fierce that Mike Waldron, a senior returning state qualifier, was third at his weight (freshman Mark Ironside was fourth). Collectively they acted and lived like a family, which often meant getting into scrapes with each other or protecting each other's back. The ups and downs that comprised the roller coaster season ultimately took a downturn when a post-state tournament mental hangover caused the team to lose their regional qualifying dual to West Waterloo, spoiling a bid for a second team trophy at the state duals. The J-Hawks finished the dual season 9-2. But it was clear that with seven state medallists and eight varsity wrestlers posting twenty-five plus win seasons their hard work and commitment made them one of Jefferson's most successful and memorable teams.
1991 For the third year in a row a Jefferson wrestler achieved immortality by bringing home the coveted gold medal from the Big Barn. This time, it was quiet senior Matt Ironside-135 lbs. In addition, for the third year in a row there was a team trophy sitting on the head table as a centerpiece for the team banquet. In winning his crown Matt set the school record for takedowns, match points and falls. Coach Briggs remembers Matt as, "having no weaknesses. He is as complete a wrestler as I've coached. He is a hammer that may have had the most dominant state meet of any J-Hawk state champion I can remember." Alongside Matt, but two steps down, younger brother Mark Ironside-125 placed third, just missing out on a finals match of his own losing in the semifinals 7-6 to eventual champion Derek Mountsier a senior from Newton. Mountsier went on to wrestle for Iowa State University where he was a two-time all-American. Mark became only the second wrestler in school history to earn a state medal as a sophomore. Juniors Eric Baker-103 and Darrin O'Brien-112 placed fifth and sixth respectively. Also qualifying were seniors Anthony Johnson-152 and Nathan Means-189. Unfortunately, Means had won seven tournaments on the year and finished the season 33-1, but without a medal at the state meet. Ironically, Darrin O'Brien finished the year 19-11 with a medal around his neck from the Barn. Sadly, state tournament bracketing did not allow for a wrester to wrestle-back after a loss unless the opponent he lost to made the finals. In O'Brien's case that happened, in Mean's it did not. The cruelty of this system was finally addressed the following year, one season too late for Nathan Means, ranked number one all season and one of Jefferson's finest athletes. As a team the 1991 version finished 8-2 running roughshod over everyone but suffering lopsided loses to Prairie and City High. They won three tournaments and placed second twice-including districts, meaning they would not qualify for the state duals. It was however the third year in a row a state team trophy was garnered for Jefferson's trophy case. Would future campaigns see the streak continue? Footnote: Matt Ironside would go on to become a two time All-American winning one NJCAA individual national championship for Iowa Central.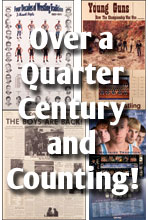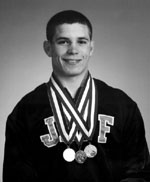 Our very own Mark Ironside,
Two-Time State Champion
has been inducted to the
Iowa Wrestling Hall of Fame
Class of 2010.
Read the article and more information on the 2010 induction ceremony!
cick here to visit website