Co-Head Coach
Dick Briggs
dbriggs@cr.k12.ia.us
Co-Head Coach
Matt Orton
morton@cr.k12.ia.us

Athletic Director
Chris Deam
cdeam@cr.k12.ia.us
parent/student
e-mail dist. list form
We hope this will make things easier when sending out forms and other important info via email to all our parents and wrestlers.
"The Night The Names On The Wall Came To Life!
2010 State Finalist Reunion
For those of you who were unable to attend we have posted a pdf version of the finalist program for you to download.
PLEASE CLICK HERE
Year by Year
A Condensed Look at the First Fifty plus years
of J-Hawk Wrestling...
1984 Assistant coach Jim Cox knew Dick Briggs was destined to leave his post at Washington. Briggs had resurrected the Washington program and he knew he would have a strong Warrior team returning in 1984. Jim convinced Dick to sit down and write a list of all the pluses and minuses of making the move. Cox was sure the time was right for "Briggsie" to lateral home, donning the blue and white again. Cox's promise of a used lawnmower tipped the scale to the westside and Dick gladly made the return move. Seniors Dan Denlinger-132 and Jeff Knox-155 qualified for the state tournament but once there, neither could win a match and for the second year in a row no medals returned home with the J-Hawks. Yet, there was reason for optimism with an 8-3 dual record (best since 1975) and a sophomore team that won the MVC crown poised to return. Briggs would push off-season lifting, expand freestyle wrestling, and promote multiple-sport athletes as a new era of high expectations began.
1985 The message got through and the medal drought lifted in 1985. Briggs enjoyed his first Jefferson state finalist as senior Darrell Long (2nd at 167 lbs) and junior Scott Mihal (4th at 112 lbs) paced six Jeff qualifiers on the mats in Des Moines. Kelly Mihal-105, John Anderson-119, Richard Neese-126, and Brian Bos-155 all made the trip but fell short of medals. A dual record of 9-3 produced the MVC title as four wrestlers topped the elusive twenty-win mark. Fifteen varsity tournament champions were crowned in an era when the schedule only allowed for five Saturday competitions. Two side notes: The Mihal brothers are nephews of Rich Mihal and 1985 was the first year Jim Cox used a Mac computer (no typewriter) to produce the season statistics and reflection banquet booklet.
1986 A new concept called the "technical fall" was instituted in Iowa high school wrestling as the new season began. At Jefferson career-ending injuries to key seniors Scott Mihal and Dean Spicer led a parade of mishaps that produced a 6-6 dual season. Mihal separated his shoulder in the first meet of the year but returned for the J-Hawk Invitational to defeat the eventual state champion at his weight 12-5. He would later reinjure the shoulder and miss out on a return to Des Moines. Spicer, who missed his entire junior year with a broken leg, made a solid return and defeated the eventual state runner-up before being sidelined the week of the district tournament with blood poisoning. It was 155 lb senior Paul Arthurs who proved to be the consistent bright spot all season. He finished with a twenty-nine-win season and a fifth place medal from the state tournament. Senior Mark Hartman moved up from 189 to heavyweight to qualify for state, as did 126 lb junior Greg Garman.
| | |
| --- | --- |
| | 1987 Another new concept in Iowa high school wrestling began in 1987; it was called the State Dual Meet Tournament and it was held the week after traditional state in Des Moines. To qualify, a 3A team first needed to win its district tournament and then win a regional qualifying dual meet. Jefferson's grapplers were up to the task for the first requirement, but not the second. |
Marshalltown spoiled their bid to bring home a new type of team trophy from the inaugural event. This edition of J-Hawk grapplers won their district and the SE Polk tournaments. They were runner-up at the J-Hawk Invitational and placed second in the MVC with a 10-4 dual mark. Five state qualifiers, all seniors, included Brian Kuhlman-119, Vance Hikiji-126, Greg Garman-132, Dennis Dye-167, and David Simmons-185. Only Garman would come home a medallist as he bulldozed his way to the finals before yielding earning runner-up status. What won't show up in the stat-book is how badly Greg injured his knee in late January and how determined he was to finish his senior year in the proud, and often explosive fashion he was accustomed to living his life. This season also saw the advent of a MVC tournament for the sophomores and junior varsity. Initially, team scores were kept at each and the J-Hawks handily walked away with both crowns in addition to their MVC dual meet titles. At that time twelve weights were contested in each division. Combined, sixteen J-Hawks made it to the finals of the two tournaments, proving future seasons could indeed be bright. Footnote: David Simmons went on to become a two-time All American and NCAA Division III runner-up for the Coe College Kohawks before serving in Desert Storm and then returning to Jefferson as a science teacher and assistant wrestling coach for three years.
| | |
| --- | --- |
| | 1988 Once again, a new innovation made the start of the 1988 season one to remember. Ninth graders now attended four-year high schools in Cedar Rapids. The shear numbers out for wrestling at Jefferson necessitated holding two practices because the room could not hold all the bodies. Freshman coach Dan Conner held his sessions for the new frosh at 5:30 pm after the first practice finished. They brought an air of excitement to the program, in fact the first freshman to ever wrestle varsity for the J-Hawks was a young man named Matt Ironside, who won the match by fall. |
The varsity turned in an 11-4-1 dual record, good for second in the MVC. They were also district runner-up to Prairie and failed to qualify for a return to state dual competition. Interestingly, the one dual tie with Hempstead included three match ties (there were no overtimes in duals) and a match at super-heavyweight, which was only contested if opposing coaches agreed. Six young men qualified to compete in Des Moines. Jeff Karr-119, Marc Chase-126, Matt Orton-132, Jeff McAllister-138, Troy Sund-185, and super-heavyweight David Quentin. For the third season in a row the J-Hawks took several athletes to the Big Barn but only one returned with hardware. This year's version saw Jeff McAllister alone stand on the podium steps earning a fifth place medal. Coach Briggs, not satisfied or impressed, challenged his future teams to "… possess 'championship mentality', have one thing on your mind at all times, everything you do takes you one step closer to your goal." Most of all, it had been eight years since a Jefferson wrestler brought home a gold medal. Would the 1989 version of Jefferson wrestling listen and learn? Two more undefeated sophomore and junior varsity squads might have something to say in response to the challenge.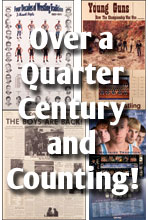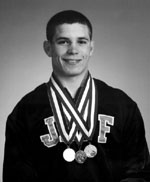 Our very own Mark Ironside,
Two-Time State Champion
has been inducted to the
Iowa Wrestling Hall of Fame
Class of 2010.
Read the article and more information on the 2010 induction ceremony!
cick here to visit website