Co-Head Coach
Dick Briggs
dbriggs@cr.k12.ia.us
Co-Head Coach
Matt Orton
morton@cr.k12.ia.us

Athletic Director
Chris Deam
cdeam@cr.k12.ia.us
parent/student
e-mail dist. list form
We hope this will make things easier when sending out forms and other important info via email to all our parents and wrestlers.
"The Night The Names On The Wall Came To Life!
2010 State Finalist Reunion
For those of you who were unable to attend we have posted a pdf version of the finalist program for you to download.
PLEASE CLICK HERE
Year by Year
A Condensed Look at the First Fifty plus years
of J-Hawk Wrestling...
2010


The 2010 version of the J-Hawks was characterized in one word by Coach Briggs at the season end banquet- "green". The varsity line up relied on wrestlers that were either new to the team or underclassmen. Regardless, the team finished with an 8-5 record and an eighth place finish at the MVC super meet. This included Jefferson's first outright MVC champion in seven years at 285 pounds in Conner Herman. The team also performed well at the Lisbon duals; where they tied the eventual 1A fourth place team, as well as placing second and third respectively at the Ottumwa and Maquoketa team tournaments. Another highlight saw a spirited come-from-behind dual victory at Cedar Falls. Only two wrestlers emerged from the district tournament and qualified for the state tournament.

Junior 112lb Brice Lukasko made the return trip and finished one match shy of the medal round.
Junior Co-captain Conner Herman made an early run at the championship final before yielding in the semi-final round and finishing with a sixth place medal around his burly neck. It is also noteworthy he finished the season with eighteen falls. Four other varsity grapplers earned twenty plus victories on the season. They were senior Co-captain Steven Settlage, juniors Blake Carson and Riley Welsh, and senior Vince Mulnix, who finished his career just shy of the 100 win club.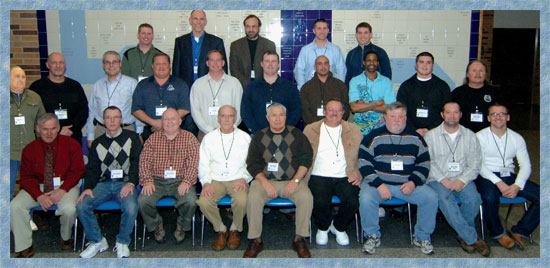 Before the Kennedy home dual in late January, a 50th anniversary reunion occurred when each state tournament finalist through the years was invited back to be publicly recognized for their contributions to J-Hawk wrestling. This included 90 year old historian Russ Daniels, as well as Jefferson's second head coach Jack Fisk who passed away nine months later at the age of 84.
2011


When the dust settled on a Class 3A 215 pound finals match at the Bank in Des Moines, Conner Herman was the man with his hands in the air, and Jefferson High School had a new member added to the now 30 state champions totaled during its rich wrestling history. In a see-saw dramatic effort that had J-Hawk fans, teammates and spectators on edge, Herman overcame a late two point deficit to tie with an unlikely takedown at the end of regulation. Once in overtime a defensive takedown ended the sudden victory scenario in Herman's favor and sent Wells Fargo Arena into uproar, and one excited head coach Dick Briggs into an exalted hooray as Conner strode from the mat into the arms of first year assistant and former J-Hawk State Champion Matt Orton. Herman said he drew strength from the following who cheered from his corner not to give up and go for the tying takedown. His extra effort paid off and all where smiles well into the evening as long time assistant Rob Martin put the gold medal around Conner's neck atop the Wells Fargo Arena podium. What a night to remember!

And what a great journey it was to reach that magical night. J-Hawk wrestling welcomed back one of its own in Matt Orton who left a decorated and talent laden Iowa City West Program to rejoin his Alma Mater in their resurgence as a wrestling force. Orton brought a unique delivery and energy to a room that was eager to embrace his winning ways. A gritty group of wrestlers where led by Seniors Blake Carson & Conner Herman, each with over 30 wins, and Dylan Moenck & Junior Griffan Bollman, each who tallied over 25 wins. The resilience of the team was evident from the very first dual of the season right on through to the district tournament where they scratched out a second place finish qualifying them for the regional dual. Helping them along the way where state qualifiers Blake Carson (135), Riley Welsh (189), and Conner Herman (215). Although they were dropped in the regional dual by State Runner-Up Iowa City West, the dual marked the second time in three seasons that the J-Hawks qualified for post season competition. Coaches and those closest to the team possessed the feeling that the future is looking better all the time thanks to a nice mix of seniors who inspired a young and talented group of returning letter winners.

Of course no better inspiration was found than at the state tournament on that faithful February night. The J-Hawks were hopeful having narrowly missed medals for the likes of Carson and Welsh that it would end better for Herman. Conner, who was known for his devastating leg cradle that had made him the new Jefferson career pin leader, failed to score one fall during the entire state tournament. None of that mattered in the end, when Herman used some good hip defense to notch one final takedown, and one big State Championship for J-Hawk Wrestling!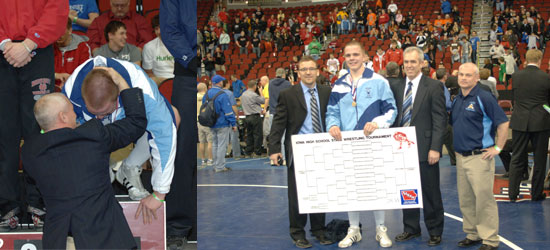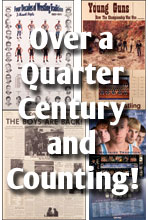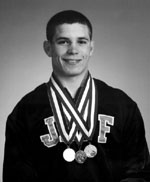 Our very own Mark Ironside,
Two-Time State Champion
has been inducted to the
Iowa Wrestling Hall of Fame
Class of 2010.
Read the article and more information on the 2010 induction ceremony!
cick here to visit website